For filmmakers, it's very important that they properly promote and publicize their films so people will be motivated and inspired to watch their work. As well, it's a good way to get your films seen by a wide audience who don't know about your film. Therefore, press releases are very important ways to get media outlets to help promote your work by having them write articles, reviews, or features about your film. It's free press...which is gold in the independent filmmaker's world since we usually have no money for advertising and marketing! Below is a sample of a recent press release I wrote for the online launch of my short animated film, Yellow Sticky Notes | Canadian Anijam.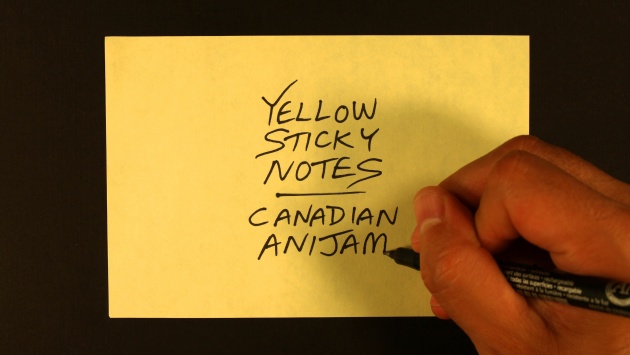 For Immediate Release
"AWARD-WINNING 'ANIJAM' FEATURING CANADA'S TOP ANIMATION TALENT LAUNCHES ONLINE"
By Meditating Bunny Studio Inc.
VANCOUVER, BC (April 2, 2014) – After screening at over 50 international film festivals, Yellow Sticky Notes | Canadian Anijam, a classically animated short film by Vancouver-based animation filmmaker Jeff Chiba Stearns, will finally launch via the online video platforms YouTube, Vimeo, and Film Annex. The film is a follow up to Chiba Stearns' 2007 viral hit animation, Yellow Sticky Notes.
For the first time in Canadian history, 15 of Canada's most highly acclaimed independent animators have come together to create one animated film. Yellow Sticky Notes | Canadian Anijam is an innovative and collaborative approach to animation filmmaking and unites animators from Vancouver to Halifax, and all parts in between, to self-reflect on one day of their lives using only 4x6 inch yellow sticky notes, a black pen and animation meditation. Featuring animation from the original Anijam creator Marv Newland along with Oscar® winners Alison Snowden and David Fine and Academy Award® nominees Cordell Barker, Janet Perlman, Chris Hinton, and Paul Driessen. Other award-winning animators, Jeff Chiba Stearns, Jody Kramer, Howie Shia, Jonathan Ng, Lillian Chan, Malcolm Sutherland, Joel Mackenzie, and Louise Johnson round out the 'anijammers.'
An 'Anijam' is a collaborative animation where various artists create individual short animated segments that are linked together to make one larger film. Thus, to create this film, the animators were asked to self-reflect through animation on personal and global events that impacted one day of their lives. Each of the animators created their sequence without knowing what the other participants were creating. Starting with a 'to do' list written on the day of a memorable event, the animators transitioned from text to imagery by utilizing 'animation meditation' to create a visually animated poem representing how their lives were affected by that pivotal day. In the end, the thousands of sticky note drawings are linked together to create a dynamic and inspirational animated film that connects the human spirit while celebrating individual artistic expression with the goal of inspiring future generations of animators.
Yellow Sticky Notes | Canadian Anijam, created with a BravoFact grant from Bravo, will premiere on April 2nd via various online platforms such as YouTube, Vimeo, and Film Annex. All the participating animators created their segments with the hope of inspiring people to think critically about the world around them and to inspire youth to try animating using classical hand-drawn techniques. Therefore, all proceeds generated by the film will be used to create a foundation called the Yellow Sticky Notes Project, which will teach classical animation workshops to children and youth across Canada. The goal will be to help youth express their creativity by animating on sticky notes and collaborating with their peers through anijams.
"After releasing Yellow Sticky Notes | Canadian Anijam over a year ago and experiencing an amazing film festival run, I'm excited to finally be launching the film online for the entire world to see. The original Yellow Sticky Notes that I created in 2007 is nearing 2 million views on YouTube and I am hoping the new Anijam will have the same online resonance that encourages people to want to share it with their friends and family. I'm looking forward to sharing the hard work of the talented anijam crew beyond just film festival audiences. I'm hoping that a new generation of animators will be inspired by the work of all these acclaimed animators and will want to go out and create their own yellow sticky notes films!" – Jeff Chiba Stearns, director of Yellow Sticky Notes | Canadian Anijam
This month, Yellow Sticky Notes | Canadian Anijam will broadcast on KCTS, a PBS affiliate based out of Seattle, as well as on the online platform, IndieFlix. The film will also be available on Comcast's Cinema Asian America (On Demand) and XFinity in the US. The film had it's world premiere in January 2013 at the Santa Barbara International Film Festival and has been officially accepted at over 50 international film festivals including the prestigious Hot Docs, Ottawa International Animation Festival, Edinburgh, Cinequest Film Festival, International Film Festival of Cartegena de Indias, Anima Mundi, Cleveland International Film Festival, Athens International Film + Video Festival, Melbourne International Animation Festival, and the WorldFest – Houston International Independent Film Festival where the film won a Gold Remi Award for Best Animation. The film also had a theatrical run at the Bloor Hot Docs Cinema in Toronto, screening with Alan Zweig's documentary 15 Reasons to Live and was named to Cinemablographer's Best Canadian Short Films of 2013 Top Ten List as well as The Shorts Report's Top 12 Canadian Short Films List 2013.
Here's some recent online articles I received from the press release I sent out:
Canadian Animation Resources: http://www.canadiananimationresources.ca/?p=9568
AWN: http://www.awn.com/news/award-winning-canadian-anijam-launches-online
Animation Magazine: http://www.animationmagazine.net/internet/yellow-sticky-notes-canadian-anijam-debuts-online/
Skwigly: http://www.skwigly.co.uk/award-winning-anijam-featuring-canadas-top-animation-talent-launches-online/
Animation News: http://animationews.com/tag/meditating-bunny-studio-inc/
Playback: http://playbackonline.ca/2014/04/02/making-it-stick-canadian-anijams-digital-debut/
Laughing Squid: http://laughingsquid.com/yellow-sticky-notes-canadian-anijam-an-animated-short-film-featuring-sticky-note-drawings-from-15-artists/
You can watch Yellow Sticky Notes | Canadian Anijam below, here on Film Annex. Please subscribe for updates on new blog posts and video uploads! Thanks!