As I was creating my 2007 animated short film Yellow Sticky Notes, I would tell people, this is either the biggest mistake of my life or this could become the biggest thing I've ever done...luckily it did become the biggest thing I've ever done and ended up propelling my independent filmmaking career...
It was July 2007 and I had just spent the last nine months of my life animating on over 2300, 4x6 inch yellow Post-it Notes with nothing more than a black pen. I had no budget so having spent only $150 on Post-it pads and pens, I wasn't taking too much risk financially but of course I also had to factor in the hundreds of hours I spent animating with no compensation. This was my first non-funded film since I graduated from animation school. I just went ahead and made it because I wanted to get out of the shadow of my first professionally funded animated film, "What Are You Anyways?" and I didn't want to deal with the hassle of trying to explain to funders and grant committees what I was doing…especially considering at the time I started animating Yellow Sticky Notes I didn't even really know myself.
After completing "What Are You Anyways?" in 2005, I had just spent two years promoting the film at film festivals and doing university guest lectures on the topics explored in the film. The film was about my strange experiences and funny stories growing up in a small Canadian city being mixed-race (part Japanese, part Caucasian). This 10 minute, autobiographical film was the first animated film to explore multiethnic identity and I ended up becoming a spokesperson for mixed-race identity in Canada...something I really wasn't prepared for.
All of a sudden, major news outlets from the CBC to MTV were contacting me for interviews to voice my opinion about these issues in Canada. Being 25 years old at the time, I really wasn't educated or experienced enough to talk about these issues but took on the challenge anyways. It brought a whole new level of stress to my filmmaking. At this time, I was also teaching full-time college classical animation, so needless to say, my life was extremely busy as I juggled all these random tasks...and I only had one way to stay organized...Post-it notes!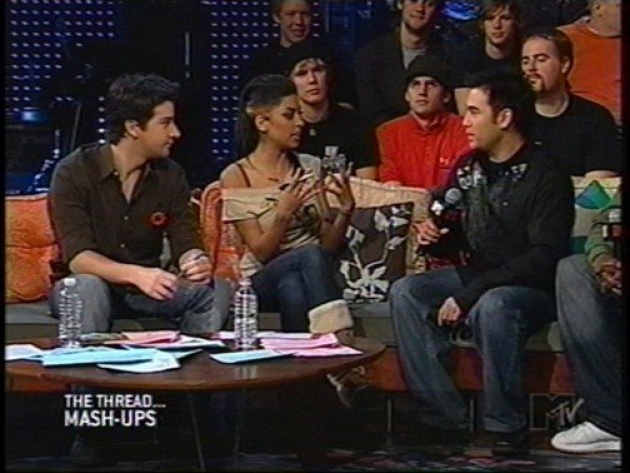 Thus, Yellow Sticky Notes was conceived when I realized that Post-it Note 'to do' lists were consuming my life. I was drowning in these tiny yellow pieces of paper cluttering my desk...reminding me of small and big tasks I needed to accomplish...interviews with news outlets, marking assignments, sending screeners to film festivals, etc. No matter how many tasks I was able to accomplish, two or three more popped up immediately after...I couldn't keep up.
So I decided to take revenge and visually self-reflect on my filmmaking journey by animating on the same sticky notes that caused me to ignore major world events for the last nine years. I used what I coined as "animation meditation" to create an illustrated stream of consciousness. Basically I would meditate while animating and through the process of animating I would self reflect on these events through the act of drawing. This was a great way to drown out all the busy things going on around me and just focus on art making and self reflection. The juxtaposition of image (animation) and text ('to do' list) and giving the audience a voyeuristic look into the most intimate workings of my brain was a huge risk since I wasn't sure people would really understand it because it was so personal. Although, as I would soon find out from the first screening, people really resonated with the film because of it's honesty and truth...it was something they could all relate to themselves in their own busy lives...we all just needed to slow down and look around us, to breathe and self reflect.
When I finished the film, I decided to go with an accelerated premiere since I wanted to qualify in time for a Canadian animation award I had won previously with "What Are You Anyways?". I finished Yellow Sticky Notes in the late summer of 2007 and needed to premiere that year in 2007 to qualify for the award. But since all the fall festivals had closed their submissions, I was destined to wait to release the film in spring 2008 festival season. But as fate would have it, I made a phone call to festival programmer friend of mine who programmed for a film festival that ran in November 2007. Luckily, she found some room in a shorts program and accepted the film into her festival as the World Premier...thus this would be how my animated journey into self-distribution would begin.
This is Part 1 of a 4 part series into the making of and self distribution of Yellow Sticky Notes. Subscribe to my blog for updates on the next posting coming very soon!
To watch Yellow Sticky Notes here on Film Annex...here's the link: http://www.filmannex.com/webtv/meditatingbunny/movie/yellow-sticky-notes/32303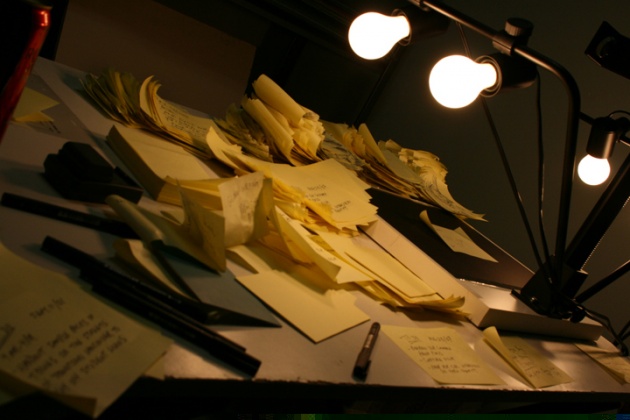 A photo taken during the capturing of the animation for Yellow Sticky Notes...to shoot all the animation took over 12 hours straight and was done in a storage room at the college I used to teach at.