When Yellow Sticky Notes had its World Premiere at the Toronto Reel Asian Film Festival in November 2007, the film won the 1st ever Animasian Award for best animated short, which was nice because it came with a $500 prize. The prize money came in handy because it helped me afford the high cost associated with paying for film festival submission fees for the 2008 film festival season. Considering the film was made with no budget any extra cash to help promote and market the film was a huge asset.
After winning the award, I remember being in my hotel room and Romen Podzyhun, president of Movieola the Short Film Channel and CEO of Channel Zero Inc. called me up. I had given him a screener of Yellow Sticky Notes at one of the festival workshops I attended. He had actually watched the screener and personally called me up to tell me that he thought my film was, "brilliant"! Brilliant!?! I was pretty floored considering Romen, who also owned Ouat! Media - a short film distribution company, had seen thousands of short films during his career. So I knew I had something really special on my hands if a CEO of a major broadcast network would take the time out of his busy schedule to let me know he really liked my little 6 minute animation. Needless to say, I was humbled by the attention and buzz the film was receiving considering this wasn't a huge top tier film festival. Although, this gave me the added boost of confidence and motivation the film needed to go global.
As luck would have it, my US Premiere or what some would also consider International Premiere was at the 2008 Tribeca Film Festival in New York. Up to this point, this was by far one of the most important film festivals any of my films had ever screened in. I contemplated the expense of flying out to New York and staying for the two-week festival. For anyone who's tried to book a hotel in NY for the spring you know it isn't cheap…so I almost didn't go. Although, in the end, I sucked it up, found a great deal on a hotel in the heart of Manhattan, counted my pennies, and made the trip. Another motivating factor of attending was that my composer, Genevieve Vincent, who created the amazing original score for Yellow Sticky Notes would also be coming up from Boston to hangout at the festival.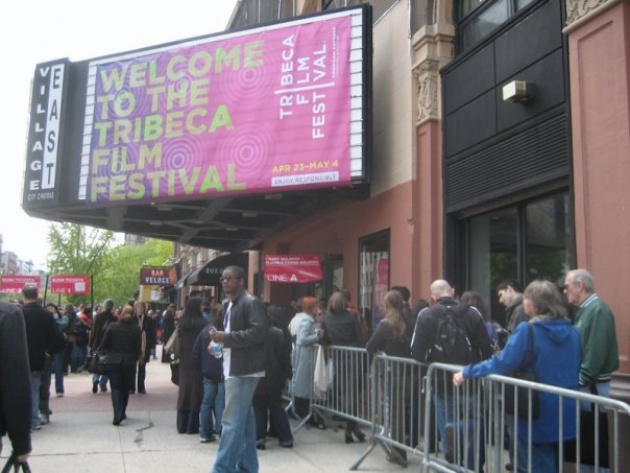 It was an amazing experience attending my first true top tier film festival. My film would screen five times in a short documentary program that included 7 shorts. I found it strange that the film was put in the documentary competition considering it was animated, but it did make sense because the film is an autobiographical self-reflection of the last 9 years of my life. Also, Tribeca only had a short documentary competition and that year there were only 3 animated short films at the festival anyway.
Being the only animated film in a program of short docs actually helped my film stand out and generate a lot of attention. Yellow Sticky Notes was the first film in the lineup and I remember Albert Maysles, the famed documentarian, had come to watch our program. As you could imagine…all the documentary filmmakers were extremely excited to screen their films for the legendary Mr. Maysle. My film screened first and then the second film came on…immediately after the second film finished, his entire entourage of around 20 people got up and left. I heard later that his friend had made the second film in the program and he only came to see that film. From the looks on the faces of the other filmmakers you could tell they were pretty peeved when a good chunk of the audience just up and left with Mr. Maysle. But at least he saw Yellow Sticky Notes before he exited, so for me, that was definitely a highlight of the festival. During the two-week festival, there were other highlights, like standing two feet away from Robert De Niro at a party and trying to drunk navigate the NY subway system but the biggest highlight would come after one of my screenings…
The biggest highlight while at Tribeca was when Nate Weinstein from YouTube came up to introduce himself after one of the Yellow Sticky Notes screenings. He told me YouTube was looking at acquiring films for a new launch they were doing called the Screening Room. He couldn't tell me much about it but said he was going around to top festivals and acquiring films. Basically, The Screening Room was a way of making YouTube a bit more 'classy' and try to get away from all the dog and cat videos. He told me he really loved Yellow Sticky Notes and wanted to acquire it for YouTube. Since I had just started my festival run, I was reluctant to give him a screener since I thought it would end up on YouTube the next day. Although, Nate assured me that wouldn't happen. But soon, he would contact me and offer me the largest license fee I had ever received for a short film. Not only that, but he said I would only need to leave it on YouTube for the 6 week window and it was only for the non-exclusive internet rights only. I rubbed my eyes and wondered if this was true…I could never have imagined in my wildest dreams what would happen next…
This is Part 2 of a 4 part series into the making of and self distribution of Yellow Sticky Notes. Subscribe to my blog for updates on the next posting coming very soon!
To watch Yellow Sticky Notes here on Film Annex...here's the link: http://www.filmannex.com/webtv/meditatingbunny/movie/yellow-sticky-notes/32303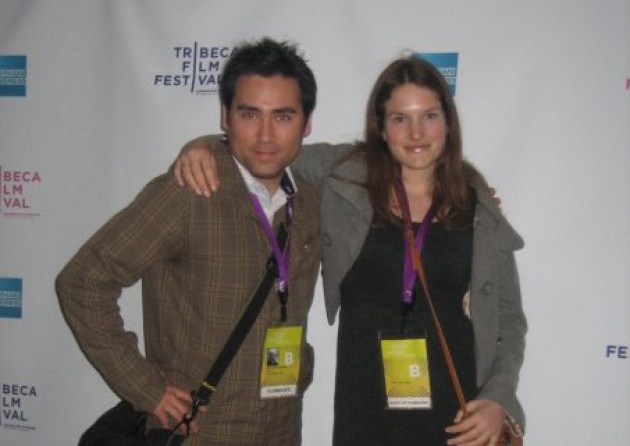 With Genevieve Vincent, Yellow Sticky Notes composer, on the red carpet at the Tribeca Film Festival.
With other Tribeca filmmakers, Shiloh Strong, Rider Strong, Sheryl Santacruz, and Leetal Platt at the Tribeca Film Festival Closing Night gala.