This blog post is a continuation of my last blog post, Yellow Sticky Notes – Part 2: The Tribeca Film Festival. This is part 3 of a 5 part blog series on the self-distribution and marketing of my 2007 animated short film, Yellow Sticky Notes.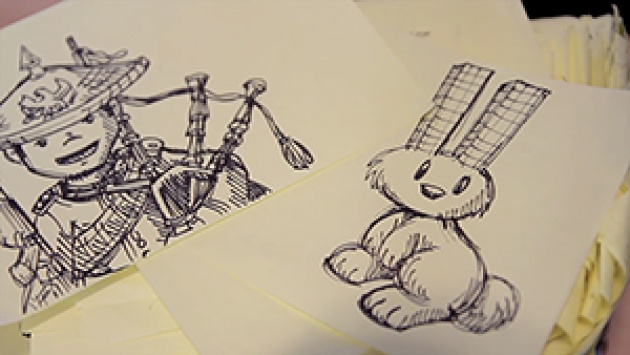 …You would think that being offered a very generous license from Google for the online broadcast of Yellow Sticky Notes would be a no brainer, but there were some issues I had to consider before accepting YouTube rep Nate Weinstein's offer at the Tribeca Film Festival back in 2008. The only problem with giving YouTube the non-exclusive (6 week) internet rights for Yellow Sticky Notes was they wanted to launch their new Screening Room channel a couple months after premiering the film at Tribeca. Up to this point, I had never put any of my films online. You have to remember this was still the era of DVD sales and TV broadcast. I was a bit concerned with having my film available for global viewing online because I didn't want it to jeopardize my festival run since I had just started festivaling the film. Tribeca was only the second film Yellow Sticky Notes had screened in. I knew that some of the more prestigious festivals wouldn't program a film that was already online because they considered it a wide release or a global broadcast. Plus, putting a film online before it qualified for an Oscar in the short animation category would immediately disqualify it.
Although, after some pondering, I came to terms with the fact that Yellow Sticky Notes probably wasn't Oscar material, plus I already had my world premiere and seeing as how I made the film with $150, I decided that it would be stupid to pass up the license fee YouTube was offering. Especially considering at the time, it was the largest license I had ever received for my work. Thus, I signed the agreement and the film aired on YouTube, July 2nd, 2008.
Well, needless to say, the film went viral…and even though it was now online, Yellow Sticky Notes would still go on to screen at over 80 film festivals and win over 10 international awards. So having the film on YouTube had absolutely no affect on the festival run in anyway…and I still even got accepted to the 2009 Clermont-Ferrand Short Film Festival (the most prestigious short film festival in the world). I soon came to realize that a lot of film festivals these days aren't as concerned as they used to be about having a short film available online prior to programming. If anything it helps promote their film festival. So if you're not concerned about qualifying for an Oscar, I say as soon as you finish your film or have your world premiere at a film festival, put it online for all the world to enjoy…there's tons of benefits beyond the exposure and in Part 4 of this blog series, I'll explain more about how I monetized from my online presence!
When Yellow Sticky Notes first launched on YouTube back in 2008, I had over 100,000 hits in less than 24 hours and close to a half million views in a month. My email inbox was flooded, I had thousands of Facebook friend requests from strangers, and I was having panic attacks from all the comments and attention I was receiving. I had no idea the film would explode online as fast as it did. I almost hired an assistant just to deal with all the messages. After people saw the film online, I had teenagers around the world asking me how to become an animator and adults telling me they've started being creative again after years of not painting or drawing. Kids were sending me online links to sticky note films they made after being inspired by Yellow Sticky Notes. My film was having a huge impact on people. This was the most amazing aspect of going viral because as a filmmaker, this is the only reason I make films…to inspire people to be creative in their own lives.
Although, on top of feeling really special that I was inspiring people's lives with my work, I was getting 5 to 10 job offers a week. I wasn't prepared for this. I realized this was the true power of the internet and being online was the best exposure a filmmaker could receive. Better than film festival screenings or a broadcast releases combined. According to the agreement I only had to keep Yellow Sticky Notes up on YouTube for 6 weeks and then I could take it down. But, having the film online was the greatest business card I could ever give to the universe. Thus after those six weeks were up, I decided at that point that taking it down would be career suicide…
This is Part 3 of a now 5 part series into the making of and self-distribution of Yellow Sticky Notes. Please subscribe to my blog for updates on the next posting coming very soon!
To watch Yellow Sticky Notes here on Film Annex...here's the link: http://www.filmannex.com/webtv/meditatingbunny/movie/yellow-sticky-notes/32303