Video credits: WikiWikiup via www.youtube.com
Just tonight while trying to be active and was visiting certain persons on bitLanders, I thought of visiting Micky, it's been awhile since I tried to because I was very busy lately but tonight, I thought of getting involved in blogging again but I can't think of anything to blog just yet.
So, I checked Micky's profile and look what I found? Well, no other than a topic for a blog reward! Awesome!
It's been awhile and although I have no idea on what Yomiuri Shimbun is all about, I had to give it a go specially that the submission is only until the 12th of this month. Yes, it looked like Micky is giving it us a limited time to blog about this so I have to grab the opportunity right now while I am still wide awake.
QUERLO
Image credits: www.bitlanders.com
Anyone who's associated with bitLanders is ought to be aware what Querlo is all about. If you are a newbie, then I understand that you are not aware of this yet so this is for you.
Querlo is an artificial intelligence with a heart. That's the brand tag line. Here's a much deeper information about this artificial intelligence:

Querlo is a consulting and marketing technology firm that provides "artificial intelligence" solutions and data management, focusing on the study of human sentiment and emotion. A team of American and Italian technologists with offices in USA, Europe, Asia and Middle East.

Information reference: www.linkedin.com
So far, Querlo had launched hundreds of chat bots. Clients such as HSBC, Tetra Pak, Philip Morris and Yomiuri Shimbun – to name a few have made their own chat bot for the purpose of genuine and raw data collection.
Querlo Raised the Bar of Artificial Intelligence
Artificial Intelligence has been around over the course of years. When I was in college, one of our projects was to create an artificial intelligent software where we can ask specific questions and it returns back to us with the associated precoded options.
I remember we had it in a command line type of software, it was weird though that it replies to your questions immediately and sometimes asks you back with his own sets of questions too!
That was the main essence of artificial intelligence for us as college students. Then came post college, we then learned some more kind of AI, there's a mobile app which had gone viral for a local developer made it possible to answer the questions in certain languages even with our own vernacular the Bisaya! Isn't it amazing. It was called SimSimi.
Image credits: gian05.wordpress.com
SimSimi is a super chatbot; a super conversationalist; an artificial conversation program; a super computer chat robot– that uses artificial intelligence in engaging a conversation with human users. It was created in 2002 by a Korean tech company–ISMaker.

Information reference: hitechtabai.wordpress.com
Image credits: maxtein.com
That was 2012, SimSimi was a hit, it has a huge database, over 11 million as per the site above. Whenever a question or a line of information is entered in the app, it automatically scans its entire database for the answer. What's so cool about it is its hilarious replies.
Here's one in Tagalog:
Image credits: maxtein.com
These days, chat bots have been used not only for entertainment but for more better and useful reasons.
Querlo for instance which a brand new technology owned by MTI USA of bitLanders was created for a lot of purposes, mainly:
- To enable brands to crowdsource real time custom data
- To build a strong ambassador network
- To establish direct conversations between brands and consumers
- To educate consumers and employees
- To empower brands' loyalty programs
Information reference: Querlo Facebook page
Video Credit: Sky High Advertising via www.youtube.com
And what more beautiful about Querlo is that each chat bot survey can be shared through a URL code on Facebook, LinkedIn, and any other HTML sites. Even on business websites as well as personal blogs like what @adgoggleko did!
By the way, making a Querlo chat bot is super easy and user friendly at the same time too! The website Querlo.com allows each user to create their own versions. It has the option to add questions, select the type of answer you'd like the audience to select, set up the background color or even attach media like photo as well as video! Plus, you can share this immediately as soon as the template has been published!
Here are some of the topics I had made before and of which I had also published on my bitLanders blogs:

Image credits: Jean Beltran-Figues via bitLanders.com
Yomiuri Shimbun
How does it feel to be the world's largest newspaper? It would perhaps be an overwhelming thing but it is also an opportunity to provide the best information to the readers and customers.
Image credits: info.yomiuri.co.jp
Which is why, Yomiuri Shimbun had partered with Querlo to communicate with their clients and educate them about the company's advertising services.
Posted by none other than, Francesco Rulli, the President at Querlo, he made a public announcement a week ago with the partnership.
Image credits: www.linkedin.com
Now, as you go visit this site for Yomiuri Shimbun, you'll find the Querlo chat that is similar to following: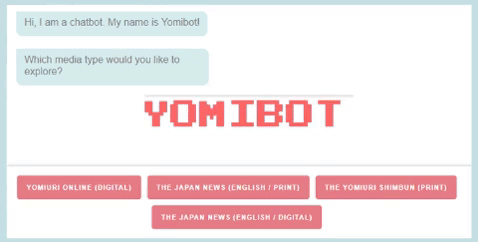 Image credits: giphy.com
So what does this Querlo has for us? I personally tried it although I am not from Japan but I can definitely view the said site's information laid out in a website then with the Querlo in hand, I got the chance to go through such questions and options for the answer.
For the record, this chat bot is called Yomibot, cute name right? So Yomibot asks about the type of media which a participant would like to explore. There's Japan News and Yomiuri Online.
Selecting Japan News would provide three options for circulation, price and reader profile. Going through each would refer the participant to their pdf file available online and then advances the participant to either communicate directly to the staffs or learn about the other media.
On the other hand, if you select Yomiuri Online would direct to three options: price, page view and user profile. Just like the Japan News option, selecting any of thee above would direct to their online knowledge base pdf file.
This is indeed the shortest Querlo I had participated so far. Learn more about it here: adv.yomiuri.co.jp/m-data/english/index.html
You can definitely relate to it bby participating on the Yomibot itself:
Blog entry written and published by Jean Beltran-Figues, A Pinas traveler and photography hobbyist, find more travel blogs in my blog section, click here.