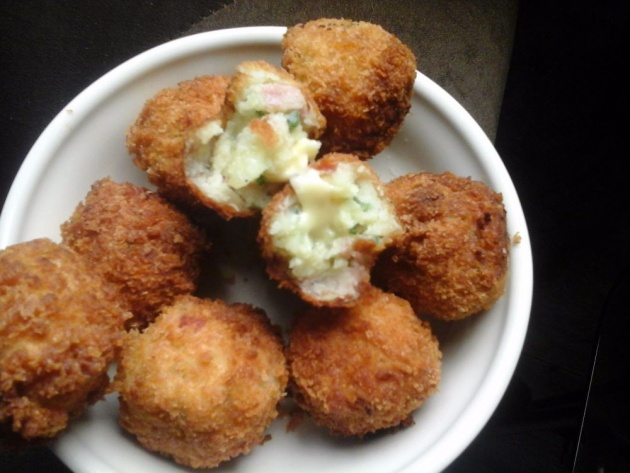 In this blog you will learn how to cook a simple snack that your family will love. The main ingredient here is Potato. You may use left over foods like chicken, bacon strips, ham or whatever your taste buds desires! haha! below you will find the things you'll need to make Cheesy Potato Bombs!



INGREDIENTS:

3 pcs medium sized Potato, boiled and peeled.

4 slices Sweet Ham, cubed

1/2 bar Cheddar cheese, cubed

1/4 cup Minced Onion Leaves

Salt

Pepper

1 Tsp Onion Powder

1/2 cup Flour

1 cup Bread Crumbs

2 pcs Eggs

Oil for Deep Frying



PROCEDURE:

1. in a bowl, mash potatoes.

2. add cubed ham, minced onion leaves, onion powder, 1 piece egg and a pinch of salt and pepper to taste. mix well.

3. make a ball like form from the mixture and insert cubed cheddar cheese inside the balls.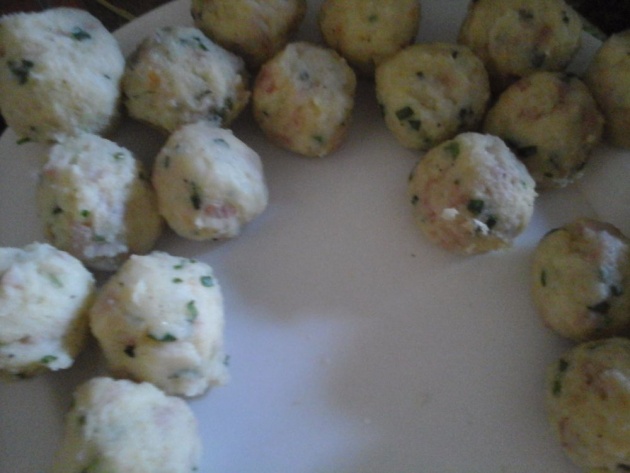 ( the balls must look like this)

4. dredge the potato balls in flour then dip in 1 piece beaten egg then next cover with bread crumbs

5. fry balls in medium heat until golden brown.

6. drain excess oil in paper towels and serve with garlic mayo dressing!