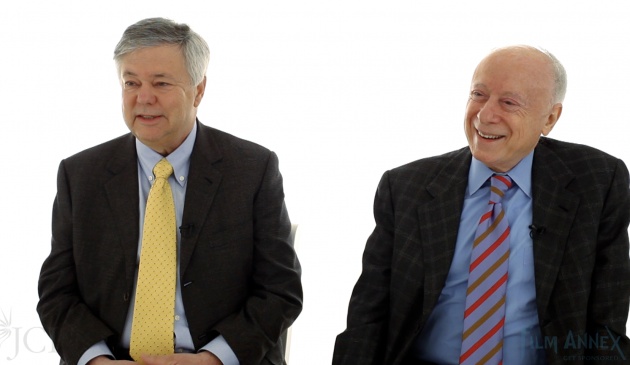 For the second episode of Conversations with Giants in Medicine, hosted by the Journal of Clinical Investigation's Ushma S. Neill and Howard Rockman, Film Annex Studios welcomed three of medicine's most charismatic giants, Robert Lefkowitz, Joseph Goldstein and Michael Brown.
In this episode, Lefkowitz, Goldstein, and Brown interview each other about their backgrounds, how they got started in medicine, where they got their scientific inspiration from, how to be a good mentor, and how to deal with scientific celebrity. Goldstein and Brown together won the 1985 Nobel Prize in Physiology and Medicine for their discovery of the LDL cholestoral receptor and its role in the regulation of cholestrol metabolism.
One of the interesting discussions revolved around the difference between being a physician versus being a scientist. The three talked about their first discoveries, their Eureka moments, their time at NIH, and the sense of wonder they felt, which led to a never-ending passion for science.
Another remarkable topic that is discussed in the interview is the legendary, 40-year old scientific partnership between Goldstein and Brown. The duo talk extensively about how they met at the emergency room at Mass General when they were interns, their common interest in metabolism, and how they kept building on their relationship till this day. Lefkowtiz describes the partnership between Goldstein and Brown as a "remarkable mind-meld," and Brown says that he has the most priviledged existence, because every morning, Goldstein gives him a complete digestive of scientific literature from the night before.
The interview is fascinating and inspirational not only for those with scientific interests, but for anyone with a passion. In this 48-minute conversation, there's so much to learn about science, partnership, hard work, dedication, and curiousity. You can watch the full-length interview here.