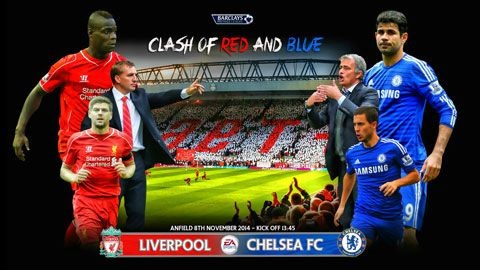 6 months ago, and deprive Chelsea to Anfield dream Liverpool's Premier League title.Now, while the Blues are strengthened markedly weakened Liverpool saw. Thus, it is possible to Anfield will again receive the guests left a bitter nasty ...
Halo LUI INTO THE PAST
Dated 04.27.2014, Liverpool hosted Chelsea at Anfield in business with 11 straight wins in the Premier League. On that day, every Liverpool game was a real festival, not only to the fans of Liverpool, but also for the neutral fans. That day, the Red Brigades are hopeful won the league championship for the first time in history. Then Anfield collapsed, thousands of tears shed, when
Liverpool 0-2 Chelsea collapsed
with the pain never forget after a slip by captain Gerrard.
One of Liverpool's most powerful league history
last year was not to beat the Blues. So hope for them now? Speaking of the Red Brigades was then said to frustrations. No one will recognize the emotions of the team last season, in the shape of the moment Liverpool again.
16 official matches in all competitions since the beginning of the season, he won the game Brendan Rodgers a mere 6 games but has received a total of 7 failed. Last season, Liverpool scored plenty 2nd in the league with a total of 101 goals. This season, after 10 rounds, the new Liverpool has a mere 13 times broke through the defense, at least in the top 10. If not for the league game against Swansea in the League Cup side as, the Liverpool line fuse stature all 4 matches the most. It really is a disaster.
Anfield used to be the pride of Liverpool last season, but now also become a casual destination can be knocked out at any time. A mediocre Aston Villa here and leave with 3 points (1-0). A Middlesbrough just playing in the First Division and forcing them to perspire new winner. And yet, even a lowly PFC Ludogorets Razgrad Razgrad in Europe was enough to get Liverpool innumerable difficulties. Previously, anyone shudder to come and look at the sign "This is Anfield". But now, Anfield is no longer a fear.
Halo newly rekindled in Liverpool last season, has stepped into the past!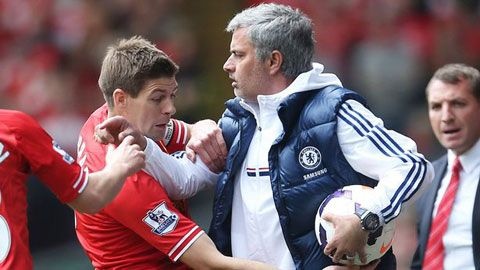 Several recent meetings the game Mourinho did enough to prevent Liverpool step
CHELSEA THAN DEATH
Had a bit wobbly gait Chelsea in recent times. But undeniably, the Blues remain the most stable team in the Premier League. Currently, Chelsea earned 26 points / 10 rounds. In the history of the Premier League, only three teams won more than 26 points 10 points after the first round is Manchester City (2011-12, 28 points), Chelsea (2005/06, 28) and Newcastle (1995/96, 27). And yet, Jose Mourinho's troops were also unbeaten in the official match since defeat to Atletico Madrid in the semi-finals of the Champions League last season. So to say that the blues are horrible stability yet.
Even more,
this style of war of Chelsea's season is also really awesome
.They beat Arsenal with ease. Even in 2 1-1 draw against Manchester City and Manchester United, the Blues also found to be remarkably active. They are the team's opener, actively playing, creating the ball, catch the opponent to play the ball, they pointed out. Only last a little distraction that Chelsea have no new match 3 points in 2 encounters both representing Manchester. However, Mourinho successor bravery and experience to fix the mistakes.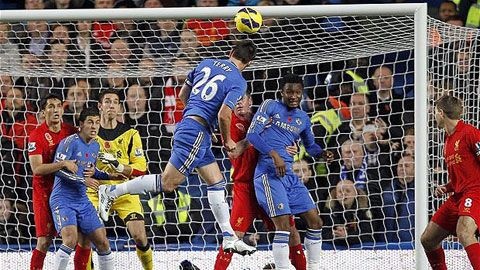 Chelsea to Anfield last season and championship dreams deprived of Liverpool
Can not fail to mention the return of Diego Costa. Spain striker only came in 2nd half against Maribor. The Costa rested will create conditions for him to regain full fitness. That once the most prolific Costa, Chelsea will be as scary.
6 months ago, Anfield was once embraced by Chelsea grief century.Tonight, before a Blues are treated as "devil Premier League" script outside Liverpool defeat ?!
INFORMATION
+ Liverpool: Absent Sakho, Enrique, Flanagan, Sturridge (injury).
+ Chelsea: Azpilicueta back, missing Mikel, Remy (injured).
+ Liverpool only won 2, drawn 2 and lost under Asia 12/16 match of the season. On the pitch, Liverpool do not win the match and lost 8/9 matches of the season according Asia.
+ 7/8 Liverpool's recent games have an even number of total goals.
+ Chelsea 1/6 to win the closest match according to Asia.
+ 8/9 times the most recent clash at Anfield with an even number of total goals.
SPECIAL
Minimum 1 goal 1st half: 15/20 Chelsea's recent games have a minimum of 1 half times 1 13/20 mesh shake away the closest match of the Blues with a similar scenario. This game was hardly the exception.
Maximum of 2 tables: 13/18 closest encounters of two teams at Anfield with a maximum of 2 goals. 3 big games of the season for Chelsea against Arsenal, Manchester United, Manchester City are the most vibrating mesh 2 times.
CONFRONT
The past belongs to Liverpool
Liverpool were dominant in the balance against Chelsea. As of this time, the two teams have met 160 times. Liverpool won 70, while Chelsea triumphed 55 times.
However, recently Chelsea played very well and were unbeaten in four meetings with the closest Liverpool.
SPEECH BEFORE THE GAME
Manager Brendan Rodgers (Liverpool)
Against Chelsea is always a very special occasion. We have learned many things from their defeat against Chelsea in the season 2013/14. Chelsea are the strongest club in the Premier League today.
But when playing at Anfield, we are not afraid to take on any opponent
Jose Mourinho (Chelsea)
Liverpool had taken many pillars in the middle of the week to prepare for this match, they proved how great determination.
Liverpool is a formidable opponent for any team, especially when they are playing at home
CHOOSE YOUR SCORES WHICH?