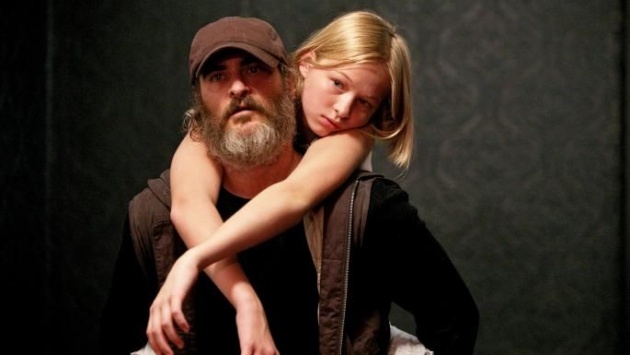 Pictured: Joe (Joaquin Phoenix) gives 13 year old Nina (Ekaterina Samsonov) a piggy back ride to freedom in 'You Were Never Really Here' a dark drama adapted from Jonathan Ames' novella by writer-director Lynne Ramsay. Still courtesy of Amazon Studios/Studio Canal
The movie-verse of Glasgow-born writer-director Lynne Ramsay is tough. Her four feature films to date – Ratcatcher (1999), Morvern Callar (2002), We Need To Talk About Kevin (2011) and now You Were Never Really Here (2017) exhibit, according to the critic Sheila Johnston, 'a fascination with children and young people and the recurring, unresolvable themes of grief, guilt and, above all, death and its aftermath'. She signed on to adapt and direct Alice Sebold's novel, The Lovely Bones, but was replaced by Peter Jackson. Then on the first day of shooting the western, Jane Got A Gun, she didn't turn up and was the subject of a law suit. A sojourn in Santorini, Greece followed.
She is a filmmaker absolutely committed to her art. When star Joaquin Phoenix plunged into water in a scene in You Were Never Really Here's fourth act, Ramsay was right there with him, off camera. Directing the actor – let's not call him a Hollywood star – she would act out the scenes in front of him. Her energy proved inspirational.
So far, her career has been in independent 'arthouse' cinema. It's not that she doesn't 'do' Hollywood, but that Hollywood does not 'do' her. 'They don't ask me to do Batman but I could do it,' she told journalist Miranda Sawyer. Yes, I believe she could.
So what stops Lynne Ramsay from entering the mainstream? Her words: 'I gravitate towards character studies and I try to avoid clichés.' She mostly writes her screenplays herself, though in three out of four films adapted other authors' work – You Were Never Really Here is drawn from a Jonathan Ames novella. Her films tend to be fragmentary, disorientating. You piece them together. The fragments replace voiceover but explain the headspace of her protagonists, numb, tortured and fractious.
A heavily-bearded Phoenix plays Joe, an ex-soldier with post traumatic stress disorder. As a child, he witnessed his father (never shown) brutalise his mother. The young Joe would hide and cover his face with plastic film – a bag or a dry-cleaned suit cover. It is as if he is managing his hyper-ventilation. A technique that was once used to mask his panic, to avoid detection, is now a form of comfort, a habit.
There are images in the early part of You Were Never Really Here that we have to piece together: a mouth seen agape and breathing through the filmy surface of said plastic bag; a barefoot figure face down in the sand. Why barefoot? Of course, he has had his army boots stolen, having been presumed dead. Joe has welts all over his body. He has taken a bullet or three, or else shrapnel. His injuries aren't fully explained: Ramsay invites us to extrapolate his history from a few details, to judge by his wounds and not his words.
The opening invites us to sit up and take notice. We are in a hotel room. Joe has used a hammer. There is blood, material to be flushed down a toilet. There is jewellery which he gathers up and places in a bag. As he leaves the room, the narrow corridor barely accommodating his girth, Jonny Greenwood's insistent guitar 'crime movie' music kicks in. But then as he leaves the building, it stops. Joe throws the gathered contents into a dumpster, but then he is attacked from behind. Joe's response is swift and brutal. His attacker isn't killed, but certainly stopped in his tracks.
A cab is called. Joe's first word is 'airport'. The Cincinnati cab driver (Larry Canady) starts singing and the title appears on the left of the screen, one word at a time.
Back in New York City, Joe comes home. As he enters the house, a boy watches him and tells his companion to go inside, as if having just seen the bogeyman. Joe finds his mother (Judith Roberts, first seen in Eraserhead, 40 years ago, but more recently had a recurring role in Orange Is The New Black as Taslitz) motionless in the front room with the television on. Joe calls to her. She doesn't answer. Joe worries. Then she laughs. Fooled him! She has just watched Psycho – Joe imitates the shower scene music to mock stabbing – eee, eee, eee. He takes her to bed. She asks him to sit with her.
The Psycho reference is a tacit acknowledgement of the similarities between Joe and Norman Bates – both are tortured outsiders living with their moms. Joe had a girlfriend, Sheila, but that was 'about twenty years ago'. Now he is unattached.
The next day Joe finds his mom taking too long in the bathroom. There is water everywhere, which he cleans up with a towel. Scenes are constructed to recall other scenes – Joe tidying up the hotel room at the beginning of the film. He leaves the house and walks across a bridge – he is seen through traffic. His hair is tied at the back. He could be a homeless guy. At any rate he arrives at a store. A Latino kid watches him enter. Joe collects his earnings, stored in a ceiling panel. He gives the guy his cut. 'Angel has seen you,' he is told. 'Where?' Joe asks. There is another job on. Joe goes to his employer, John McCleary (John Doman). A senator's daughter is missing. Joe has been hired to find her. Lounging on a sofa, Joe only half listens, instead eating a handful of jelly beans. He likes the green ones, why are there none? 'Wait - found one!' The job pays fifty grand. It will get McCleary's boat out of dry dock. 'What d'ya think? You, me, the open waves - couple of beers!' McCleary isn't speaking Joe's language – not in the slightest.
Joe meets the Senator, Albert Votto (Alex Manette). 'I heard you are brutal,' Albert tells him. 'Can be.' 'I want you to hurt them,' he instructs Joe. Apparently his young thirteen year old daughter, Nina (Ekaterina Samsonov) is being kept at 235 W 31st Street – an address soon to feature in walking tours of New York City. Why aren't the police called? We sense – but are not told – that Votto doesn't want the publicity. He is working on the campaign to re-elect Governor Williams (Alessandro Nivola). It cannot be known that the daughter of one of his aides is caught up in child exploitation.
Joe rents a car and goes shopping for drinks and snacks – and a hammer and tape. Then he drives by the address. He waits, a little way down the road, looking at the door through his rear window. He sees a young man leave the address. The camera stays with Joe's car as Joe asks the man for directions and then attacks him, bundling him into the vehicle.
'How much security?'
'Two.'
'Where's the playground?'
The frightened young man tells him.
'What's the access code?'
Leaving the young man bound and gagged in the back of his rental, Joe enters the building. What happens next is shown through surveillance cameras, flipping from one image to the next, Joe getting through security. What is striking is the use of sound, the sudden change in volume of the background music and the fragmented view of violence. Then Joe enters the playground and finds Nina in a slip. A woman enters ('big sister'). Joe asks her to turn against the wall.
Carrying Nina out, he sees the final line of defence. He sets Nina down. 'Close your eyes,' he tells her. There is a struggle but Joe gets past the guy.
Dumping the young man (still bound and gagged) onto the sidewalk, Joe drives away. Nina hugs him. Then her behaviour becomes more sexual. 'No, not that,' he tells her. They wait in a parking lot. We wonder why? Then, at some ungodly hour, he carries her into a crummy hotel, where the desk clerk is asleep. (Of course, he didn't want to be seen.) Then, as Joe performs emergency dentistry on himself – we think he is removing a tooth, but it turns out to be a jelly bean – Nina makes a discovery from a television news story. Then there is a knock on the door.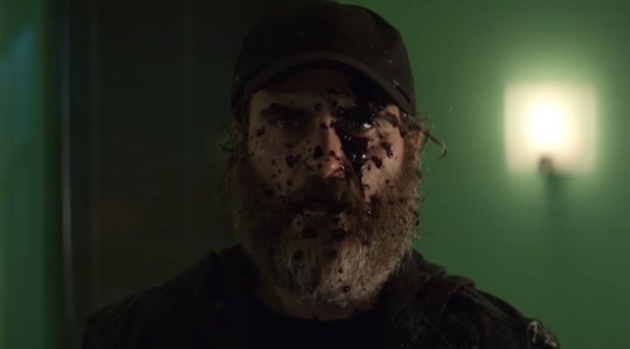 Pictured: Joe (Joaquin Phoenix) answers the door in 'You Were Never Really Here'. Still courtesy of Amazon Studios/Studio Canal
That's enough of the plot. What happens next is Joe's discovery that everyone he is involved with is affected by the job. There is an extraordinary scene where he interrogates a man in his mother's house and then lies next to him to join in with a song on the radio.
Joe is not your typical tortured saviour. He is not a nice guy. He is impatient for his meds by his supplier, pays the money and then beats him (off screen), yelling, 'Don't keep me waiting for twenty minutes!' (Now, that's a guarantee for repeat business.) He is asked to photograph a group of Japanese tourists, Ramsay's camera lingering on their mouths. Then we see an insert shot of Asian girls all dead (suffocated) in the back of a lorry; a memory lifted from its tomb.
Ramsay gives us the second fractured break-in sequence but this one has a surprise ending that turns Joe's heroism on its head. By the end, he is the one being told, 'it's alright'.
You Were Never Really Here refuses the moment of catharsis that we expect from a hero-liberator film. In spite of Ramsay's pleading it does succumb to a cliché – staging a shocking scene that does not really happen, the dream sequence by any other name. I can forgive the film that. Phoenix's performance isn't so much compelling as committed. We never feel that Joe can be cured of his trauma. The narrative does not serve that purpose. What it does instead is take a walk through the tropes of the redemption story and then remark, 'there is no comfort in acts of heroism'. In a strange way, Nina saves Joe – plunged into water holding a corpse, Joe sees her and then takes the rocks from his pockets to return to the surface. But she cannot return him to humanity. She gives him a caring responsibility that is awkward to discharge. The final image is of an empty table that has its own secrets. Over the credits we hear the chatter of diners elsewhere in the restaurant, conversations that don't impinge of what we've seen. They are oblivious, but they also render Joe's story as strangely normal, one more check that has been paid.
Reviewed at Cineworld West India Quay (Screen One), East London, Wednesday 28 March 2018, 21:20 screening.