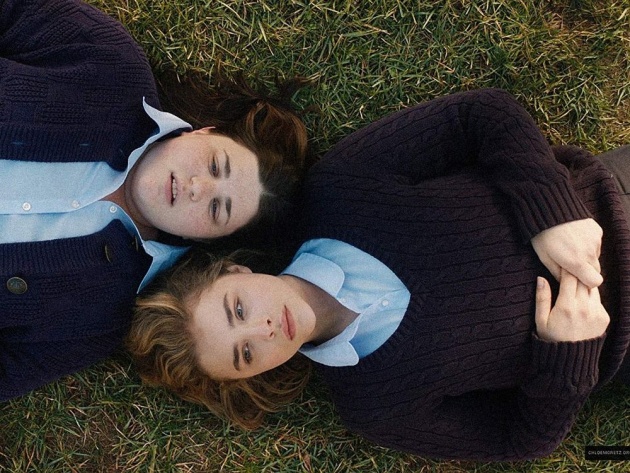 Pictured: Cameron (Chloe Grace Moretz) resists opening up to God's Promise disciple Helen (Melanie Ehrlich) in 'The Miseducation of Cameron Post', a 2018 film adapted from Emily M Danforth's 2012 novel. Still courtesy of Vertigo Releasing (UK), FilmRise (US)
With its 93% approval rating on 'Rotten Tomatoes', The Miseducation of Cameron Post proves that it isn't just geeky boys who are submitting reviews on that website. The story of a teenage girl's experiences in a gay conversion retreat called God's Promise (comment: whatever it was, He didn't keep it), it is the second feature by Iranian-American writer-director Desiree Akhavan, after her 2014 well-regarded debut, Appropriate Behaviour. Based on Emily M. Danforth's 2012 novel, co-adapted with Akhavan's writing and producing partner, Cecilia Frugiuele, it is anchored by an understated central performance by Chloë Grace Moretz, whose Cameron is an unusual mixture of observer and protagonist.
The year is 1993. Cameron is caught kissing her best friend, Coley Taylor (Quinn Shephard) in the backseat of a car by her male prom date. The incident is fixed in her mind as shameful. Cameron is raised as Christian. When we first see her, her gaze is wandering during a sermon by Pastor Crawford (Steven Hauck): 'you know why we adults are here in Church? We're trying to undo the stuff we did as kids.' Before the sermon is even finished, Akhavan's smash-cuts to the two girls retreating to a bedroom to enjoy each other. Cameron is vaguely uncomfortable in her prom dress, but definitely bridles when her (male) date puts his arms around her waist for the camera. Akhavan's camera focuses on small details, such as the girls on the dance floor padding around not in heels but in stockings. In contrast to the formal girl-boy dancing, when the girls dance on their own, they are joyous.
We aren't given that much information about Cameron's home life, but we learn that her parents died. She is driven to God's Promise by her guardian. Upon arrival, her picture is taken with a Polaroid camera (like Instax, only clunkier) by a girl who self-identifies as Jane Fonda (Sasha Lane). We later learn that Jane has a false left leg but no one talks about it. Her best friend Adam (Forrest Goodluck) helps Jane when she gets up.
Cameron is introduced to her irrepressibly chirpy roommate, Erin (Emily Skeggs), who self-identifies as a Vikings fan. Like many of the residents of God's Promise, she struggles with SSA – Same Sex Attraction. On her 'iceberg' – a picture in which residents identify the causes of their SSA behaviour – she writes that she got it from bonding with her father over a shared love of sports. There is a wryly amusing montage in which each resident explains their causal event; we learn that young Jane grew up in a commune. Cameron also discovers that the camp counsellor, the self-styled Reverend Rick (John Gallagher, Jr) also struggled with SSA. He was in a gay bar when two priests stepped inside and saved him – they recognised his car in the parking lot outside, apparently. The story is dismissed by Jane: 'yeah, they wanted to suck his d-k'.
The facility is overseen by a psychiatrist, Dr Lydia Marsh (Jennifer Ehle), who we discover is Rick's sister. She first appears during a class – the film is a little vague on the education that takes place there; Cameron is given a book and that's it. Dr Marsh's dress is strikingly blue, with the material set in three stripes above her left breast. Her voice is soothing but also menacing. 'I wanted to meet our newest disciple,' she coos. Most of the time we see her, she is wearing a red dress. At one point she digs the heel of her red shoe into the back of a male disciple lying face down on the hall floor. That's some counselling session!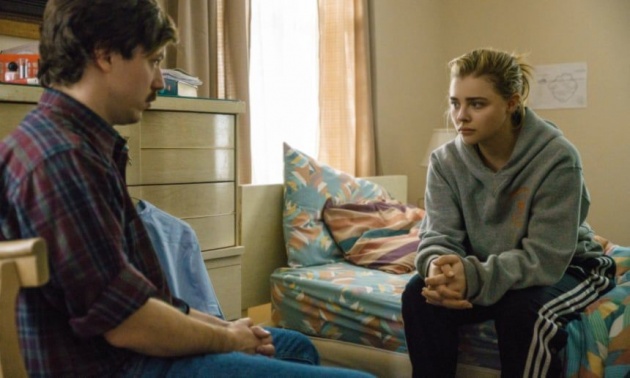 Pictured: Cameron (Chloe Grace Moretz) is counselled by Reverend Rick (John Gallagher, Jr) in 'The Miseducation of Cameron Post'. Still courtesy of Vertigo Releasing (UK), FilmRise (US)
Dr Marsh's group therapy is ripe with tension. The strangest and angriest disciple is Dane (Christopher Dylan White), a rich kid who messed with drugs. Unlike the other kids, he doesn't try to belong to a sub-group. I guess being a rich kid means that he doesn't have a roommate. Looking forward to leaving God's Promise is Mark (Owen Campbell), whose father sent him there. Mark, Erin and Cameron form a triangle of trust after Cameron attempts to steal a music cassette (remember those?) from a bookshop. In a nice detail, we see the soundtrack of Working Girl, a 1987 comedy starring Melanie Griffith, Harrison Ford and Sigourney Weaver. Cameron's hairstyle is partly inspired by Griffith's.
Cameron befriends Adam and Jane, after spying them smoking. She wants to know where they get their weed. One of the permitted activities is hiking; Adam and Jane grow their marijuana in the forest. Surprisingly, Dane doesn't find out. Adam is Native American and finds it hard to vary his inflection. 'I know I sound sarcastic,' he says, 'but this is my normal voice.' He believes his body consists of two spirits – male and female – fighting over his identity.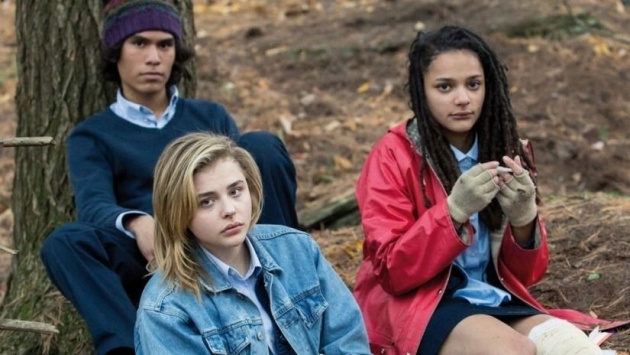 Pictured: Adam (Forrest Goodluck), Jane (Sasha Lane) and Cameron (Chloe Grace Moretz) enjoy the fruits of the forest in 'The Miseducation of Cameron Post'. Still courtesy of Vertigo Releasing (UK), FilmRise (US).
In a group session where Cameron and disciple Helen (Melanie Ehrlich) lie opposite one another, Helen complains that Cameron is holding back. This prompts a confession of sorts. Cameron dreams back to her time with Coley and calls her. Then she discovers Coley's letter (written on pink paper) in which she claims Cameron seduced her. When Cameron dreams of kissing a boy, she is interrupted in a surprising way.
In a conventional story, Cameron would make a discovery about herself and stand up to Dr Marsh. However, the confrontation is displaced onto another character who receives bad news and quotes scripture. The result is a traumatic event. An investigator wants to be assured that the residents aren't being abused. 'We are being taught to hate ourselves,' says Cameron plaintively. 'If that isn't abuse, I don't know what is.'
It is clear that Reverend Rick is unable to cope with what happened. Dr Marsh disappears from the story. Adam, Jane and Cameron come to a decision and prepare for an early morning hike, where they are unexpectedly joined by Rick. After the trio depart, Akhavan leaves her camera on Rick as he finishes his cereal, noisily. The moment briefly accentuates his powerlessness and ignorance.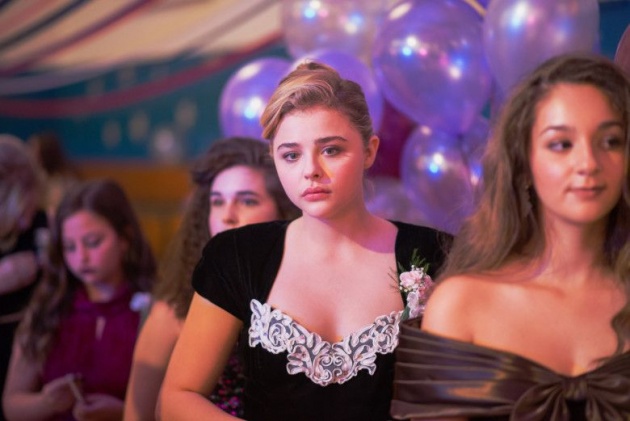 Pictured: Cameron at prom night in 'The Miseducation of Cameron Post'. Still courtesy of Vertigo Releasing (UK), FilmRise (US)
The finale has an interesting use of music, where a song plays out not to join the final scene and the end credits but over the course of a scene and then stopping, with a pause. It suggests that things may not go smoothly. Akhavan doesn't go for big emotions or a sense of resolution because in the course of discovering one's sexual identity the end point can never be precisely clear – at least for some. The film resists pat psychology but leaves us with young people continuing on their path. A song by Wild Yawp is offered as chaser music.
Reviewed at PictureHouse Central, London, Friday 21 September 2018, 16:20 screening