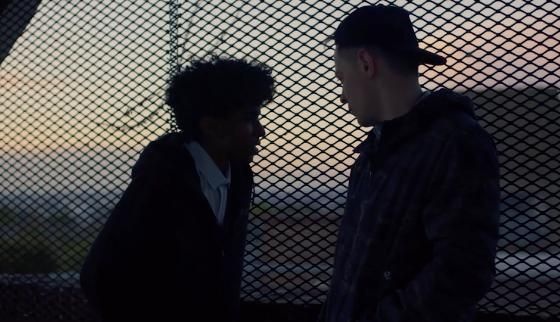 Pictured: Mac (Wilson Radjou-Pujalte) and Jack (Elliot James Langridge) discuss the past in 'We The Kings', a British drama written and directed by Lauren Mackenzie. Still courtesy of Elemo Films
The title of writer-director Lauren Mackenzie's We The Kings sounds like it was arrived at after a particularly fruitless brainstorming session. I know that thinking of a title can be tough, but this Orpington-filmed, Derby-set drama really doesn't deserve to be confused with the George Foreman-Muhammad Ali 'Rumble in the Jungle' documentary, When We Were Kings. Besides what film wants to be in the 'W' section on a DVD shelf, between Waterworld and Wilson? The title is actually also the name of a band.
Ostensibly the action is confined to a single house occupied by Victor (Timothy West), a man who requires daily care from a pair of community nurses, Rosa and Susan (Amanda Abbington and Kacey Ainsworth). Shot in 2016, this British film features the old five pound note which is no longer legal tender. Unable to speak and with the mental faculties of a child, Victor writes 'he is here' on the note to draw attention to his plight. 'He' is Jack (Elliot James Langridge), an orphan who has just firebombed a house for the sake of his 'brother' Mackie (Wilson Radjou-Pujalte) and who has broken into Victor's bungalow until the heat cools down. He desperately wants a friend to help him get to London, where his girlfriend, Lucy (Lily Loveless) lives. Jack has been recently released from a juvenile detention centre when he was given time off to commit criminal damage. Only the firebombing occurred on the same day as a mother and daughter disappeared. 'I never met 'em,' Jack tells his mate on the blower, sorry, phone. When the community nurses come round, Jack hides in the wardrobe. However, apart from changing his shirt once, Jack never tries on any of the clothes.
Mackenzie, who divides her time between Britain and the States – Michael Novick, the executive producer of We The Kings, is American – doesn't really rate the caring profession very much. The two comedy nurses, one of whom is shagging a married man, have little sympathy for Victor. 'He needs to move to a home and let a family live in this big house,' Rosa moans. Moreover both Jack and Mac (Mackie) were in care, moving from foster home to foster home; Jack's dad is banged up, Jack's mum (Kierston Wareing, a scene stealer) is in some unspecified place where she can get cigarettes and raise a tear when her son starts dating. 'I was a nice girl once,' she cries.
The plot hinges on bad experiences in foster homes that cause Jack to copy his dad. 'My dad was a murderer,' he tells Mac in one of their bonding sessions. 'I ain't nothing like him.' Those double negatives will get you every time. Victor, on the other hand, is a bit of a mystery. At one point, Jack, who resembles a skinhead with surplus tattoos and bruised knuckles, ties a bit of string around Victor's arm and pulls it. 'You're nothing but a puppet,' he says, forgetting his cockney rhyming slang.
There is a twist (of course) – you don't cast an actor who played Winston Churchill on three separate occasions and had to watch Gary Oldman win a flipping Oscar for doing so just to sit in a chair and take toilet breaks. At one point, Victor makes a ham sandwich for himself. Well, if West is not going to do any ham acting...
The early parts of film are awkwardly staged and don't bode well. There's Jack voiceover wondering whether his foster brother is looking down on him; what Jack did, he did for him. There's a shot of the pub. Then we meet Jack in an extended take wandering around the house where most of the action is set. He even tidies up and is spied upon by a neighbour. You wonder why the neighbour does not call the police. In the early scene, only the shattered glass on the floor suggests a break-in. We wonder if Jack has been there before, whether the house's owner is a relative. Then he discovers Victor hiding. Victor has a letter opener for protection. 'What are you going to do,' mocks Jack, 'open a letter?' The dialogue is sometimes a little too on the money.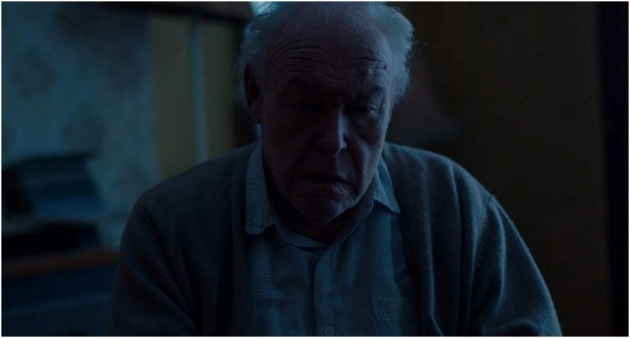 Pictured: A prisoner in his own home, Victor (Timothy West) is rooted to his chair in 'We The Kings', a British drama written and directed by Lauren Mackenzie. Still courtesy of Elemo Films
Some of the scenes in the house are dark. Mackenzie doesn't use darkness aesthetically, but it adds to the sense of the viewer's discomfort. Where the film becomes hard to watch – and not in a good way – is the moment at which Jack comments on the cigarette burns of Mac's chest; Mac accuses him of being a pervert. The argument comes out of left field. The dialogue is trite and gets worse when Mac is separated from Jack; Mackenzie indulges in parallel montage but we know where the sequence is going, so there is no tension.
The politest way to describe Mackenzie's story choice is 'bold' but it is still pedalling a cliché. I could imagine Mackenzie's pitch: Borrowed Time meets ... (the other film is a giveaway). Her decision to set the film in England could have been motivated by the second plot already underpinning a none-too-successful Hollywood film from a director whose second film launched his career. Incidentally, Borrowed Time, released in 2013 is another micro-budget two hander set in a house, featuring an old man (Phil Davis) and a young mockney criminal (Theo Barklem Biggs), also written and directed by a woman (Jules Bishop). I wonder if the producer did his homework, checking out the box-office gross of Bishop's film.
The verdict
After a shaky start, We The Kings certainly holds your attention, though it doesn't deliver real tension. It has some strong scenes, but also some weak ones. The acting is more confident than the direction. As the plot develops it starts to make less sense; there are details that tie Jack to the firebombing but he is never named as a man police want to interview for their enquiries. The credits include a number of oddities: a 'post producer', that is a producer in charge of post production; and a supplier of police costumes (well, now criminals know where to go). Elliot James Langridge, who might be advised to shorten his professional name – 'I don't need your birth certificate, son,' an agent might tell him - tries to channel Jack O'Connell's performance from Starred Up. O'Connell is even from Derby. Incidentally, setting a film in Derby but shooting it in London is a real no-no. You can't deprive the north of England of disruptive film crews, who use the local sandwich shop. The South is stealing their trade. That's yet another reason why Derby voted for Brexit. Mackenzie's debut feature reveals a talent for plotting; her second film might show a talent for emotional engagement.
Reviewed at Raindance Festival, London, Vue Piccadilly Circus Screen Four, with the director and cast in attendance – Timothy West dubbed the film 'Orpington Noir'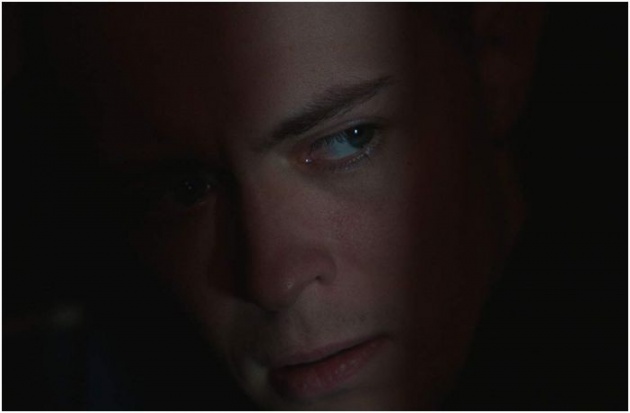 Pictured: Jack (Elliot James Langridge) hides in the wardrobe in 'We The Kings', a British drama written and directed by Lauren Mackenzie. Still courtesy of Elemo Films
No trailer available