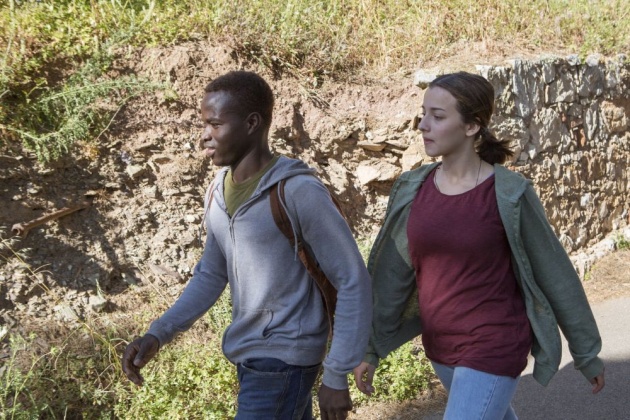 Pictured: Basim (Kalill Kone) and Anna (Anastasyia Bogach) begin a beautiful friendship in 'Twin Flower' (Fiore Gemello) a Italian drama about trauma and flight from director Laura Luchetti. Still courtesy of cineuropa.org
If I have learned one thing about writing about films by women directors for the last three years, it is that change is slow. There were no films that equalled the impact of Wonder Woman in year three, though in my humble opinion, Lady Bird should have been rewarded at the 2018 Academy Awards – apologies for playing a broken record, but Get Out did not deserve 'Best Original Screenplay'. Nevertheless, I look forward to whatever surprises 'year four' might throw up.
The first, Fiore Gemello (Twin Flower), written and directed by Laura Luchetti, isn't exactly a surprise. It is nevertheless an engaging and sensitively told film about two young people from very different worlds who help one another. Set in Sardinia it focuses on Basim (Kalill Kone), an illegal migrant from Côte D'Ivoire who befriends Anna (Anastasyia Bogach), a sixteen year old (or thereabouts) young woman traumatised into being mute and on the run from a threatening older man, Manfredi (Aniello Arena). It depicts the harsh choices faced by undocumented migrants scrambling to survive in Italy but dreaming of a better life in Northern Europe. They cannot work – even trying to make a few cents helping shoppers load their bags into their car is hard. The shoppers don't want to know; supermarket workers shoo them away. They become instead casual sex workers, approached by motorists whilst out walking or else at a hot spot under a motorway.
The film opens with heavy breathing, a scream and Anna fleeing up a slope. She is pursued by Manfredi, who is holding his side where he has been slashed with a knife. The wound is painful but not serious. Basim we first meet spinning around on a shopping trolley in a parking lot. He is entertaining himself before he tries to earn a few pennies. Basim isn't a thief; he just wants to work. He is seen more as a nuisance.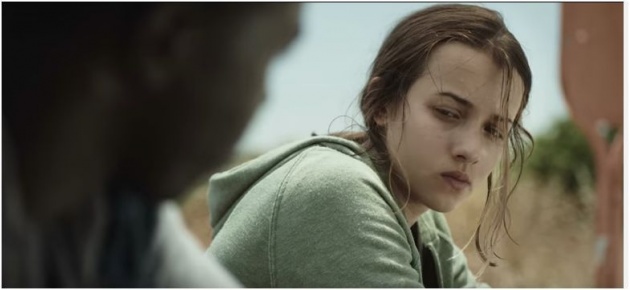 Pictured: Anna (Anastasyia Bogach) gives Basim (Kalill Kone) the silent treatment in 'Twin Flower', an Italian film directed by Laura Luchetti. Still courtesy of filmitalia.org
Early on, a car pulls up next to him. The driver offers him a lift. Basim hesitates. The driver offers him a drink and hands him a plastic bottle of water. He offers him some food. 'Wouldn't you like some food?' Basim gets in and we don't see what happens next.
Anna is also walking and is seen by two boys on a moped. They circle round and trap her. They want to have some fun, though not according to the definition of you or me. Fortunately, Basim comes to her aid, frightening the boys off. Anna runs away in the opposite direction through a field.
Catching up with her at the bus stop on the empty road, Basim sits down next to her. He tells her his name. She is silent. However, he sees her name on her backpack and says it aloud. Anna is not ungrateful and shares a biscuit that she has in her bag. Basim pulls up a plant and makes her a bracelet. 'I used to make these for my sister.' Anna allows him to tie it on her wrist. 'It does not look like the bus is coming,' he says, 'I'm off.' Anna hesitates. She is, for reasons we discover later, emotionally devastated. Significantly, she either has no one to call or no mobile phone. Basim sets off without her. Anna runs to walk with him.
They find themselves in front of a large house. A truck pulls out. The driver, an old man (Giorgio Colangeli) asks for help unloading sacks. Basim and Anna do so, working as a team. Still mute, Anna says nothing. Basim asks for a job. 'I can't use you,' says the old man, referring to Basim's illegal status, 'but I can use her', referring to Anna. Anna does indeed start working for him, arranging flowers according to the old man's direction.
There is a stem with two flowers, rather like a beast with two heads. Anna's impulse is to remove one of the flowers. The old man forbids it. 'It is rare.' This is the 'twin flower' - fiore gemello, though 'gemello' is Italian for twin and 'fiore' Italian for flower (the literal translation is 'flower twin'). There is also a sense that the title refers to Anna and Basim as a couple.
Meanwhile, Manfredi is back in his digs, stuffing money into a statue of the Virgin Mary, hiding it from whoever might search his house. He has anger issues and has an unsavoury occupation. He searches for Anna at a nearby gravel pit, on which we early saw Basim lie down and make star signs.
While Anna works with the old man, Basim entertains himself. He has found them a place to stay, an abandoned house that had at some point been trashed. It has mattresses and functioning cooking facilities. Basim imagines himself playing football, edging past several imaginary defenders and 'shooting'. He collapses to his knees. 'Gooooal!' he yells. Then tears roll down his face and he remembers what he is missing and what is denied to him. It is one of the film's strongest scenes.
The old man doesn't mind that Anna doesn't talk. He doesn't talk much himself. He has secrets and imagines that Anna does as well.
There are flashbacks in which Anna can talk. She spends time with her father, who makes a living through people smuggling. At one point, the pair are in church and Manfredi fixes Anna with a lascivious stare, the camera focussing on the exposed back of her neck.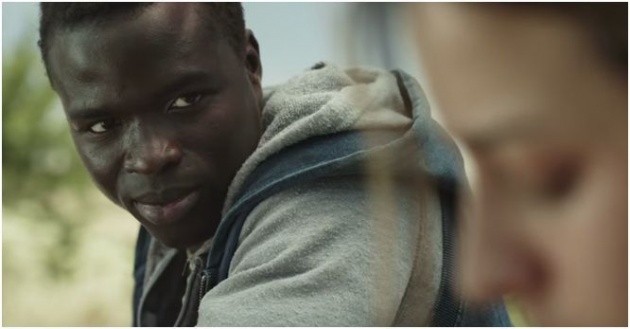 Pictured: Basim (Kalill Kone) tries to read Anna (Anastasyia Bogach) in 'Twin Flower' (Fiore Gemello) an Italian film written and directed by Laura Luchetti.. Still courtesy of filmitalia.org
At one point, Anna follows her father and finds him in the river floating on his back stark naked. As you might imagine, she leaves him to it.
The most joyous sequence has Anna taking Basim's hand just at a point when some local boys might say something. She pulls him down the street and engages him in a game of table football. He is surprised by her scoring but then competition kicks in. They exchange smiles. This is as close as they have gotten to share a joke.
Eventually Anna discovers how Basim makes his living. She watches him bathe and then gets into the tub. Luchetti adds to the list of films that feature bathtub sex scenes that include Last Tango in Paris.
The impact is significant. Anna restores to Basim his dignity. He no longer wishes to have sex with men, though this results in him being struck with a plank of wood, face down in the dirt.
In the big finale we find out exactly what took place that caused Anna to run away – fishing equipment is involved – and why Manfredi is desperate to find her. It is not the first film in this series to end with characters disappearing into the distance.
This is Luchetti's second feature film after her 2010 debut, Febbre da fieno (Hay Fever). That was a romantic comedy. Fiore Gemello was developed over a number of years, with assistance through the Sundance Screenwriters Lab – Luchetti describes it as her 'second 'first' film'. There are the occasional shots of nature. At one point, Anna's father shoos ants towards her. We see ants as a metaphor for people. The numerous flower handling scenes suggest that shaping plants makes you better at treating people.
There is one strange scene when Anna and Basim find themselves staring at a zebra. There is a llama in the scene too. Is it a zoo in progress, we are never sure. The suggestion is that if a zebra can live in Sardinia, then Basim ought to be given a shot.
In the intervening years between her first and second features, Luchetti has also directed animated shorts, including SugarLove. She may be working close to realism in her live action film – one in which features a real-life migrant, Kone – but she has one eye on the fantastic, which is a good sign.
Reviewed at PictureHouse Central, Screen 3, Shaftesbury Avenue, London, Thursday 11 October 2018, 12:30 screening (London Film Festival Press and Industry Screening)