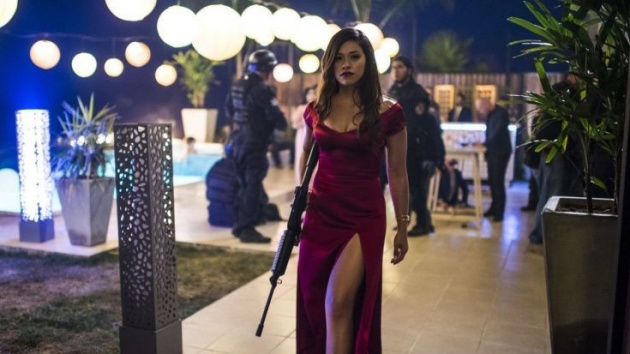 Pictured: Gloria (Gina Rodriguez) models a red dress and a machine gun for the 'Miss Baja California' beauty pageant in the thriller, 'Miss Bala', an English language remake directed by Catherine Hardwicke. Still courtesy of Columbia Pictures
In her newest film, Miss Bala, director Catherine Hardwicke gives a Mexican thriller a Hollywood make-over. Normally, it's Hollywood stars going for a Brazilian, but who am I to argue? Hardwicke isn't the obvious choice to make a film about a beauty queen contender who gets drawn into a life of crime – she makes films about young people, by which I mean about people under the legal drinking age, though in Twilight not under the age of drinking blood. Her early films – Thirteen, Lords of Dogtown, The Nativity Story and Twilight – gave prominent roles to young actors like Nikki Reed, Emile Hirsch, Keisha Castle-Hughes, Kristen Stewart and Robert Pattinson, some of whom made it in Hollywood. Her last film about female friendship, Miss You Already, starring Toni Collette and Drew Barrymore, was atypical, though not for a Hollywood women's flick – it featured one woman trying to start a family whilst the other discovers they have breast cancer.
The Mexican original was released in 2011 and was co-written and directed by Gerardo Naranjo, who went on to work for Hollywood – he helmed three episodes of the hit TV show, Narcos. He wasn't involved in the remake, not even as executive producer and it shows. The edge of your seat suspense has been replaced by something anodyne. I'd like to report that Hardwicke did something interesting with the material that translates into something you'll want to see, but I can't.
It is produced by Columbia Pictures who discovered the value of the Latin market with director Luis Valdez's 1987 hit, La Bamba, starring Lou Diamond Phillips as the singer Richie Valens. The studio also released Robert Rodriguez's $7,000 debut, El Mariachi and funded the bigger budget sequel, Desperado, starring Antonio Banderas. Columbia Pictures' romance with Mexican subject matter soured with the James L Brooks' alleged comedy and box-office flop, Spanglish starring Paz Vega, playing housekeeper to Adam Sandler. You never see it on Sony Movies – I cannot imagine why. However, Columbia's love affair was reignited with the modest box-office success of last year's crime drama Sicario: Day of the Soldado.
The remake of Miss Bala is not entirely faithful to the original. For starters, the protagonist Gloria (Gina Rodriguez) is not a contestant but a make-up artist with aspirations of being a designer. She is the sort who bothers a fashionista during a show – 'look, I've got plenty of great ideas'. Normally, this behaviour would get her fired, but in the movie, scripted by Gareth Dunnet-Alcocer, she just gets ignored. Still, if she is invisible, she might as well take two goodie-bags. Hello! She drives one down to Mexico to her best friend (and single mother), Suzu (Cristina Rodlo).
Gloria has agreed to do Suzu's make-up for the big 'Miss Baja California' beauty pageant. If Suzu wins, she gets $10,000 and a chance to cross the border legally. They get in to the party, where Suzu has a chance to meet the show's sponsor Chief Saucedo (Damián Alcázar) who has eyes for Gloria and wandering hands. Saucedo by name, Saucedo by nature – I can't believe I typed that. Gloria makes her way to the Ladies Room just as the bad guys sneak in through the windows. Honestly, sneaking into the women's toilet – what did they expect to see?
Chaotic shooting ensues. Suzu and Gloria get separated; Gloria loses sight of her friend. She goes to a friendly cop to report Suzu missing, having spent the night in a café, only for the policeman to tell her to wait in the car while he makes a stop. Gloria lied to Suzu's son that his mother is okay and now she is punished, taken by the criminal gang, who tattoo the letter 'e' on the women that they employ. (That's got to be worth a plot point.)
The gang, led by the sinister Lino (Ismael Cruz Cordova) get Gloria to drive a car and park it outside a house. It then explodes. The property, we discover, is a safe house for the Drug Enforcement Agency. The gang then enters Gloria into the Miss Baja pageant herself ostensibly so they have a second shot at Chief Saucedo, who is a threat to their criminal enterprise, blah, blah. At this point, Gloria is snatched by two American agents from the DEA, who put her back into play. Their target is Lino and they ask her to put a tracking device into his mobile phone. Simple, no?
Pictured: Lino (Ismael Cruz Cordova) prepares Gloria (Gina Rodriguez) for the catwalk in the remake 'Miss Bala', directed by Catherine Hardwicke. Still courtesy of Columbia Pictures
Throughout the early part of the film, Gloria is in danger of being sexually mistreated by the Mexican gang, who allege that they are not the bad guys and don't know where Suzu is. Gloria is sent by Lino's gang to drive a car back to the States where she hooks up with Anthony Mackie – or rather a taciturn arms dealer played by Mr Mackie. Although his participation is announced in the opening credits, Mackie does not put in much of a performance. He's not so much phoning it in, but Instagramming it – 'payday for a minimal dialogue cameo. Hashtag suckers!' There are plenty of actors who can exude menace more effectively than Mackie. Anyway, why is he here? My suspicion is that test audiences wanted to feel represented – the casting of Mackie feels like an afterthought.
Having driven a trunk load of weapons back to Mexico, being waved through customs (that's fewer guns on American streets, you know) Gloria arrives at the rendezvous point where the DEA guy takes a shot at Lino. The promised exit route isn't open to Gloria. She is told that she is on her own, betrayed by the DEA. Does not the DEA know that radio conversations with their moles are monitored for quality assurance purposes? Anyway, in the incoherent gun battle that follows, Gloria saves Lino.
Pictured: A gun runner (Anthony Mackie) finds Gloria (Gina Rodriguez) strapped for cash in the remake 'Miss Bala', directed by Catherine Hardwicke. Still courtesy of Columbia Pictures
What happened to that tracking chip that is supposed to be fitted to Lino's cell phone? Gloria does indeed put it in another device. It is discovered, but another woman is killed. This after an unconvincing set piece in which Gloria was allowed to start a fire and sneak into another room to move the tracking chip, ruining lunch, damn it.
Lino teaches Gloria to use a gun, much to the facial displeasure of his number two. The plan is for Gloria to win the beauty contest, get an invitation to Chief Saucedo's hotel room and then let the bad guys in.
In retelling the story, I am conscious that I missed the scene in which Gloria returns to Suzu's house only for Lino's gang to turn up. There's a gang member who has been shot and requires attention. You wonder whether Gloria will suggest a foundation cream. She asks them not to hurt the little boy (Suzu's son). They take an interest in the toy car that Gloria bought for him as a present. You imagine they didn't to play with toy cars as children, poor mites. As far as we know, Suzu's son is unharmed.
Pictured: Gloria (Gina Rodriguez) makes for the exit during a shoot out in the remake 'Miss Bala', directed by Catherine Hardwicke. Still courtesy of Columbia Pictures
The big finale does indeed take place at the beauty pageant after party. Gloria is reunited with Suzu who has an 'e' tattooed on her hand (plot point pays off) having been employed as an escort. There is no actual sex in the film, nor any thrills. Hollywood dictates how the film turns out, with Gloria putting her gun practice to the test.
The epilogue: Gloria finds herself being interrogated by none other than Mackie. We knew it couldn't just be one scene. He offers her a spot in The Avengers - you've seen Infinity War, they are short. Actually it's a job in the CIA. They could use her skills. At this point, I expected Gloria to produce the drawings she showed at the beginning of the movie. You think this film is logical?
Reviewed at Cineworld West India Quay, East London, Sunday 10 March 2019, 15:40 screening