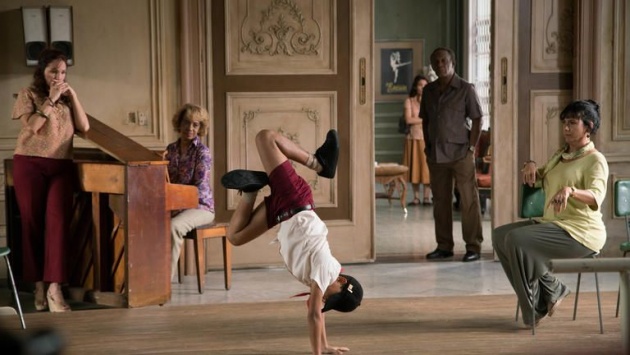 Pictured: Young Yuli (Edilson Manuel Olbera Núñez) demonstrates his street dancing skills at a ballet audition in the biographical film, 'Yuli - The Carlos Acosta Story' directed by Icíar Bollaín. Still courtesy of Modern Films (UK)
At the heart of the fact-based drama Yuli – The Carlos Acosta Story, adapted from Acosta's 2007 autobiography, 'No Way Home' by screenwriter Paul Laverty and director Icíar Bollaín, there is an abusive father-son relationship. Pedro Acosta (Santiago Alfonso), a black truck driver living in a slum in Havana, Cuba, literally forces his young son Carlos, nicknamed Yuli (Edilson Manuel Olbera Núñez) into ballet school. Ten year-old Yuli is a talented street dancer who apes the moves of Michael Jackson with a few extra side flips and who, at the start of the film (in 1983) is winning a street dance battle. His father, seen calling his name in a frantic but to all intents and purposes unmotivated search, grabs him and drags him home. Although in the film permanently old, Pedro is powerfully built. Separated from his wife, María (Yerlín Pérez) with whom he still shares a house, he teaches Yuli, with whom he shares a room, that he is descended from Ogun the warrior. ('I told him that,' shouts Yuli's mother.) Yuli is segregated from his two sisters who share a room with mother – the girls giggle at him from a distance. His big (half) sister, Berta (Andrea Doimeadíos) is white like Yuli's mother. When Yuli's (white) aunt calls round in her big motor car on her way to a trip to the beach, she takes only Berta. Berta's skin colour might give her an advantage but in later life she becomes withdrawn. We see her walking on top of a sea wall at the beach, the spray from crashing waves almost hitting her.
Yuli's relationship with his father is ambivalent. The man is a brute and punishes his son with a belt. Pedro knows his son has a talent ('you got it from me,' he boasts) and he wants him to put it to good use. Yuli protests; he wants to be a footballer like Pele. He doesn't want to wear tights – he worries what the other boys would think of him. (Actually, he uses a word that I won't repeat here – slang for a homosexual.) He is taken to the school and defies his father in front of the admissions board. One of the teachers, Maestra Chery (Laura de la Uz) sees that he has potential – his flexibility, touching toes and bending backwards, is impressive. The long bus journey to school is discussed. 'He can get up at five am with me,' says Pedro. Yuli is not convinced. His audition is a street dance – a far cry from the grace of ballet.
In other countries, Yuli would have required a scholarship to attend ballet school. Even then he would have to deal with racial prejudice. In Cuba, even in 1983, free tuition was granted to those with aptitude. Arguably, without Cuba's cultivation of excellence, based on a socialist ethos, ballet would not have had its first black Romeo in Kenneth MacMillan's production. The art form was transformed from being the preserve of those with white skin.
Pictured: young Yuli (Edilson Manuel Olbera Núñez) stares at himself at the bar in the biographical film, 'Yuli - The Carlos Acosta Story' directed by Icíar Bollaín. Still courtesy of Modern Films (UK)
Yet we never see the moment when Yuli embraces ballet for what it gives him – adoration not just from local school kids but from the metropolitan masses. We don't know what pushes him to excellence. It is not enough to say that he had a good teacher and the opportunity to travel. There is much that is withheld. However, this space is filled by the real Carlos Acosta rehearsing his own autobiographical ballet, also entitled Yuli. In the film's opening scene, we see Carlos looking at a scrapbook in a rehearsal space, his father (or rather his apparition) walking towards him. Later, in a contemporary scene, Carlos explains that he does not think his father loved him.
Yuli was not simply descended from Ogun the warrior, but also from slaves. The Acosta family owned a plantation. Pedro takes Yuli to see the fragments of a stone name-plate, a remnant lying on the ground. Yuli imagines his grandfather as a runaway slave. He knows that Acosta is not a family name but denotes property – property of the Acosta family. Yet he doesn't change it. These days, streets named after slave owners and others who committed human rights abuses are changed; colonial names are discredited. Yet Carlos, who has become a signifier of high art, doesn't address this. When you take a family name, you adhere to its values, not transcend it or re-write its history.
Withholding information is Bollaín's stylistic choice, reflecting that Yuli does this himself. When Pedro is in jail, having been convicted for the manslaughter of a motorcyclist whose bike hit the back of his truck, Yuli visits him with his siblings and says that, far from missing classes, he has made a spectacular turnaround. His father calls him over and embraces. This is the news that he wanted. All his hardship will be worth it if Yuli makes the best use of his talent. His two sisters chide him for his lies and warn him that father will punish him when he learns the truth. In a jump cut, Bollaín stages the film's most powerful sequence, in which Acosta plays his own father on stage, snapping a thick leather belt between his hands and chasing another dancer (playing Yuli) before beating him. This is cross-cut with a scene from Yuli's childhood, in which Pedro (off-screen) is beating his son while Yuli's mother and siblings pound on a locked door begging him to stop. Later, Pedro looks at the bruises he has inflicted whilst Yuli sleeps, and then replaces the sheet. Does he experience shame or remorse? Bollaín does not make a judgment.
The young Yuli is most alive when he flees ballet school, chases and then is seen hanging off the side of a bus and then is shown floating in water. He finds himself in an abandoned building, a honeycomb type structure that was designed as an arts centre. How do we know this? Whilst Yuli is there, a group wanders round and there is some helpful exposition. We learn that the Soviet influence on Cuba's cultural policy caused the structure to be abandoned in 1965. Whilst he is alone in the building, Yuli stamps his feet and listens to the unusual metallic echo – the sound design in this sequence is striking. He holds up his palms to the sun that streams through a skylight far above his head. Later, we see the twenty something year old Carlos (Keyvin Martínez) take a young woman there.
Pictured: young Yuli (Edilson Manuel Olbera Núñez) hangs from the side of a bus in the biographical film, 'Yuli - The Carlos Acosta Story', directed by Icíar Bollaín. Still courtesy of Modern Films (UK)
In another leap, Bollaín takes us from Yuli's childhood to his family watching him on television in 1990, aged seventeen. He is competing for a gold medal in Lausanne. The TV (typically) goes on the blink but once the picture is restored, Pedro and his family share in his victory. Amazingly, the quartet is still together. In an earlier scene, Yuli's mother is told that her mother is leaving Cuba with her sister. The woman can take María and Berta. Yuli is incredulous. Would his mother leave behind two out of three of her children, never to see them again? The alternative is that María would never see her mother again – the Cuba authorities do not allow illegal émigrés to return. There is a tearful farewell. The impact of this moment is never discussed, though it may be a contributing factor to Berta's depression. She is the only one who does not celebrate Yuli's success in Lausanne. She could have had a life abroad too, but a decision was made over which she had no control.
The film charts Yuli's success as a young dancer in broad strokes, as he moves to London to join the English National Ballet, where he does not speak the language. We don't find out how he overcomes this or even how he experiences life in London. He injures himself in a rehearsal space and returns to Havana, where he is treated like a rich tourist – a child asks him for money. 'Don't you recognise me?' Yuli asks. Back home, he has no desire to return to ballet. His contemporaries want to flee the country, trusting their escape to a life raft. Yuli tries to talk them out of it. We never find out what happens to them. Yuli's teacher visits him with an offer from Houston. Will Yuli's ankle allow him to take it up?
Some biographical dramas have cathartic moments. Not this one. Pedro sees his son dance in London and toasts his success. At dinner, he lists the things that gave Yuli success: his teacher, his talent. His speech invites Yuli to show his appreciation for how his father pushed him. Yuli smiles and says nothing.
Pedro Acosta died in 2012. We see his grave.
The intercutting of biographical drama with Carlos' ballet is seamless. There is a sequence involving the US general Smedley Darlington Butler, the so-called maverick marine. Butler wrote a book, 'War is a Racket' and described himself as a gangster for capitalism. One of the dancers asks Carlos 'what has this got to do with your life story?' It is another question that isn't answered, though the ballet itself is striking.
The ballet sequences don't complete the missing narrative, rather complement it. This is an impressionistic biography, not to be taken entirely at face value. When we see Yuli as a young man walking through the streets of London, it is (for us Londoners) the city of 2017 and not of the early 2000s – the barriers on Waterloo Bridge erected to prevent motorists from driving on the pavement to kill pedestrians in the wake of a terrorist incident is a giveaway.
Pictured: the real Carlos Acosta as pictured in the film 'Yuli - The Carlos Acosta Story'. Still courtesy of Modern Films (UK)
The other curious aspect of the film is that it doesn't appear to be the product of a national cinema. It neither reflects nor critiques national boundaries. It is not realist but neither is it an uplifting film (in the Hollywood mode) celebrating triumph over absurdity. It does not privilege one nationality or even the craft of ballet as civilising. Ballet emerged from Italy in the 15th and 16th Centuries in the Italian renaissance courts and was taken up in France under the patronage of Catherine de Medici. The ballet pointed shoe was developed by Charles Didelot in 1795. This is to say that no one country can truly claim the form. Yuli was trained in Havana but developed in England, where he is currently based. No one country can claim him.
If the film isn't cathartic, if it doesn't tell us what Carlos thinks about his dedication to his craft, if it is an incomplete biography, then what does it achieve? It is a movie designed to make the audience think than to make them feel. Some film directors like to start their work with a question and end with a different question. I left Yuli – The Carlos Acosta Story with the same question: what made him a great dancer? Maybe we don't know yet.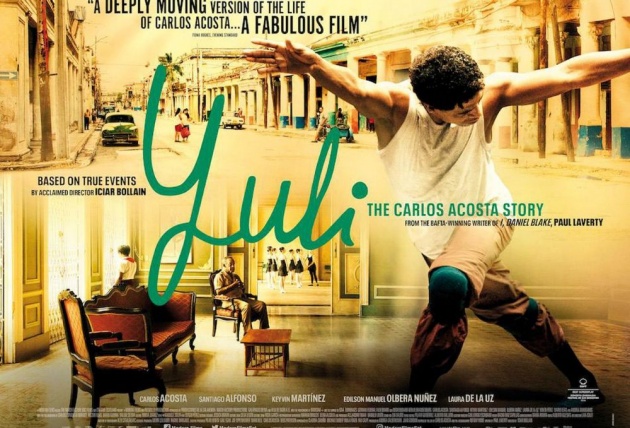 Reviewed at BFI South Bank Screen Three, Waterloo, Central London, Thursday 4 April 2019, 20:25 screening. Preview courtesy of Modern Films