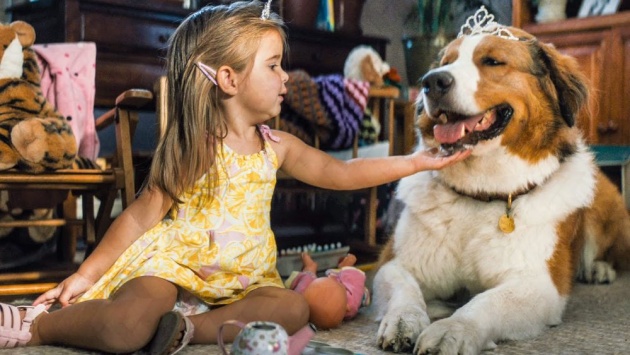 Pictured: Tickles and tiaras. A prefiguring of dog Bailey's gender swap in the canine reincarnation family caper, 'A Dog's Journey'. Still courtesy of Universal Pictures (US); Entertainment One (UK)
At aged sixty, Emmy award winning television director Gail Mancuso (born July, 1958) makes her feature film debut with A Dog's Journey, a sequel to the 2017 $205 million grossing box office hit, A Dog's Purpose. The pitch to both movies, inspired by W. Bruce Cameron's 'Dog' series of novels – the first was published in 2010 – is simple. A dog's consciousness (voiced by Josh Gad from Frozen) passes from canine to canine as it watches the humans that it loves grow up and require support. It is aimed at children who outgrow and replace their pets. 'Don't worry', say their parents, 'our new dog is really our old dog. The old dog has taken the new dog's body so it can be close to us; watch over us, forever and ever.' 'But why do dogs have a shorter life span than humans?' 'Don't you have homework?'
The dog's voice is the key to the success of the two movies. Gad voices it like an enthusiastic child who longs for treats and hugs and likes making his owner feel good. His dog is like a devoted day nurse, one without a sex drive, whose perception of a pack isn't another set of dogs but a family. It offers a skewed level of reality – one that doesn't make a lick of sense. Because it is pitched at children, it doesn't have to.
I watched the film in a deprived part of London, where people can't feed themselves, much less dogs. Restrictions on government support have driven adults on low or no income to food banks, where they collect allocations of donated food and toiletries - the UK is supposedly the fifth biggest economy in the world. It was no surprise that the film didn't resonate. The children in the audience liked the dog slapstick – tearing apart duvets, urinating on the bed and knocking an obnoxious character – an unbeliever – into a paddling pool. The rest of it left them fidgety. I think it resonates more with middle schoolers (aged 11 to 13, from sixth to eighth grade) who are between childish and adult concerns or, if you prefer, ice cream and the environment. The protagonist, Clarity Jane (played as a late teenager and young adult by British-born actress Kathryn Prescott) wants to be a performer like her unsympathetic mom, Gloria (Betty Gilpin) but has stage fright. She makes a series of bad choices until a dog teaches her to make a good one.
I am getting ahead of the plot. It begins on a farm with dog Bailey devoted to the latest addition to the family, CJ (played as a toddler by Emma Volk). Ethan (Dennis Quaid) and Hannah (Marg Helgenberger) have come to terms with the death of their son. Their daughter-in-law (Gilpin) wants to get on with her life. She wants to take a job as a singer on a cruise ship, but her prospective employer won't take a single mom. 'You can pursue your career while we look after CJ,' suggests Ethan. 'You think I'm such a bad mother that I'd abandon my child?' retorts Gloria. She storms out, taking CJ and a few dollars from Ethan with her. The fact is that Gloria isn't a great mom. She let CJ wander into a horse's enclosure while being on her mobile phone – it's a model with an antenna, remember those? Only Bailey's quick action prevents the horse from accidentally stomping on her; horses not having the same consciousness as dogs.
Pictured: Clarity Jane (Kathryn Prescott) aka CJ with Molly (Bailey incarnation number two) in 'A Dog's Journey', a family film directed by Gail Mancuso adapted from W Bruce Cameron's popular novel. Still courtesy of Universal Pictures (US); Entertainment One (UK)
Soon after CJ leaves, Bailey develops a lump and dies. But not before Ethan makes a promise that Bailey will look after CJ for the rest of her life. So Bailey is reborn as a female dog, Molly – Gad was chosen for his asexual voice – and is adopted by CJ at aged eleven (Abby Ryder Fortson) when out with her best friend Trent (Ian Chen). While mom is out on a date, CJ puts a clothes peg on her nose and impersonates her mother to confirm her approval for the pet adoption. I thought paperwork would be involved but, nope, just clothes pegs. CJ then has the hide the adorable Molly from mom, but she's too whacked out on alcohol to notice – face down, fully clothed on her bed, but breathing. Molly has to prepare her own meals and is left home alone. What is she supposed to do – watch back episodes of 'Modern Family', 'Roseanne', 'Rules of Engagement' and the many series that Mancuso has directed in her satisfyingly long career? (Personally, I have never heard of 'Ground Floor' starring Skylar Astin, that Mancuso made for TBS).
Eventually, Mom discovers CJ in bed with Molly, but they are both girls - no biggie. CJ matures and starts dating a local boy (Jake Manley) that Molly doesn't like the smell of. He gets her into trouble with the police after taking her to a party where alcohol is served. She gets 100 hours of community service just for holding a blue cup. What kind of justice is this?
The good news is that she works for a specialist programme where dogs are trained to smell cancer. Molly has an unexpected aptitude for it and, moreover, earns treats.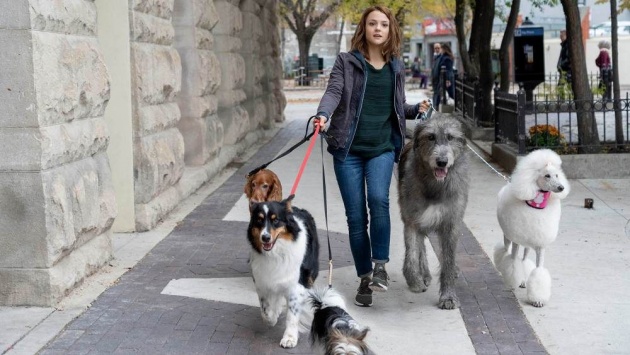 Pictured: Clarity Jane aka CJ (Kathryn Prescott) walks dogs in New York in 'A Dog's Journey', a family film follow-up to 'A Dog's Purpose' directed by Gail Mancuso. Still courtesy of Universal Pictures (US); Entertainment One (UK)
To date the local boy, CJ rejects Trent (played as a High Schooler and young adult by Henry Lau). The kid isn't overtly racist, but you know what's implied. Plot twists come thick and fast as CJ is involved in an accident and discovers what happened to the inheritance from her late father.
The screenplay, credited to W Bruce Cameron, Cathryn Michon, Maya Forbes and Wally Wolodarsky, is filled with incident and leavening humour. At its heart is the story of a girl separated from her grandparents who never knew her father who discovers what home is. It is feel good stuff, but also jerks tears. I got more emotional watching this than through the three hours of Avengers: Anti-climax, sorry, Endgame. Yes, it is underpinned by pseudo-religion, but also deals with country verses city (there are some scenes in New York) and the acceptance of other cultures. In Avengers: Endgame, the only Asian character is killed; here, an Asian life is saved. Lifelong friendship rather than sexual attraction means something. Drugs and alcohol are bad. There is positive stuff here. Every once in a while a dog runs through a clearing in the middle of a wheat field. There is fairly frequent snack related humour. The makers of A Dog's Journey know what they are selling – comfort food for Middle America, with some subversion along the way. It gives us what we want to see – a dog leaping over Ethan's back to catch a deflated football. Say aw! Moreover it gives us a woman director taking over a franchise from a man (Lasse Hallstrom) and doing an excellent job. Say yes!
Reviewed at Wood Green Cineworld, North London, Screen Nine, Sunday 5 May 2019, 18:10 screening