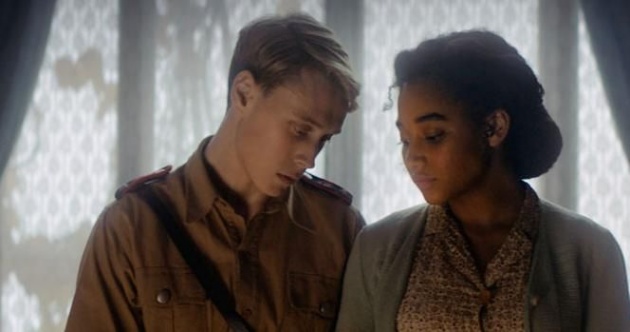 Pictured: Lutz (George Mackay) and Leyna (Amandla Stenberg) share a moment in the World War Two bi-racial romance, 'Where Hands Touch', written and directed by Amma Asante. Still courtesy of Vertical Entertainment (US)
Where Hands Touch, the fourth film from 'Afro-European' writer-director Amma Asante (she does not identify as British) comes from a good place. She attempts to bring to life – in fictional terms – the story of a so-called 'Rhineland Bastard', a child born of a black father and a white mother, who lived in Germany in World War Two. Asante's way in to the story was borne of a curiosity about black (African) children living in Europe in the first half of the 20th Century. What happened to the descendants of freed slaves or the off-spring of men from Africa who were conscripted to fight in World War One? In particular, who was the child shown in a photograph of the internees in a concentration, one black face in a cluster of white? Asante didn't try to tell that story, rather imagined a teenage girl in a similar position, Leyna Schlegel (Amandla Stenberg) who is brought to Berlin by her mother Kerstin (Abbie Cornish) in 1944 with her white younger brother Koen (Tom Sweet) to, as it were, 'hide in plain sight'.
So far, so relatively uncontroversial. Where the film upset the decency 'you-can't-make-movies-about-that' police is in having Leyna fall for Lutz (George Mackay) a teenager in the Hitler Youth. In February 2017, when the first image from the film was released, a Twitter storm followed, complaining about a Nazi romantic hero. Asante issued a statement defending her story but the die was cast. The film took a further eighteen months before its first public screening in September 2018 at the Toronto Film Festival. Vertical Entertainment acquired it in the United States, where it lasted exactly one week in cinemas, grossing $67,743. In the UK, it was shown in a handful of cinemas, accompanied by question and answer sessions. At the one I attended, Asante did not want to answer my questions about how the controversy affected the release of her film and why it wasn't shown in multiplexes - 'my first film, A Way of Life, wasn't shown in multiplexes either. 'Why do you think it isn't shown in multiplexes?' she asked me. 'Why are you watching this film?' Finally: 'I don't understand your question.'
The most revealing thing about question and answer sessions is that the audience sided with Asante as if, in raising the controversy, I had sought to harm her. The point of this series is to discuss the barriers for women filmmakers in building a career in the film industry. Asante made it clear that she wanted to dwell only on the positive. 'Some films only get a niche release,' she added.
In dwelling on the positive, Asante was trying to bury the film's troubled history, an ironic behavioural trait for a director who wants to reveal hidden histories. In saying (repeatedly) 'I don't understand your question,' Asante also betrayed an insecurity that actually might make her a risk on a film set. Imagine her in mid-production, meeting a department head or a leading actor, saying with the same look of stressed faux protestation: 'I don't understand your question.'
If a low-budget British film about colourism, No Shade, by Clare Anyiam-Osigwe, can be exhibited by the Odeon chain, then so can Where Hands Touch. I regret I truly do not understand Asante's answer.
Far better, I think, to concentrate on the film itself, which treads sensitively around the 'Nazi love interest' question. Lutz, like many boys his age, was conscripted. His father, Heinz (Christopher Eccleston) wants to save him from the front line, in particular the Russian front, where he would face almost certain death. Lutz trains younger boys, including Leyna's younger brother. At no point does he attack immigrants. 'We have a picture of a girl like you at home,' he tells Leyna after they become sort of friends. It is a record by Billie Holliday. Heinz listens to it when he is melancholy, when he thinks about his departed wife. At Lutz's house, the two youngsters dance.
Asante constructs her screenplay on parallels. Both Leyna and Lutz come from incomplete families. Leyna lacks a father, Lutz a mother. It is clear that there was another man in Kerstin's life, the white father of Koen, but he like Leyna's own father isn't discussed. Kerstin is despised for having been with an African – worse an African who fought on the side of the French, the enemy of Germany. At the beginning of the film, the house is searched. Leyna is hidden beneath the floorboards. A Nazi officer raises Kerstin's skirt menacingly.
Asante heavily researched her film and reveals some horrifying details. The so-called 'Rhineland Bastards' had to be sterilised so that they would die out. Kerstin tries to obtain a certificate from a relative so that Leyna isn't interfered with. As the interviewer at the q and a session I attended put it insightfully, she is fighting for her daughter's reproductive rights. One wonders whether all German mothers raising Afro-German children would have done this, or whether sterilization is a price worth paying. At any rate, this open defiance of Nazi law puts Kerstin in danger.
Asante focuses so much on people acting in the right way that one wonders whether she really understood the pressure to conform that befell people in Germany. The film is, in a way, an apologia not for the Nazis but for 'ordinary' Germans living in Nazi Germany. Asante has acknowledged that her films have lacked nuance, but here I think she shows too many people successfully standing up against Nazism. In Poland, the current regime doesn't want to accept that Poles were complicit in the Holocaust. This film offers a similar effacing of responsibility.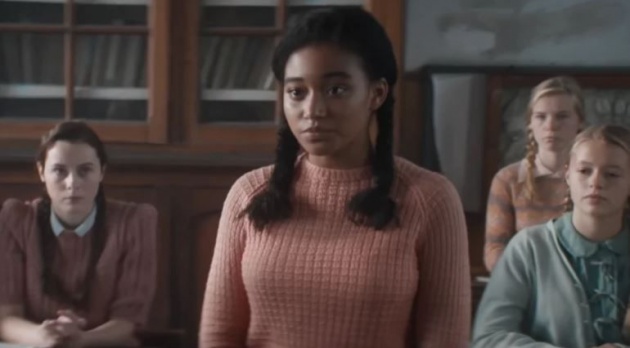 Pictured: Leyna (Amandla Stenberg) is singled out in class in an early scene of 'Where Hands Touch', a drama set in 1944 Nazi Germany. Still courtesy of Vertical Entertainment (US)
The drama is divided into two halves. The first in which Leyna attempts to go to school, is removed and goes to work in a factory. In the second, Leyna ends up wearing a black triangle in a concentration camp in Germany (not Poland). There she works in the kitchen and attempts to help a girl whose shoes are ruining her feet. She steals a potato but is almost caught. Then her new friend's shoes are stolen. The girl is shot. Before entering the camp, there is a 'Sophie's Choice' type moment in which Kerstin and Leyna are stopped by some brutish Nazi officers. They will either take Kerstin or Leyna to do with as they wish. Kerstin offers herself. Leyna makes sure that Koen is safe (with relatives of her mother) before she is taken to the camp.
In a coincidence that we go with, Lutz is stationed at the camp where Leyna is interned. He also discovers that she is pregnant with his child.
The ending is cathartic but also a little problematic and not just because a camp for internally displaced persons is somewhat under-populated. It seems a little too neat. There is a good scene in which Asante cleverly addresses the language gap between Leyna and an American GI that she meets. The film is in English even though Leyna is speaking German. Her conversation with the GI is in French.
The most problematic aspect of the film is in Asante's presentation of Leyna. Like Dido Elizabeth Belle in Asante's commercially successful 2014 film, Belle, Leyna is inert, reserved, not fully expressing emotions, as if barely 'out' of the picture in which she – or her inspiration (the child in the camp) was originally shown. You see Leyna as a vulnerable figure, constantly watched, yet defiant because she is prepared to be looked at. The German society Asante imagines is somewhat reserved; apart from Lutz, they aren't curious about her. Leyna wears her hair in pig tails in the early part of the film, signifying an attempt at conformity. It is looser later on, then shaved off in the camp. Yet it does disappear entirely. Asante expresses herself through the endurance of Leyna's spirit.
This is the key to Asante's behaviour at the screening I attended, turning the gaze back on the person asking the question: you're looking at me, but who are you? She assumes hostility. However, if you choose to take part in question and answer sessions, you ought not to make it a 'question and question' session. Films don't have to give answers and Asante did not need to turn up. Nevertheless, for all of her behaviour, she has succeeded in putting a film 'out into the culture', honouring those obscured by conventional history. This endeavour alone, rather than her taciturn responses, deserves recognition.
Reviewed at the Arthouse Cinema, Crouch End, Monday 13 May 2019, 20:00 screening with Q and A