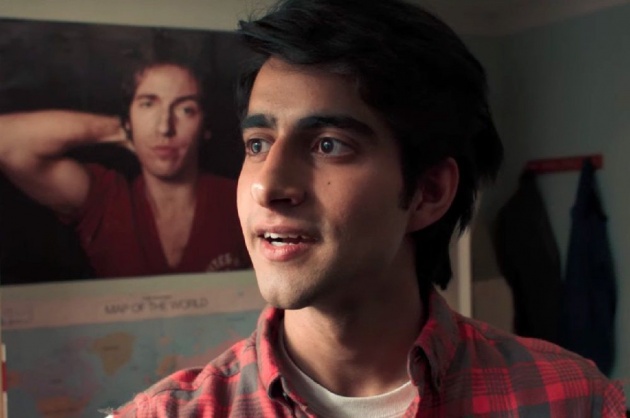 Pictured: Javed (Viviek Kalra) develops his man-crush on Bruce Springsteen in 'Blinded By The Light', a coming of age drama set in Luton in 1987, co-written, produced and directed by Gurinder Chadha. Still courtesy of Bend It Films / Entertainment One (UK)
Director Gurinder Chadha is having a heck of a year. First, she sees her six-part television series, Beecham House, a British historical drama set in Delhi, India, air on ITV, a channel not known for commissioning Anglo Asian period dramas set at the end of the 18th Century, unless they feature Martin Clunes and at least one of the cast members of The Durrells. Second, her eighth feature film, Blinded By The Light, wows audiences at the 2019 Sundance Film Festival in Park City, Utah. One senses she has waited a long time for these projects to come together; there was a seven year gap between her sixth and seventh features, It's A Wonderful Afterlife (2010) and Viceroy's House (2017). Currently, she is in pre-production on her first animated feature, Pashmina, adapted from the children's book by Nidhi Chanani. The Kenyan-born Anglo-Asian director continues to blaze trails.
Chadha is best known for her 2002 football comedy, Bend It like Beckham, about an Anglo-Indian schoolgirl (Parminder Nagra) who takes up soccer; Keira Knightley co-stars as the girl who spots her talent. It grossed $32 million in the USA and helped spark the growth of women's football. (Let's not mention the 2019 Women's World Cup – cup of tea, VAR [Video Assistant Referee] and all that.)
Blinded By The Light has a little of that Beckham vibe. Set in 1987 and adapted from the memoir 'Greetings from Bury Park' by journalist Sarfraz Mansoor, its protagonist, Pakistani teenager, Javed Khan (Viviek Kalra) is seduced not by the beautiful game but by The Boss – the lyrics and musical styling of Mr Bruce Springsteen. (Running joke: Springsteen's not Jewish.) Before then, Javed did not know that popular music could articulate his innermost anxieties. He becomes Bruce, listening to Springsteen's music constantly on his Walkman. He imagines himself 'Born to run', having a 'Hungry Heart' and 'Dancing in the Dark'. Springsteen turned authentic experience into songs. Javed writes poetry about Luton being a four letter word (yes it is - a 'town'). He is studying at a sixth form college where he meets and has a montage sequence with activist and Tracey Ullman-lookalike Eliza (Nell Williams), who at one point brings him round for dinner. He is, as you might expect, at odds with his father, Malik (Kulvinder Ghir) who works for the car manufacturing company, Vauxhall (running joke: the car doesn't start).
Early on, the ten year-old Javed (Ronak Singh Chadha Berges, aka Gurinder's son) sits with his best friend Matt on a hill watching the traffic heading for London. He is fascinated by going places, but has to make do with a lift back on Matt's Chopper (it's a bicycle, not a euphemism). Smash cut to 1987 and Javed finishes his holiday job, handing over his wages to his dad. Mr Khan was the first Pakistani to move to Luton. He has a nice house but the white neighbour (David Heyman) appears to be suspicious of him – spoiler alert, he isn't, rather he fought to rid Britain of Nazis. Mr Khan won't let Javed go to Matt's party. He wants him to study something that will get him a good job. Javed prefers English literature. Amazingly, Mr Khan doesn't notice, but Chadha keeps scenes short so we don't think about them too much.
Unwilling to share his poetry in class and forever nagged by Matt (Dean-Charles Chapman) to write some decent lyrics, Javed is transformed by a chance meeting with Sikh student, Roops (Aaron Phagara) who loans him two Springsteen tapes. Suddenly, he can forget the racist stares and the young kids urinating through an Asian family's letterbox – the family has placed a plastic sheet over the carpet to catch it. The words literally spin round his head. He feels understood. From then on, he styles himself like Bruce, cutting off his shirt sleeves, though if he thinks he is getting a new shirt, well.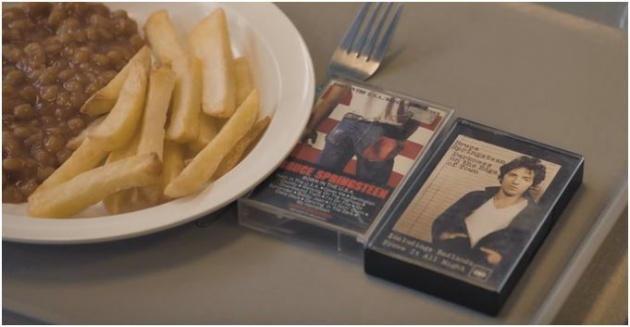 Pictured: 'Bruce and chips, twice.' A still from 'Blinded By The Light', a 1987-set film directed by Gurinder Chadha. Still courtesy of Bend It Films / Entertainment One (UK)
Javed also tries to get his writing accepted by the school magazine. The editor is not exactly looking for material, but Javed insists that he read his thousand word eulogy of all things Bruce, his Brucie bonus. (Wait, that's Forsyth, not Springsteen!)
There are the familiar complaints from Matt: Springsteen writes songs your dad would listen to. More accurately, these are songs Matt's Dad (Rob Brydon) can sing along to. He is a market vendor and something of an embarrassment to his son. Their musical tastes diverge. Matt and Javed fall out. This after Mr Khan is laid off. Javed's mother Noor (Meera Ganatra) has to work more hours as does his sister. Even Javed is forced to look for work. Mr Khan's trips to the job centre count for nothing; jewellery is sold. Meanwhile, Javed goes on his first date with Eliza.
Pictured: 'That's a strange expression, Bruce!' Roops (Aaron Phagara) waxes Springsteen in 'Blinded By The Light', a 1987-set drama directed by Gurinder Chadha. Still courtesy of Bend It Films / Entertainment One (UK)
Chadha is a little coy on the Anglo-Asian romance; she knows something we don't. Still, it gives us a comedy scene involving Eliza's dad (Marcus Brigstocke) who offers young Javed some wine in spite of his religion.
There is a whirlwind moment set during the night of the great storm, in which Javed's writing is taken by the wind; he gets it back, all except for one piece found by his neighbour. There are also edgy scenes that Chadha just about pulls off. One set in a cafe has Javed and Roops told to leave their table by a group of racist louts. The pair move away but Javed has left a video cassette of a Springsteen concert on the table. He goes back to retrieve it, facing a quartet of snarls. To silence them, Javed sings a Springsteen song, accidentally spitting on one of the boys. You think it is going to turn violent, but they escape with the cassette. I guess the racist oiks had placed their order. In another scene, Javed flees from a skinhead. In a third scene, there's a nationalist march.
Chadha, who collaborated on the screenplay with her husband Paul Mayeda Berges and Mansoor himself, packs the film full of incident. In between, Javed's English teacher, Ms Clay (Hayley Atwell) acts as his cheerleader, even doing something unexpected that becomes a source of conflict. The film builds to a big speech, delivered with moving sincerity by Kalra.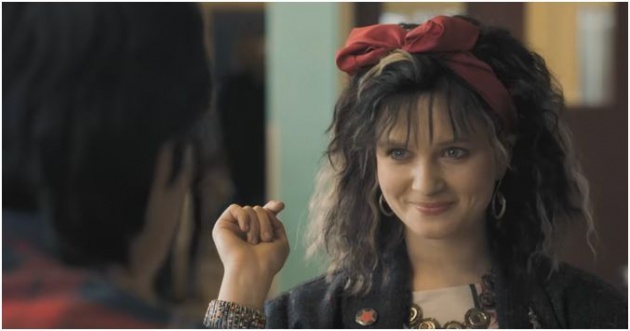 Pictured: Eliza (Nell Williams) rocks a bow in 'Blinded By The Light', a 1987-set drama adapted from Sarfraz Mansoor's memoir by co-writer-producer-director Gurinder Chadha. Still courtesy of Bend It Films / Entertainment One (UK)
Blinded By The Light is a coming of age drama with a memorable soundtrack, though every song is played twice. I am sorry to admit it, but I got fed up of Bruce Springsteen, the smoky voice that trails off. The film makes a great case for the power of his lyrics, but I was yearning for some variation. Spoiler alert; there is no 'Born in the USA', though it is mentioned, and no Brian de Palma-directed video of 'Dancing in The Dark' with Courtney Cox either. There is, however, a brief comedy cameo from Sally Phillips, last seen at school in The Fight.
Blinded By The Light might also suffer at the box office by comparison with Yesterday, another film with 'retro' music and an Asian young man at its centre. I know what you're thinking. Chadha's film mentions synthesizers, Bros and Debbie Gibson – things that will last. Both films showcase music as a bridge between cultures. I'm waiting for the film about an Asian family transformed by exposure to Suzanne Vega.
Reviewed at Cineworld West India Quay, East London, Screen five. Cineworld 'Surprise Screening 11', Tuesday 9 July 2019, 20:00