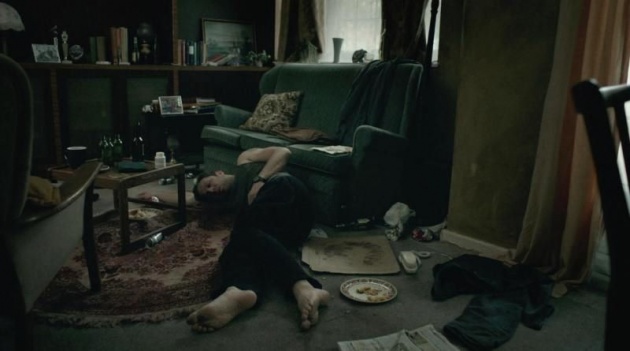 Pictured: Tesla (Sebastian Street) after a heavy night at the start of 'Tomorrow', a British drama directed by Martha Pinson. Still courtesy of Stronghold
Tomorrow, the London-set debut feature of script supervisor-turned-director Martha Pinson, took five years from the start of principal photography to being released in UK cinemas. In the meantime, one of its actor-stars, Stuart Brennan, who co-wrote the screenplay with fellow actor Sebastian Street, has directed his own movie, The Necromancer, shown it in movie theatres and grimaced at the reviews. I cannot hail Brennan and Street as Britain's answer to Ben Affleck and Matt Damon – their writing isn't particularly subtle. Yet the resulting film is an endorphin rush masquerading as a drama. It generates so much good will, it makes the Salvation Army seem grumpy.
Street plays Tesla, a traumatised paraplegic ex-squaddie who doesn't want to think about his time in Afghanistan, where he was injured in an explosion. He isn't interested in spending time with his former army buddies. Nor does he want to think about the girlfriend who walked out on him. When we first see him, he is sprawled out in his apartment (we say flat). Drinking in his local, where the bar staff bring his drink to the table – nice – he sees Sky (Brennan) holding a dog struggling to gain admittance. 'Go on, let him in,' says Tesla. Sky has a drink with him. Sky's pooch proves very popular with two young women, flatmates (sorry, roomies) Lee-Anne (Sophie Kennedy Clark) who has an eye for Sky and Katie (Stephanie Leonidas) who quite likes Tesla. Katie is studying for an MA in Business Studies and has dreams of opening a restaurant in the Square Mile – the financial district of London, not a neighbourhood where everyone listens to Dire Straits. Lee-Anne is an artist who draws people when they sleep – cheaper than hiring a model. She isn't making money from her art, which becomes a problem. Sky doesn't need to work, but he has his own secret. His mother died while he was travelling, but that is not the only thing he keeps quiet about. He is not interested in physical contact with women.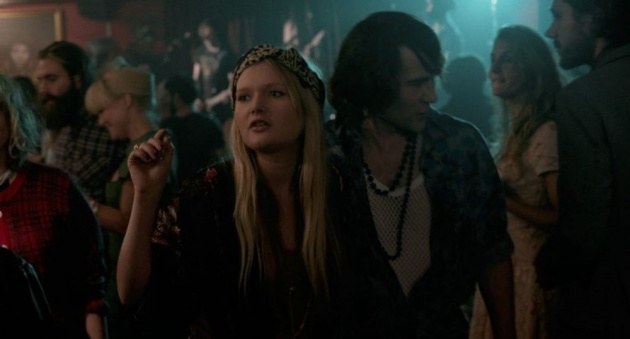 Pictured: Lee-Anne (Sophie Kennedy Clark) dances with Sky (Stuart Brennan) like there's no tomorrow in 'Tomorrow', a British drama directed by Martha Pinson. Still courtesy of Stronghold.
So far, I haven't conveyed the tone of the film. It is as follows. Small problems are solved every five minutes. Tesla gets a date of sorts with Katie. He cooks for the four of them, with Katie passing him the carrots to slice. His veggie burger is a-mazing – so good you separate syllables with hyphens. Before you know it, he's Katie's new business partner. Did I tell you Katie passed her MA, with help from her friends? Sky helped with the business plan because he's always helping people with their balance sheets. Lee-Anne contributed to the design. In Tesla, Katie has a Head Chef. She has a location, a restaurant that is coming up for auction. All she needs is the finance. No problem. Sky knows a millionaire (James Cosmo).
Not everything goes swimmingly. While he is getting ready for his first proper outdoor date with Katie, Tesla has an Afghan flashback. She is left waiting by the fountains in Battersea Park. Great location, but she's still angry. They meet in Sky's favourite pub for his birthday – he's 29. Katie makes up with Tesla, but not out of pity.
Meanwhile Tesla starts turning up for physiotherapy assisted by a woman with 'Help for Heroes' branding. The guys are playing wheelchair rugby – or Murderball as the Americans call it – but Tesla doesn't join him. Katie invites him back to her place but there are stairs. No problem. Without leaving his wheelchair, Tesla hauls himself, body, chair and all, one step at a time until he reaches the top. It is an impressive feat of upper body strength. No wonder he stays for coffee and a bedroom scene.
Pictured: Cafe Society: Sky (Stuart Brennan) and Tesla (Sebastian Street) share a brew in 'Tomorrow', a British drama directed by Martha Pinson. Still courtesy of Stronghold
There are several mini problems. Sky 'coughs' a lot and gets blood on Katie's business plan. Lee-Anne is put out by Sky ignoring her. Tesla is asked to prove that he can run a kitchen by getting a job as a KP – that's kitchen porter, not a brand of nuts – in a luxury hotel where the millionaire gives an inspiring if derivative speech. The head chef (Paul Kaye) doesn't like him, but a kitchen hand, Terry (Shishir Bankapur) is a little more sympathetic. The work is physically demanding. The chef complains that Tesla has finished last. Terry pleads his case. Meanwhile the deadline for putting a bid in for the restaurant gets ever closer. Katie gets a tele-marketing type job and attracts the attention of Tristan (Will Tudor) – tall, blond, bi-pedal, but a little too self-confident.
Brennan and Street aren't exactly Affleck and Damon in the looks department. Brennan suggests a cross between Dylan Moran and Denis Lawson (from Star Wars Episode IV). Street looks like he is one of the cast members of the 1980s TV show, Auf Wiedersehen, Pet. Then there is the curious involvement of Martin Scorsese, for whom Pinson worked as script supervisor. Scorsese has supported a lot of women filmmakers in recent years – Joanna Hogg and Danielle Lessovitz this year alone and, before then, Amelie Van Elmbt, Alice Rohrwacher and Allison Anders. You can spot some of his influence, including the use of music ('And then he kissed me') as Tristan is introduced in slow-motion. The music cue elicits a chuckle. The film doesn't have a strong visual style, though the warzone scenes are edited for intermediate unease. Nevertheless, you warm to the character. Even a line like, 'I sold my art after Sky showed me a website' works.
The scene in which Tesla has a breakdown at an art exhibition filled with gaudy war art is the accident waiting to happen. However, the film comes into its own with an orgasm scene abetted by wiggling a toe (don't take my word for it). Then there is the late movie cameo by Stephen Fry, who oozes sensitivity and appears to be doing the movie as a favour – to support Pinson, our troops or maybe because he had an afternoon free, it doesn't matter. Fry doesn't act – he radiates benevolence, like Father Christmas before his hair turned white.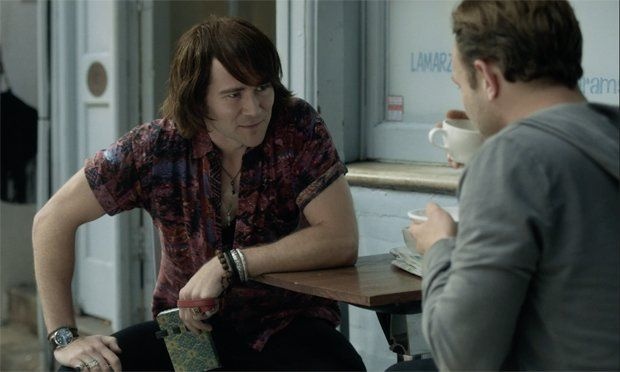 Pictured: 'Listen to me, pal. I've got the flashy shirt.' Sky (Stuart Brennan) gets persuasive with Tesla (Sebastian Street) in 'Tomorrow', a British film written by Brennan and Street and directed by Martha Pinson. Still courtesy of Stronghold
The film preaches values such as forgiveness, tolerance and taking advice. It leaks good will. Given how toxic my country is at present, Tomorrow came across as a tonic. Brennan really should leave that genre stuff alone and warm some hearts.
Reviewed at Vue Islington, North London, Monday 23 September 2019, 18:30. With thanks to See It First