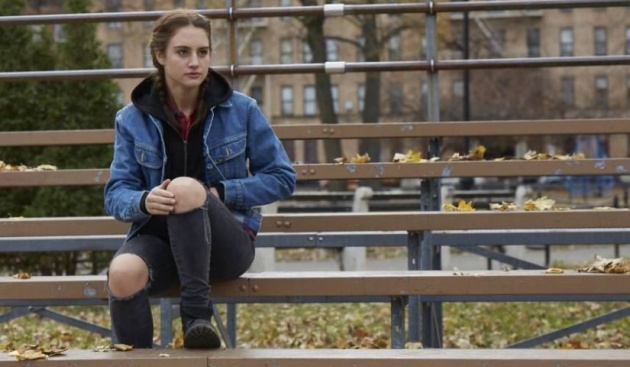 Pictured: Lillian (Grace Van Patten) in a contemplative mood in the Brooklyn-set comedy 'Good Posture', written and directed by Dolly Wells. Still courtesy of Pinpoint Films
Dolly Wells is the latest graduate of the Jamie Adams' school of actresses turned director, joining alumni Alice Lowe (Prevenge) and Jessica Hynes (The Fight). Her low budget debut as writer-director, Good Posture, was shot in the now gentrified neighbourhood of Bedford Stuyvesant in the New York borough of Brooklyn. As such, it may travel a lot further than Lowe and Hynes' features – for starters it premiered at the Tribeca Film Festival. Jamie Adams advocates a low-budget form of filmmaking. Movies are typically shot over twelve days in a location close to where the moviemaker lives. Unlike Lowe and Hynes, Wells opted to stay behind the camera. Her film focuses on the life of troubled graduate, Lillian (Grace Van Patten) who, when we first meet her is being driven to her new digs by her frustrated ex-boyfriend, Nate (Gary Richardson). Nate hates that Lillian talks during movies, asking a million questions. The opening gag is that he doesn't have to drive her very far before she arrives at her new lodgings. Nate is appalled that she is so near.
Lillian has a famous dad who is in Paris with his new girlfriend. He has arranged for her to stay in a guest bedroom of the house of noted novelist, Julia Price (Emily Mortimer); Dad knows Julia's husband, Don (Ebon Moss-Bachrach) who is a musician of sorts. In the course of one night, in which Lillian says she would like to build a house of her own and Don shows her the hut at the end of the garden that his retreat, where he can play music subject to neighbours' complaints, the young student causes a fight. Don leaves – maybe he had to go anyway, he has a new album out. Lillian uses Julia's toothbrush and bathroom and starts receiving notes from the retiring author, who, Miss Haversham-like, is shuttered in her room. In the rest of the film, she makes friends with Julia's dog walker, George (Timm Sharp), who has issues of his own – an anecdote about being kicked in the head that doesn't put him in a good light. (Seriously, it is a conversation-ender.)
The film arrives at a plot about half an hour in, when to prove herself to Nate, whom she meets in the street with his new girlfriend, Lillian decides to make a documentary about Julia. The joke: she hasn't read any of her books.
What has this got to do with the title? Erm, nothing. Good posture traditionally refers to ladies of breeding carrying themselves with comportment. You know, back straight, head raised, neck catching the light, bosom heaved. If I didn't know any better, I imagine that Wells had a title in one notebook and a script in the other and brought them together regardless of the fit.
Both Wells and Mortimer are the daughters of noted wordsmiths – John Wells of the satirical magazine, Private Eye and John Mortimer who created Rumpole of the Bailey. Noted wordsmiths Zadie Smith, Jonathan Ames and Martin Amis bulk out of the cast and appear as interviewees. While Smith winces when Lillian's cameraman, Sol (John Early) gets close, and Ames performs a dance routine, it is Amis who delivers the film's best line: 'happiness is whiteness on a page'. No one wants to read about well-adjusted people. Readers are gripped by sadness and regret - the messy stuff.
The plot is simply a device to delay a confrontation between the reclusive author and her houseguest, whom she tasks to act as a cook instead of paying rent and is dismally disappointed by mac and cheese. Lillian fares better when she passes George's cooking as her own. There is an amusing scene in which George cooks for the dog and Lillian scrapes the leavings from the pan; the dog eats better than she does.
Pictured: Happiness is slightness on a page. Julia Price (Emily Mortimer) leaves a note in 'Good Posture', a comedy film written and directed by Dolly Wells. Still courtesy of Pinpoint Films
In the film's best section, Lillian auditions cinematographers who can barely express their knowledge of the art of movie making. One of them is only interested in her; Lillian ends up sleeping with him. Sol is the most enthusiastic. He changed his name to create a new identity but has a hard time getting people to use it. He arrives at the studio that Lillian's father arranged claiming the space will inspire people to dance; only Ames responds in this way. His enthusiasm leads to the production's tipping point.
If the film has a through line, it is about a young woman who renounces her claim on sharing her widowed father's life and strikes out on her own. The love that Lillian's father (Norbert Leo Butz) felt for her inspired a passage in one of Julia's novels. Julia continues to write in Lillian's notebook and gives her a copy of said novel until they reach an impasse.
In a sense, Wells' film is also about her stepping out from her father's shadow to express her own creativity. She is partially successful but has constructed a series of amusing conceits than a fully satisfying story. Lillian never explains why she talks during movies; Wells prefers a gag to creating a fully rounded character. Nevertheless, Van Patten gives an appealing performance. We want her to learn how to cook, to become independent.
In a film about self-absorbed characters, Wells doesn't consider that her characters are interlopers, feeding on Bed-Stuy landlords' desire to charge higher rents. Has Lillian not heard of Spike Lee's seminal student film, Joe's Bed-Stuy Barbershop: We Cut Heads? Wells must know the history of the neighbourhood. She must be aware that her characters are denying space. But Wells does have something to say, debunking the myth of the author as a transformer of reality. Julia takes as much as Lillian does and there is an issue about the end-product. Wells doesn't engage with the idea that great art speaks about universal truths. In her movie, Lillian ends up behind the counter in a coffee shop, serving George two coffees.
Reviewed at National Film Theatre, Screen One, BFI South Bank, Waterloo, Central London, Monday 23 September 2019, 20:40 screening with an introduction by Wells and Mortimer