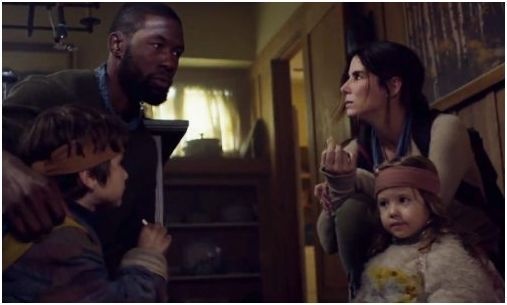 Pictured: Tom (Trevante Rhodes), Malorie (Sandra Bullock), Boy (Julian Edwards) and Girl (Vivien Lyra Blair) expect the worst in 'Bird Box', an apocalyptic thriller adapted from Josh Malerman's 2014 novel and directed by Susanne Bier. Still courtesy of Netflix
Published in 2014, Josh Malerman's novel Bird Box tells the story of Malorie, a woman who takes two four year-old children blindfolded on a twenty-mile journey down river. There is something outside the house that cannot be looked at. Some years previously, a spate of 'open air' suicides took place in Russia. The affliction spread to Alaska and finally to the United States. Existing as social beings, people are driven to self harm. They can only be safe away from wider society, where they don't take part in looking.
The anti-social media metaphor is mangled in the film version, adapted by Eric Heisserer (Arrival) and directed by Susanne Bier (In a Better World, TV's The Night Manager). The villains are individuals who, having not been driven to suicide owing to their own atypical mental condition, force others to look into the light and therefore succumb to madness. What drives their compulsion to kill? Neither Heisserer nor Bier makes this clear. My guess is these maniacs are a metaphor for click bait: they drive the unsuspecting person to look at something hidden behind a provocative headline ('you won't believe how 'x' looks now'). By looking at the world – really looking at it – people in the movie go mad. They have a death wish, which is exactly where unfiltered behaviour in cyberspace can take you.
It cannot be lost on Netflix, the streaming subscriber service funding Bird Box – claiming incidentally 45 million people watched it in its first seven days of availability – that the film deals with the fear of too much information. If people exercise caution as to what they allow themselves and their children to see – as evidenced here – they might not subscribe to Netflix or indeed watch a film like Bird Box. Then again if something promises to be terrifying, it generates a counter-intuitive impulse to open the box, Pandora-style, with all the evils and miseries contained within it being released into the world. Cue maniacal laughter.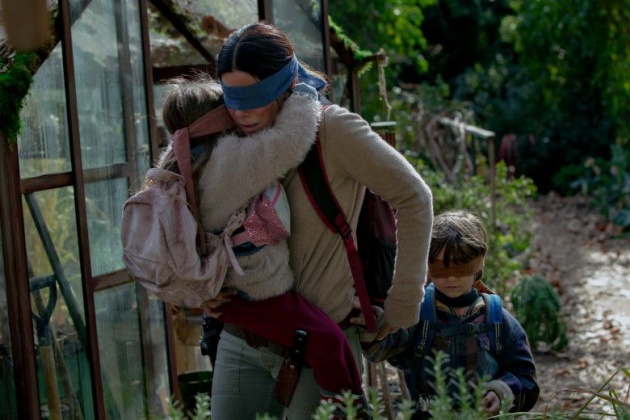 Pictured: Malorie (Sandra Bullock), Boy (Julian Edwards) and Girl (Vivien Lyra Blair) flee for their lives in 'Bird Box', an apocalyptic thriller. Still courtesy of Netflix
Netflix's trump card is the participation of Sandra Bullock, one of the biggest box-office stars of the 1990s with hits such as Speed (1994), While You Were Sleeping (1995) and A Time to Kill (1996) who unlike her contemporaries maintained a level of success in the following two decades in the films The Proposal, The Blind Side (both 2009), The Heat and Gravity (both 2013) as well as Miss Congeniality (2000) and its 2005 sequel – her winners tend to come in pairs. Bullock is at her best when playing characters driven by grit and determination. She is too self-conscious to play a character who disparages other women. She will often take roles that require her to be aloof or socially-disconnected, though her turn in The Blind Side as a mother who adopts a homeless African-American teen who subsequently becomes an NFL [American] football star was a notable exception.
In Bird Box, she returns to her socially-disconnected persona. Malorie is an artist who is several months pregnant but has no interest in being a mother. Her partner has left her. Malorie would rather remain in her studio, sending her sister, Jessica (Sarah Paulson) to fetch her groceries. ('Oh my God, you have nothing in the fridge,' she cries as if we didn't notice.) Jessica makes sure Malorie turns up for her sonograms. Sensing her dolour, her paediatrician, Dr Parham (Parminder Nagra, the actress most likely to be typecast on television as a doctor, see ER, Alcatraz and Fortitude) gives her a leaflet promoting adoption.
Initially, Malorie doesn't believe in the panic induced by the suicide outbreak in Russia – Jessica tells her about the mad rush to bulk-buy water. However, she is alarmed at the hospital by a woman who starts banging her head against a glass window. There is chaos in the street and Jessica succumbs, causing her car to crash with Malorie in it.
Malorie finds herself outside a house where Lydia (Rebecca Pidgeon) invites her in. Lydia's husband, Douglas (John Malkovich) is dead set against it. Fortunately, it is not his house. It belongs to an architect, Greg (BD Wong) who Douglas is suing. He lets her inside as Lydia succumbs to The Sight.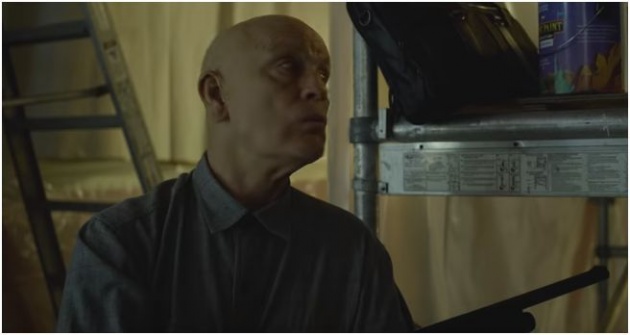 Pictured: Douglas (John Malkovich) prepares for the worst (not DIY) in the 2018 film 'Bird Box'. Still courtesy of Netflix
I call it The Sight, but we don't really know what is driving folks mad. Bier's effects team render it as leaves floating in the air and whispers spoken in the voices of people closest to you (the influencers). At any rate, Douglas blames Malorie for his wife's death. He is also quietly impressed, when the occasion demands it, that Malorie, raised by a self-centred cowboy, can handle a shot gun.
The architect's house is filled with the disparate cast of a medium-sized disaster movie. There's Tom (Trevante Rhodes), who has four sisters and has seen a lot of pregnancies. There's Cheryl (Jacki Weaver), whom we know very little about, though she can convincingly silence Douglas – Weaver's specialism in playing menacing moms (Animal Kingdom, Widows) proves useful. Charlie (Lil Rel Howery) is a writer who is fascinated by the end of days – he has done a lot of research for his book. He also works in a supermarket. Then there is a pair of youngsters, Felix (Colson Baker) and police cadet Lucy (Rosa Salazar) who will almost certainly get together even though Lucy says 'never in a million years'.
Bier and Heisserer grab your attention from the outset with Malorie's 'do exactly as I say' speech addressed to the two young children, named Boy (Julian Edwards) and Girl (Vivien Lyra Blair). The speech establishes the rules: hold on to my hand, keep your blindfolds on and don't eat after midnight – well, not the last one, that's from Gremlins. Malorie doesn't cover the 'what happens if I want to pee' eventuality. The action then flashes back to five years earlier to Malorie in her studio using, one has to say, too much black. Both the director and writer keep our attention with a series of testing events, such as another pregnant woman, Olympia (Danielle Macdonald) hammering on the door begging to be let in. Douglas says no, but it is Malorie who is holding the shotgun.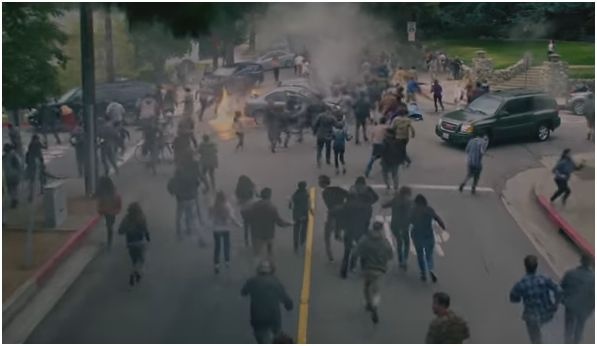 Pictured: Panic in the streets in the 2018 thriller 'Bird Box'. Still courtesy of Netflix
Some plot developments are inevitable. The gang run out of food so they have to go to the supermarket. You would think it would close for apocalyptic end-of-days scenarios and indeed it does, but our man Charlie has a set of keys. This leads to a shopping trip in which they mustn't look out of the window. Thank goodness for satellite navigation. Amazingly it still works – those space satellites monitoring everything on Earth must be on Duracell (TM) batteries. When they get to the store having briefly been surrounded by a malevolent force that doesn't validate parking, they dash into the building, each shopping according to their needs – Douglas heads for the spirits section, praising his companions for 'making the end of the world great again'. Oh, Mr Malkovich – such barmy banter! Malorie is a far more sensible shopper but then there is a mad person in the storage room. Charlie knows him. 'They say he has some kind of mental condition but I always thought he was all right,' Charlie explains in a speech that returns to bite. The attempt to let the guy out ends in clean-up on aisle five.
Cutting, as the novel does, between two time periods, we see Malorie and the two children deal with unwanted attention from a guy on the river who wants them to take off their blindfolds. 'You kids look hungry,' he adds sweetly. Malorie may not have been on blind dates, but she is a crack blind shooter at a man whom she is convinced means her harm.
Having mostly survived the shopping trip, Malorie and the gang receive another visitor, an Englishman (Tom Hollander) who doesn't appear to be a religious zealot. He witnesses the birth of Olympia and Malorie's two children – but there's a cost.
Demonstrating that this is a movie about the survival of the most photogenic, Malorie and Tom get it together. Inter-racial kissing is perfectly acceptable on streaming services. But there are blank sedans with blacked out windows that tear down the streets. Their passengers are malevolent.
The point at which past and present meet features some real movie star action. Malorie and the children head for a community, using birds that Malorie picked up in the supermarket to detect the sinister unseen force – they are modern day canaries in a coalmine. The big problem is the rapids. One of them has to look; Malorie chooses Girl, Olympia's daughter.
Is Sandra Bullock really playing a bad mom? I'll leave that you for to discover. Budgeted at $19.8 million, Bird Box is Bier's most successful American film to date. It is still not a patch on her Danish work co-scripted by Anders Thomas Jensen (In a Better World, A Second Chance) which focuses on bad choices made by her protagonists. Bier is responsible for the period drama Serena that barely scraped $100,000 at the American box office in spite of the 'power' pairing of Jennifer Lawrence and Bradley Cooper. She also helmed Things We Lost in the Fire starring two Oscar winners, Halle Berry and Benicio Del Toro, but not in a film that many people wanted to see. If Bier's cinema has a recurring theme it is ordinary people being thrust into dark worlds. That said, there is a lot of affection for her 2013 romantic nuptial drama Love is all You Need starring Trine Dyrholm and Pierce Brosnan. The problem with Bird Box is that it begins with social commentary but descends into a monster movie, one in which the threat is never seen. It flirts with but doesn't tackle how people succumb to bad judgment. It feels as compromised an American film as any product from a Hollywood studio, though on a moment-by-moment basis, we are gripped.
Reviewed at Curzon Victoria, Central London, Screen Three, Thursday 27 December 2018, 11:45am screening