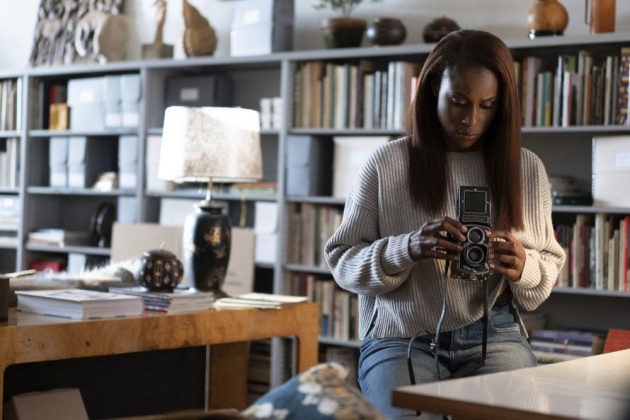 Pictured: Mae (Issa Rae) inspects some of her late mother's camera in the romantic drama, 'The Photograph', written and directed by Stella Meghie. Still courtesy of Universal Pictures (credit: Sabrina Lantos)
The Photograph is one of those romantic dramas that you imagine is based on a book, as it flips between the 1980s and the present day (well, 2019). It has a scene in one of New York's boroughs (Queens) in which our protagonists flee from an ongoing hurricane – Storm Tylenol (I think they should sell the naming rights to extreme weather events) or some such moniker. But the budget isn't up to it. Later, we see the couple in a deserted street lined with fallen wheelie bins to indicate devastation. To paraphrase Guardians of the Galaxy, 'that's not a storm'. The film has a melancholic jazz soundtrack and as I discovered the discrete use of trumpet, piano and strings can make any scene play. The music provides prickliness – the sense of an offence that could be taken, a shift in tone – that makes you take notice, even when the drama doesn't yield any surprises.
The film isn't based on a book. Rather it has an original screenplay by the film's director Stella Meghie, who is one of the most prolific black female directors working in cinema in the last five years. In that time, she has directed four films: Jean of the Joneses, Everything Everything about a self-isolated teenager who has a relationship with the boy next door (how relevant is that in the world of Coronavirus?), The Weekend, a Canadian comedy, and now The Photograph, produced by Will 'Power' Packer, he of the Ride Along movies and Little fame.
It begins with a piece of video footage, date-stamped 1989, of an African American woman Christina Eames (Chanté Adams) talking to camera, explaining that she wished she was good at love as she was at her work. I think she is confusing 'love' with relationships, but she is a photographer, working in pictures not words. Smash-cut to a car tooling down a road, driven by 'Atlantic' journalist Michael (Lakeith Stanfield). He is driving to Pointe à la Hache where he has agreed to interview a fisherman, Isaac (Rob Morgan) who is one of the left-behinds after Hurricane Katrina hit – storms play a big part in the story, even though the drama rumbles rather than blows. Michael refuses the offer of freshly caught crab, which is practically a faux pas, but he becomes interested in Isaac's ex, a black and white photograph of a woman – Christina – sitting cross-legged at a kitchen table, looking accusingly into the camera, as if to say, 'are you bringing coffee, or what?'
Michael is intrigued. 'Find out all you can about Christina Eames,' he instructs his intern and (later romantic wingman) Andy (the ubiquitous Kelvin Harrison, Jr, recently seen in Waves and Luce). Now if I was Michael, I would have googled her. However, it is the sort of thing you say in investigative dramas, so we'll let it go. Christina has recently passed away, but her daughter, Mae Morton (Issa Rae) can tell Michael something about her. She has recently received two letters, one with her name on it, the other with no name addressed to her father. The envelope and writing paper are of good quality – a pleasure to touch. Mae doesn't devour her mother's letter - she takes tiny bites. We aren't told who Christina's father is, but we have already figured it out. It isn't Louis (Courtney B Vance), the man Christina spent her life with.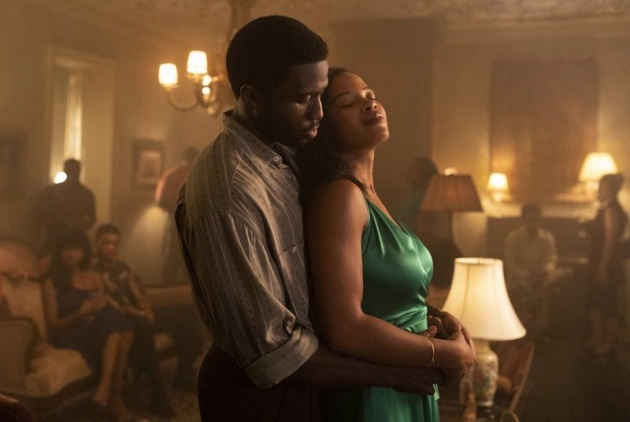 Pictured: Isaac (Y'lan Noel) dances with Christina (Chanté Adams) in a flashback scene from the romantic drama, 'The Photograph', a film written and directed by Stella Meghie. Still courtesy of Universal Pictures (credit: Sabrina Lantos)
Mae is a curator and, as coincidence would have it, she is working on an exhibition of her late mother's work – though it seems too soon. Michael meets her at an exclusive movie screening of something in French, which is supposed to be a shorthand for a sophisticated narrative but is in fact a cliché. Still, we'll let it go. The couple go for a drink after or rather they have a conversation about how Michael would ask to go for a drink after. The dialogue is very self-aware. Michael hates talking on first dates because he fears that he will repeat something that he said on a previous first date. I suspect he is not talking about his job or why he prefers Drake to Kendrick in music but in paying compliments. There are no 'original' compliments you can pay to a woman. I can vouch that 'didn't I see Ru Paul in that exact same dress' doesn't really work. Neither does, 'I would like to hear more about your unsatisfying job'. What Michael is saying is that the second date is the true first date. The first date is like, 'who will use contactless first?' I don't think you'd go for a second date with someone who pays by traveller's cheque. Not today.
Still, at their first intimate soiree, Michael kisses Mae. There is something stagy about it, not so much in the kiss, but in Michael's leaning back in his seat afterwards, like he's just sent a What's App message and is now waiting for the reply. Another director might cut from the kiss to the bedroom, but Meghie reminds us that not all kisses lead somewhere. They can result in stilted pauses. There is awkwardness in their developing relationship. Both Michael and Mae had recently split up from previous partners. Michael's ex is called Tessa. We never meet her (spoiler) but we hear from Michael's nieces that they were going to get married. Tessa moved to New Orleans. Michael on the other hand has applied for a job at Associated Press in London. If his plans work out, he will leave New York, but does that mean he can continue his relationship with Mae?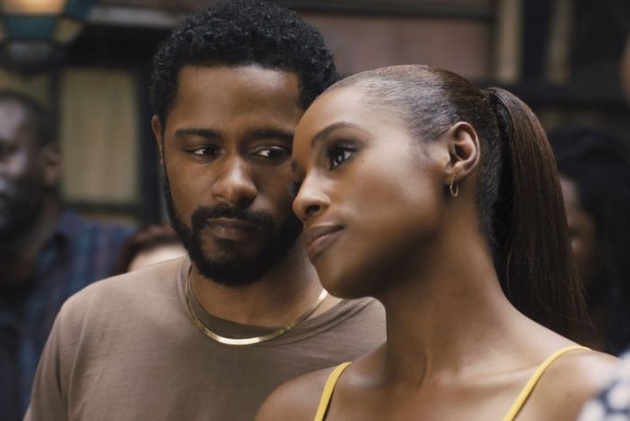 Pictured: Michael (Lakeith Stanfield) and Mae (Issa Rae) get close in a scene from the romantic drama, 'The Photograph', a film written and directed by Stella Meghie. Still courtesy of Universal Pictures
The awkwardness manifests in the build up to the love scene. Michael visits Mae in her apartment and discovers an Al Green record (not a CD but a 12 inch from the 1970s) and puts it on her retro record player. There is a close-up of the needle on the revolving record as it goes around, the grooves on the black plastic disc catching the light. You can't have this image when you play music on Spotify. It just doesn't work. Mae starts dancing in her front room and invites Michael who is seated on the sofa. He doesn't do so. It is not that he's necessarily a bad dancer, it is just that he is not in control of the seduction. If it's foreplay you're after, he seems to be saying, I want to stroke first. Still, they end up in the bedroom and Mae (with her back to us) takes her top off. Meghie cuts to Michael's point of view. He is apparently looking at her face. Isn't that just wishful thinking?
Contrast this with Isaac and Christina's evolving relationship. Christina's mother, Violet (Marsha Stephanie Blake) disapproves of Isaac (played as a young man by Y'lan Noel). She is the sort of mother who stands in the middle of a room to own the entire space – so you can't get past her – rather than stands by a kitchen work surface or sits on a sofa. She also exudes a motherly 'I'm unhappy – you want to be like me?' accusatory tone. She has three points to make: Christina can't expect to make a living taking pictures; she will never be happy with Isaac; she ought to move out, cultivate her own space. It is the latter that really wounds Christina. It's not that she's pregnant out of wedlock or using the lounge to develop her pictures. Her dark room is a shed. Isaac at least works. He's not a bad person. Meghie discretely avoids any of the clichés of working lives. There's not an acknowledged drug addict or criminal in sight.
At one point, Christina goes on a road trip to New Orleans. The camera follows her and Isaac (with another couple) as they enter a bar, ascend a curved staircase and arrive at the first floor. As continuous takes go, this does not compare with the in-car action sequence of The Rhythm Section, but you wonder why you need to see them entering in this way. It turns out that Michael and Mae visit the same bar 35 years on and enter the same way – we are supposed to notice the parallel.
What do Christina and Isaac and Mae and Michael have in common? At a certain point, one of them wants to move away. The other stays put. Isaac's biggest regret is that she did not follow Christina to New York after she left on a Greyhound bus. He didn't even drive her to the bus station.
The moral of the story is: don't make the same mistake as your parent. You can learn from them. I have neglected to mention the sterling contribution from Lil Rel Howery as Michael's happily married brother, Kyle, who regales an unflattering anecdote about how Michael, the wordsmith, turned up at Kyle's wedding and couldn't bring himself to make the best man speech. Moreover, he turned up in a top hat. Howery milks a lot of jokes out of the hat with references to the board game 'Monopoly', the expectation that Michael would do magic tricks, and such. I didn't believe that Michael would wear such a hat. Nor did I believe in him as a journalist for the little writing that he does – he has a very tolerant editor (Chelsea Peretti, from the TV series Brooklyn Nine Nine).
There are some anecdotes that don't go anywhere. Michael explains to Mae that he once dated an older woman who wanted to have sex everywhere, even in an alleyway. You wonder what Mae is supposed to think of this. Is she expected to make love to Michael in an alleyway to convince him that it isn't so bad? There is even a scene in an alleyway (in New Orleans). You watch them and think – go on.
Meghie spends a lot more time on Michael's immediate past than explaining Mae, whose mother was a remote presence in her life. Michael's immediate history is balanced by the flashbacks involving Christina. It is almost as if Mae is an incomplete character: we only know her through her mother's story. Meghie indirectly demonstrates the limits of movie storytelling: that there is only room for a fixed number of narratives to define the characters. Still Mae is defined by the way she carries herself. Seen in a white dress with circular patterns, she is tall and spectacular - more unoriginal compliments to utter on a first date. Issa Rae's wardrobe, which includes a lemon-yellow dress, is well-chosen. It is decorative rather than designed to allure.
As romantic dramas go, The Photograph isn't entirely satisfying. Still it has something, conveying the process by which we decide to invest our lives with another person. It isn't all physical attraction. Rather, it is one long background check.
There are many unanswered questions like: how you can live in New York City on an internship? Or even go on a date with minimal income? The film builds to a moment when it almost jerks tears, as Mae, coming to terms with her mother's death, contemplates her sadness. There is an exhilarating flashback too, when Christina is interviewed by a white photographer who asks, 'why should I hire you?' 'Because I work harder than the white women lining up outside who all have incomes from their folks.' Christina gets the job. You feel that element of the film is autobiographical. Judging by her resume, Meghie works damn hard.
Reviewed at Cineworld West India Quay, East London, Screen Eight, Friday 6th March 2020, 20:50 screening