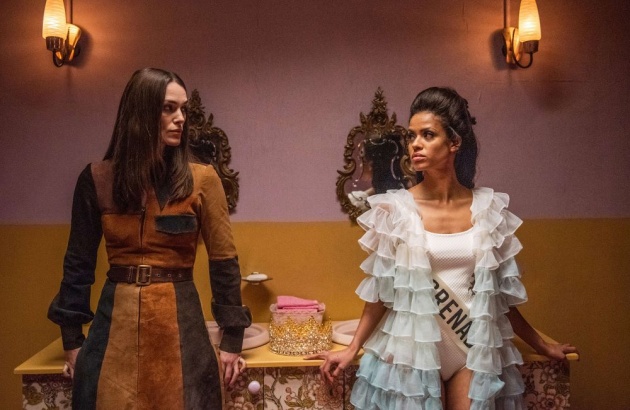 Pictured: 'It's not you we're protesting about.' Sally Alexander (Keira Knightley, left) has a ladies room chat with Jennifer Posten aka Miss Grenada (Gugu Mbatha Raw, right) in the 1970-set British comedy drama, 'Misbehaviour', written by Gaby Chiappe and Rebecca Frayn and directed by Philippa Lowthorpe. Still courtesy of Pathé UK
Contests usually have momentum. You meet the contestants early on through a series of heats. You decide which one to root for. Then that contestant is up against the seemingly unassailable competition, someone whose reputation precedes them. You hope that your contestant can overcome them though skill and good manners - I'm not a fan of winning ugly. Then the result and the release of pent-up genuine emotion. Applause, hugs, tears. Cup of tea?
The televised Miss World contest isn't like that. You meet the contestants, young women of a certain physique (what used to be called 'vital statistics') who are paraded in three different outfits for our appraisal. We choose, but we also exercise nationalism, hoping that 'our' contestant will win. For the most part, they don't. We might not listen to the winner's speech out of disappointment. TV switched off. Cup of tea?
The 1970 Miss World contest was slightly different. It was disrupted by members of the Women's Liberation Movement, who were incensed by the show's objectification of women. Why should contestants be judged by their looks alone and compete against one another? How does the competition allow women to enjoy the same choices as men?
The disruption of the event forms the climax of the British film, Misbehaviour, written by Rebecca Frayn and Gaby Chiappe and directed by Philippa Lowthorpe. It features an ensemble of actresses, headed by Keira Knightley and including Jessie Buckley, Gugu Mbatha-Raw, Keeley Hawes and the imperious Lesley Manville – see her in Phantom Thread go toe-to-toe with Daniel Day-Lewis – who do what's required of them but aren't at their best. The more eye-catching performances are given by Rhys Ifans as Eric Morley, founder and organiser of the Miss World competition, which he started in 1951 at the Festival of Britain (fun fact) and Greg Kinnear as iconic quipster Bob Hope, a man with several drawers of indexed gags but the only drawers he's really interested in belong to young women. 'Shall we have scotch and sofa or gin and platonic?' he asks early on.
Knightley plays Sally Alexander, who is a real person, not a composite or fictional alternate. Sally is a young mother. Sally has separated from the father of her daughter. Sally lives with a man who supports her and does the cooking. Sally also receives help from her mother (Phyllis Logan). When we first meet her, she is the odd one out in a row of identically dressed schoolboys. Sally is competing against them for a place at University College London to study history. We see a close-up of her fingertip covered with the flecks of pencil lead. She is called in. The board are all men. One of them writes on his pad '7/10'. His neighbour corrects it to '9/10'. Sally is being rated for her looks. She does however articulate her desire to study history and is able to parry questions. She leaves the interview room with a skip in her step.
She attends the first conference held by the (UK) Women's Liberation Movement in Oxford – there is a makeshift creche in which men mind young children. There she meets Jo (Jessie Buckley), who is of the anarchist persuasion. Jo puts a banana akin on top of the bust of a famous man. Sally objects. 'Someone has to clear that up!' she exclaims. In real life, Sally took up the cause of night cleaners – Lowthorpe, Chiappe and Frayn are paying homage to her work.
Somewhat improbably, Sally runs into Jo in Islington, where she is defacing a poster, changing the message to 'Keep the women in your life happy – learn to cook'. Sally helps her avoid being arrested. Jo is class conscious, but nevertheless invites Sally to a meeting of her women's group – 29 Grosvenor Avenue, London N5, on a street that overlooks a gasworks, an image that doesn't thematically link to the rest of the film.
We are introduced to Bob Hope early on as he entertains the troops in Vietnam with a limited series of jokes whilst accompanied by the 1969 Miss World. Hope was well known for his VSO Tours, but it turned young audiences against him as he appeared to be supporting the Vietnam War. Back in the US, he interviews a young Personal Secretary and gets her to take the call from Eric Morley who asks him to host the 1970 Miss World Contest – he agrees on a whim, forgetting that he promised his wife Dolores (Lesley Manville) never again. Back in 1961, Hope hosted the show. He returned to the US with the winner, Rosemarie Frankland, with whom he had an affair. Hope tried to make her a star but as Dolores puts it, she lacked the talent. Hope is sincere in his apologies – well, as sincere as a guy who reads jokes from cue cards.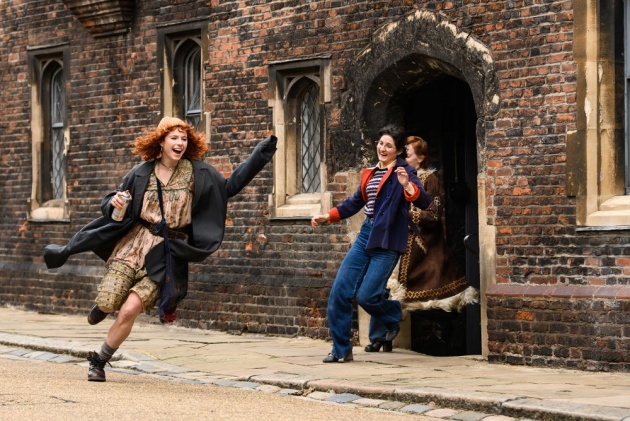 Pictured: Jo (Jessie Buckley) expresses characteristic exuberance in an early scene in the British comedy-drama, 'Misbehaviour', a film written by Gaby Chiappe and Rebecca Frayn and directed by Philippa Lowthorpe. Still courtesy of Pathé UK
In an early scene, Sally explains that she studied acting but she did not like people looking at her. However, her work with the Islington Women's branch leads to her ending up on television in order to explain why her group objects to the Miss World contest – a poster she helped design did not have cross-group approval. Sally makes her points forcefully but undergoes the humiliation of being ignored at the end of the broadcast, when the host congratulates the two other participants but says nothing to her.
Eric also faces a potential protest from anti-Apartheid campaigner, Peter Hain, who threatens to embarrass the show if a white contestant from South Africa is picked ahead of a black contestant. Eric decides to have both a white and a black contestant and tasks his staff to quickly find the latter.
As much as Sally is socially isolated from her fellow students – her tutor does not allow her to join discussions and dismisses her area of study, women workers, as a 'niche subject' – she thrives in the women's group. Meanwhile, the Miss World contestants arrive in London, awkwardly paired with chaperones – Miss Sweden shrugs off hers. Miss Grenada, Jennifer Posten (Gugu Mbatha-Raw) makes friends with Miss Africa South, Pearl Jansen (Loreece Harrison). The film's comic highlight is Eric Morley wearing the Miss World cape and crown and explaining how to behave after winning the competition. In another scene, he leads them through the stage, always bemoaning the slowness of Miss Yugoslavia, and complains about the absence of Camera Two. He gets one of his staff to stand in, holding up two fingers, Churchill victory-style.
Meanwhile, Eric's wife, Julia (Keeley Hawes) visits a gentlemen's club to secure judges from the diplomatic corps, including the visiting Prime Minister of Grenada, who volunteers for the role.
On the eve of the contest, there is an incident that puts into doubt the Islington Group's planned 'happening'. Sally's partner hopes she will call the whole thing off. Sally's young daughter tries on make-up, something that appals her.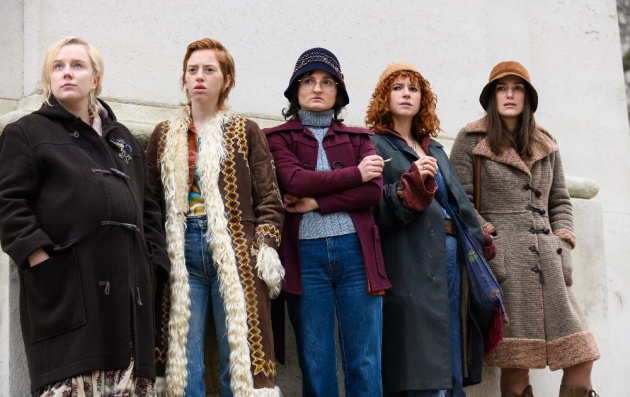 Pictured: Members of the Islington group of the Women's Liberation Movement Including Jo (Jessie Buckley) and Sally (Keira Knightley) case out the theatre where the 1970 'Miss World' contest is taking place in the British comedy-drama, 'Misbehaviour', written by Gaby Chiappe and Rebecca Frayn and directed by Philippa Lowthorpe. Still courtesy of Pathé UK
Being a Londoner, I saw through some of the locations, such as the 'theatre' where the contest took place, which is in fact office space just off Pall Mall. The inside of the building does not match the outside; it is practically Tardis-like.
You might expect the filmmakers to share their heroines' disdain of beauty contests. Instead, their view is more nuanced. The contest offers Jennifer the opportunity to pursue her ambition of being a broadcaster. The opportunity also gives Pearl, a machinist, a moment of pride to represent her country. This comes at a price: Pearl is not allowed to meet with Peter Hain or speak out against apartheid. If she does, she will not be permitted to return home and would never see her mother again.
When the broadcast starts, the sexist and thoroughly cringe-worthy commentary generates a fair number of laughs. Bob Hope similarly does not do himself proud. The film doesn't have big comedy set pieces. It does have smart lines. Early on, Sally explains to Jo that she wants to change things by sitting at the top table. Later, she explains that her seat at the table was 'more like a high-chair'.
The film's worst scene is a contrived moment in which Sally meets a contestant in the ladies' bathroom and explains, 'we weren't protesting against you'. It is hard to imagine the meeting taking place, though Sally's point is a fair one.
At the end of the film, we see some of the participants – Sally, Pearl, Jennifer – as they are now. The Women's Liberation Movement had a significant impact – their action, which I won't spoil, was a win-win for both the Movement and the Miss World competition, getting front page news. However, there is something disappointing about the cast being given little to do. I tired of Jessie Buckley repeating her smirk from Wild Rose. Lesley Manville does little with a thinly written part. I wanted the film to liberate the talented women in it. Aside from Mbatha-Raw's limbo dance there was disappointingly little to see.
Over the end credits, there is a coda: 'the struggle to overthrow the patriarchy is ongoing'. This slogan is turned into an unthreatening, throwaway line. Should the filmmakers have let off the patriarchy so easily?
Reviewed at Crouch End PictureHouse, Screen Two, North London, Friday 21 February 2020, 20:30 screening