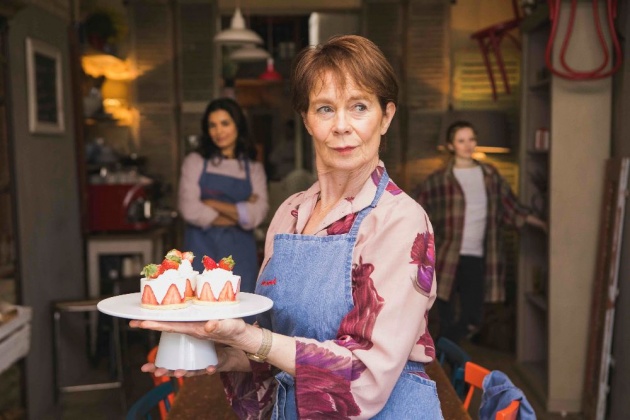 Pictured: 'I can't describe them but I can hold them.' Retired trapeze artist Mimi (Celia Imrie) poses with strawberry confectionery in the bake-tastic feel-good drama, 'Love Sarah', written by Jake Brunger and directed by Eliza Schroeder. Still courtesy of Parkland Entertainment
Contains spoilers
The Notting Hill-set inspirational drama, Love Sarah, is about the restorative power of baking. Not just any old puff pastry but baking that reminds you of home. It is also about family. Not just any family but one where your mother's best friend could be your aunt, your mother's ex-lover could be your dad, your nan is a line of credit and your nan's new boyfriend is an inventor who can create a circuit – that's an electrician, right? Yet the film, written by Jake Brunger, produced by Rajita Shah and directed by Eliza Schroeder is made with care and attention. It may not seem like real life but (these days) what does?
Shelley Conn plays Isabella, who is standing outside the shop in Golborne Road, Notting Hill frantically phoning her best friend and business partner Sarah (Candice Brown) who is cheerfully cycling along the scenic roads of London – going the wrong way past St James Park if my geography is correct. Isabella is asking, 'where are you?' Meanwhile Sarah's daughter, Clarissa (Shannon Tarbet) is in ballet class texting her, 'good luck'. In another part of London, at her Mews house, Sarah's mother Mimi (Celia Imrie) is writing Sarah an apology card. She writes across the spine on account of her large handwriting, but who does that, except maybe for the camera? Sarah is blithely riding her bike but we know something terrible has happened because there are two policemen at Mimi's door and a shot of Sarah riding in the middle of the road is replaced by a black title card ('Love Sarah') with a heavenly light shining from above.
Grief past and having not attended Sarah's funeral – she later admits to not having seen Mimi for ages – Isabella wants out of the contract. They were opening a bakery; Sarah was the baker. She trained with Ottolenghi (brand placement). The business now has no baker. The landlord's representative says no can do. If Sarah and Isabella had taken the rental contract in the name of limited liability company and then dissolved the company limiting asset loss, we wouldn't have a movie, but it appears that the two friends had received poor legal advice. Meanwhile, Clarissa does not want to dance any more. Her boyfriend, Alex (Max Parker), is unsympathetic. 'I don't know if you see me as a boyfriend or a bedroom,' he complains. 'Are you dumping me?' Clarissa wails. 'Oh my God, you're dumping me.' Clarissa takes her possessions to her mother's shop and jimmies the lock all too easily. She spends the night there, discovered by Isabella and two police officers (the same two?) in the morning.
'You can stay at my place,' Isabella suggests. 'There's not enough room,' a humiliated but defiant Clarissa replies. 'You could sleep on the sofa.' Clarissa has one place she can go. Cue the 'can't a granddaughter visit her grandmother' speech. 'All right. How much do you want?' asks Mimi fixing Clarissa an icy stare as only Celia Imrie can, part headmistress, part steely ballet teacher. 'I need a place to stay,' Clarissa says feebly. 'Ah, that's different,' replies Mimi.
As a director, Schroeder pays attention to body language. Clarissa mirrors her grandmother's pose as they are both sitting down, arms straight in front of them. Both women cultivate grace and athleticism – Mimi was a trapeze artist who started her own company, Clarissa was training as a ballerina. Trapeze artist – it is a forgotten profession. Meanwhile, Isabella has received an offer to sublet the shop in Golborne Road as a pop-up wine bar. It does not seem quite the right thing. 'Sarah didn't even like wine. She drank beer,' Isabella reminds herself in a line of dialogue that sounds tinny. Clarissa is similarly a rebel. 'I drink too much and smoke too much weed,' she confesses later.
Pulling Isabella out of an important business meeting – 'do you know how much I had to beg to get my old job back', she complains - Clarissa makes her suggestion. 'You should open up the bakery.' Easy for her to say – she is a ballet school drop-out. But seriously – Clarissa does not do street talk – it is what her mother would have wanted. Clarissa and Isabella to go into business together? I think Sarah would have wanted those ballet lessons not to go to waste. They need funds – Isabella has a stack of bills with 'final demand' written on them. Clarissa has an idea: she takes her nan to trapeze class.
Up until this point, Mimi has been avoiding company. Her friend Olga tries to entice her to poker games and to yoga – that is what I call stretching your finances – but Mimi cannot acquiesce. Nevertheless, she limbers up with sprightly elasticity and before you know it, she is on the low- hanging trapeze assuring the instructor that she knows what she is doing and then helping another student to pose properly. She could go back to work, only she has a nice Mews house and a pension, thanks very much. At coffee, Clarissa asks her to invest. 'I should have known. Butter me up with a trapeze class and then ask me for money.' How many people have ever said 'butter me up with a trapeze class'?
Visiting the shop, Mimi likens it to a crack den. Clarissa insists that it has potential. But a bakery needs a baker. Cue the unsuitable applicant montage. Giggling, a former dinner lady tells Isabella that she made cakes that 'the little blighters' vomited up, in the film's first of two attacks on the British working classes; the other is a dismissal of Brexit. Another candidate wants a starting salary of £45,000, 35 days leave plus public holidays and will not work nights. Too demanding. Just when they finish up, in pops Matthew (Rupert Penry-Jones). Describing himself as a Michelin star chef – 'you work in a Michelin star restaurant; it is not the same' Isabella retorts – he is told the position is closed. Matthew and Sarah had a relationship, until he cheated on her. 'Why would you want to work here?' Isabella asks. Matthew fancies a challenge. Isabella asks him to demonstrate his skill, first with a macron style biscuit with rosewater petals that Isabella describes as not buttery enough – 'not by much', she insists – then Clarissa describes his second creation as 'mousse on a biscuit'. When we see liquified chocolate poured on a cake before it is adorned with beads, we are given a sudden sensory pleasure, a sense of longing that we haven't experienced since the last proper series of The Great British Bake Off. The cake is a hit.
Mimi fills out a loan application form – her bank is W.G. Rogers, which sounds like a builder's merchant – and the shop is transformed into something approaching a café, called 'Love Sarah'. They open and wait for their first customers, strangely not having leafleted the neighbourhood first, nor having put a sign in the window. A mother and child come in and enjoy one of the treats before a neighbour, Felix (Bill Paterson, latterly known as the dad in Fleabag) pops in to give them advice on security. We discover later that he lives opposite and has a 'eureka' moment involving three light bulbs.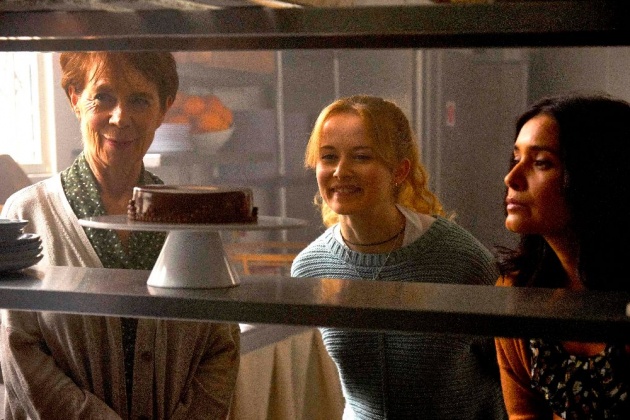 Pictured: Mimi (Celia Imrie), Clarissa (Shannon Tarbet) and Isabella (Shelley Conn) stare at the 'mousse on a biscuit' in the bakery-set drama, 'Love Sarah', written by Jake Brunger and directed by Eliza Schroeder. Photograph: Laura Radford. Still courtesy of Parkland Entertainment
Customers trickle in and takings are a little over £600 for the week. 'That doesn't even pay our rent,' gasps Isabella. Matthew's creations are fine, but they do not hit the local spot. Mimi visits Felix with a leftover offering. 'You have a nice apartment,' she says. 'It's a flat. We are not American,' Felix chastises her. 'A house broken up. Soon houses will be broken up more and we will all live in little cupboards.' Mimi removes a book from Felix's shelf. 'Around the World in 80 Days. This was Sarah's favourite,' she explains. This inspires her. The next day she accosts a Latvian delivery driver and asks him what reminds him of home. He is keen to get away. but Mimi is imperious, holding onto his arm. 'A Kringel,' he finally admits, which according to an entry on Pinterest is a coffee cake. 'Would you eat it if we baked it?' 'Yes.' 'Good. You can go.' Mimi has the notion of 'Around the World in 80 Bakes', baking items that remind the local multi-cultural population of Notting Hill of their families. In the montage sequence that follows, they canvas the local community and take instruction.
Meanwhile, Matthew has plucked a single hair from Clarissa for the purposes of a DNA test. He also has a contract with another well-known restaurant. He decides that it is time for Isabella to get back into the kitchen. 'I was never any good,' Isabella insists. He encourages her. They enjoy baking together and the multi-cultural cakes prove a hit, especially the Baklava. They then receive a commission to make a Japanese Matcha Mille cake. The first attempt resembles a burnt stack of pancakes. Over drinks in the evening, Matthew and Isabella get familiar – and then familiar without clothes, then familiar with coffee in the morning, then Isabella discovers the contract and wants him out of the bakery. This new liberation gives rise to a perfect Matcha Mille cake. Isabella locks Matthew out. 'Is this because we slept together?' Matthew asks sheepishly.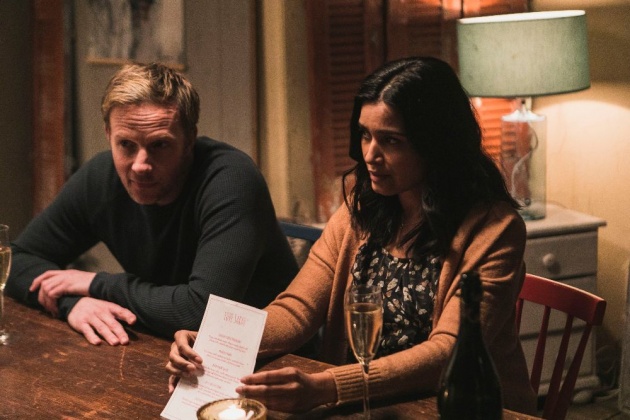 Pictured: 'Shall we toast the menu or is the new menu toast?' Matthew (Rupert Penry-Jones) and Isabella (Shelley Conn) in the feel-good British drama 'Love Sarah', directed by Eliza Schroeder Still courtesy of Parkland Entertainment
Matthew explains himself to Clarissa – he was going to send her hair off for a DNA test, but it did not seem right. Does she want him to? Yes, nods Clarissa. Clarissa think it is bonkers that Isabella is still single. She pairs her with a customer, Pascal (David Bertrand). 'She baked you that croissant. Just imagine, freshly baked croissants and sex.' Pascal and Isabella agree to the date, a drink at a bar interrupted by Matthew, who explains how special she is.
The climax involves a commission to make two Matcha Mille cakes from the customer who just happens to be 'Time Out' magazine's food editor. Matthew helps. Clarissa delivers them, trying to gauge reaction through binoculars. A parking attendant sidles up to her. Felix is standing next to her attempting to record the conversation with his home-made spy-mike. Does she know him?
The DNA test proves negative. Isabella also says that Sarah did not know who the father was. She would not lie to her friend. But she would get intimate with a man who did not say his name. Where did she meet him – on a beach? At any rate, Matthew is happy to be the surrogate father Clarissa never had. 'Time Out' does a feature on the café. The ghostly reflection of Sarah looks on approvingly. In the final scene, Clarissa, Isabella and Mimi lay flowers by Sarah's grave.
Love Sarah is the first film I have seen in a cinema since 17 March 2020, the last day in the UK that cinemas were open. It was a late afternoon screening and only seven people in the audience. The humour did not elicit any response. For me, the experience was made surreal by the parade of pre-Covid-19 lockdown trailers that preceded it - Black Widow, Wonder Woman 1984, Mulan, No Time to Die, Soul, Tenet and A Quiet Place Part II – all with their original release dates, long since passed. It was as if, in a parallel universe, Covid-19 had not struck. I do not think people are quite ready to give themselves over to a movie in public, with all the attendant whooping and cheering – and that is just those who have been served popcorn. The desire is there; we just need a film that makes us forget the pandemic, at least for a couple of hours.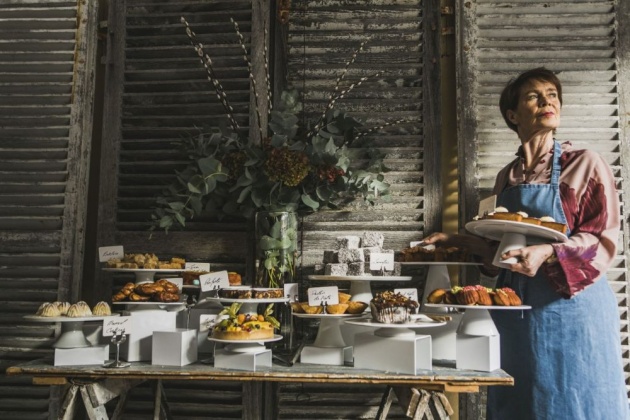 Pictured: Mimi (Celia Imrie) poses with more cakes - just because - in the feel-good Notting Hill-set drama, 'Love Sarah', directed by Eliza Schroeder. Still courtesy of Parkland Entertainment
Reviewed at Genesis Cinema, Stepney Green, East London (Screen 2), Saturday 11 July 2020, 16:30 screening (second viewing); Covent Garden Hotel, Wednesday 26 February 2020, 19:00, first viewing - with complimentary Persian Love Cake