Pictured: 'I thought you were collecting us in a sedan.' Mel (Marc Maron, centre) expresses scepticism on behalf of Nat (Jon Bass), Mary (Michaela Watkins) and Cynthia (Jillian Bell) in co-writer-director Lynn Shelton's Birmingham, Alabama-set comedy, 'Sword of Trust'. Still courtesy of IFC Films / Forager Film Company
Lately, writer-director Lynn Shelton has been working a lot in television, most recently helming episodes of The Morning Show and Dickinson. This influence shows in her latest film, Sword of Trust, co-written by Mike O'Brien (NBC's A.P. Bio).
The sit-com location is the Delta Pawn Shop in Birmingham, Alabama. Mel (Marc Maron), a fifty-four year old recovered hard drugs user, uses an encyclopaedic knowledge of miscellany to offer customers a reasonable price for the guitar, boots or fur that they bring in to hock or sell, concluding the exchange with, 'I'm not ripping you off, man'. He's a sort of hippy, with a younger colleague Nat (Jon Bass) who spends more time on the internet than serving customers. There's a friendly guy across the street, Jimmy (Al Elliott), who brings the pair tea in Styrofoam cups, something that would be unnecessary if Nat didn't need prompting. Mel does most of the talking, but Nat knows social media. 'We'll 'what's app' him,' he says at one point. 'What zap?' repeats Mel incredulously. That's the level of humour.
Shelton and O'Brien concocted an outline and then allowed the cast to improvise. It's called creative freedom. The results are mixed and there are some Shelton fallbacks, for example a same sex couple who want a child (see Shelton's 2011 film, Your Sister's Sister) and two heterosexual males who are asked if they sleep together (see Humpday, released in 2009). If Woody Allen could get away with recycling the same material for almost fifty years (God isn't watching, and neither is much of the cinemagoing public) then Shelton is entitled to reference her back catalogue. Please, though, not too much.
Into Mel's shop walk Cynthia (Jillian Bell) and Mary (Michaela Watkins), the afore-mentioned same-sex couple. Visiting her grand pappy's house, Cynthia finds she has been left not the house itself, which would allow her to realise her dream of opening an escape room (probably needed to work on that improvisation a little bit) but a sword dating back to the Civil War (1861-65). With it is a note attesting to its authenticity, a colour photocopy of a painting (A4 size) and a long, hand-written note from Cynthia's grandpa explaining that the note was handed to a Southern general to mark the North's surrender, following a battle involving 30,000 troops. In effect, it's a 'prover', an item that could re-write American history as most schoolkids know it. However, the note appears to be written by a man with Alzheimer's, mentioning both 'Sherman' (aka General William Tecumseh Sherman, who led Union troops against the Confederacy, laying waste to them in a scorched earth policy) and 'Sheridan' (aka Philip Sheridan, described on Wikipedia as an 'aggressive' cavalry commander serving under Ulysses S Grant). At any rate, it is riddled with inconsistencies and mentions the Battle of Chickamauga (September 18-20, 1863), which the characters keep misremembering, though the obvious pun, 'Chicken Tikka', isn't mentioned - they should have worked on their improvisation a little bit. Notable though that the Confederates under General Braxton Bragg won that encounter - Chickamauga, not Chicken Tikka, though we can only speculate how they dined afterwards.
Cynthia is appalled that her grandfather had to reverse-mortgage his home in order to pay for his care at the end of his life. 'The bank owns it,' explains the will's administrator, Phyllis (Elise Mayfield, formerly a contestant on the US version of Masterchef – she got to the top three in 2014). She and Mary are even more upset that Mel offers $400 for it. They leave the store in a huff, though not before Cynthia buys a milk jug for fifteen dollars. 'You were supposed to haggle', hisses Mary. Mel and Nat do web research and discover that there is a community of 'truthers', individuals (all men) who belief that history was written by the losers. The theory that the South won is well-expounded. 'And look, there's that picture again.' The website offers a number to call for anyone with trinkets that support their version of history. Mel calls it and has a 'What's app' conversation with a man he comes to know as Hog Jaws (Toby Huss).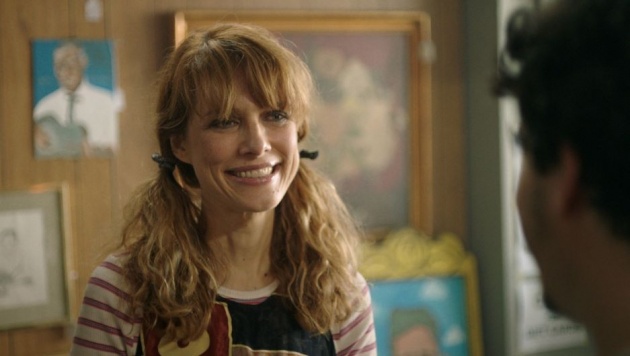 Pictured: Deirdre (Lynn Shelton) comes looking for a loan and someone to cook her dinner in the comedy, 'Sword of Trust', co-written and directed by Shelton. Still courtesy of IFC Films / Forager Film Company
Mel has an Achilles Heel (as opposed to cowboy boots, newly acquired) in the form of Deidre (Shelton), with whom he had a long-time relationship. Deirdre needs $500 to get her car fixed so she can get to her new job – 'and they like her'. Deidre's top, a mixture of 'noughts' and 'minuses', is a representation of her finances (shout out to Tora Eff, the costume designer). Shelton does a neat line in 'when you gonna come 'round and cook for me' assertive desperation as Deirdre hands over the only thing she can hock, the ring that Mel gave her – he wears one just like it. 'You know I'm good for it,' she pleads. Mel counters that she is not good for it and sends her away; Shelton does heartbreak much better than improvised comedy.
The film is at its best in a scene in which the quartet find themselves in a padded truck heading for a rendezvous with Kingpin (Dan Bakkedahl), a buyer for the sword, who they discover has a 'Toy Room'. Cynthia and Mary talk about their plans for parenthood – Cynthia would carry the baby. 'You'd be a good mother,' says Nat. Mary is appalled. Mel jumps in. 'What he means is, you [Mary] would give me a stern telling off, but I'd look at Cynthia and know I'd be all right.' In screenwriter's parlance, this is the opening-up scene, when Nat reveals his and Deirdre's drugged up past and admits that he still loves her. Shelton is good at creating the conditions for dramatic monologues.
At the film's heart is a critique of conspiracy theories. It opens with Nat watching a video of a speaker advocating 'out of the box' thinking, asking questions about perceived truth. This leads to a conversation with Cynthia, on whom he has a crush, about the earth being flat. 'Have you ever driven through Kansas City?' he asks. Nat shows her a two-dimensional representation of a flat earth, surrounded by a circle of ice, with the sun and moon and opposite sites. It looks like a Fourth Grader's art project. The film asks, how can we be certain of authenticity, in history and emotions? The answer is through corroboration by a series of observable facts.
'Expect others to come,' warns Hog Jaws. Indeed, two thugs, Zeke (Timothy Paul) and Jake (Whitmer Thomas) show up and 'screwdriver' Mel (that is, threaten him with a tool on his desk). Later, Melhas a row with them asking whether one of them stole a screwdriver from his shop. 'No,' he concludes, looking at the weapon. 'That's not mine.' The two-thug subplot is the weakest element of the film. Somewhat stronger is Mel's interest in the mind of web-based conspiracy theorists. 'I know, I'm titillated,' agrees Mary.
There are a couple of deus ex machina – Jimmy, for one, who asks Mel where his gun is after scaring off the screwdriver bandits. 'I can't find it,' Mel admits. (Nat comes in with a household cleaner, but that's a detergent not a deterrent.) Then there's a reference to the Israeli military.
Part of what the Kingpin wants to buy isn't the item but a belief in an alternative version of history - but there's a twist.
After Shelton's 2017 ex-convict drama, Outside In, Sword of Trust is a little disappointing, notably for its sit-com resolution in which the importance of family is stressed. There is a nice scene, conducted without dialogue, a character low in the frame, in which a car is repaired at Chandler's Garage and some groceries are left outside a front door. It is important to be sceptical of historical untruths that perpetuate a cycle of hate. Emotional scepticism, though, is worth resistance.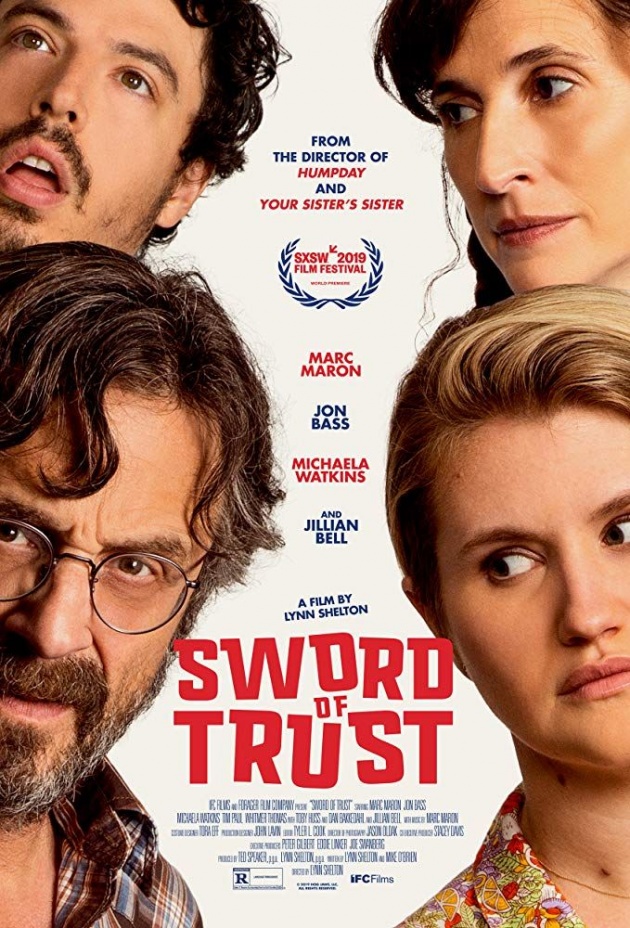 Reviewed at Sture Cinema Screen 3, Stockholm International Film Festival, Friday 15 November 2019, in the presence of a volunteer who told us the running time and asked us to remove our trash afterwards.