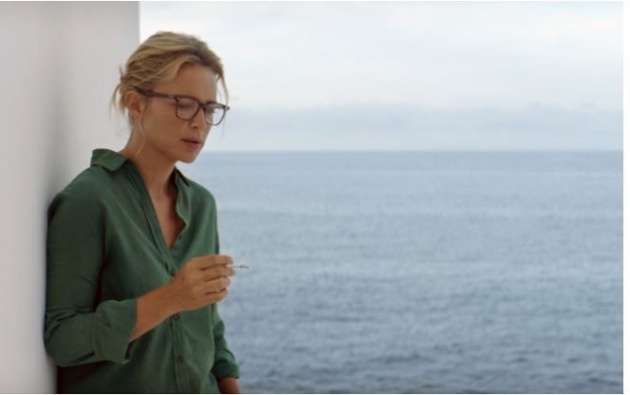 Pictured: Without her vaper, psychiatrist turned betrayer of confidences, Sibyl (Virginie Efira) enjoys a cigarette in a scene from 'Sibyl', a French drama co-written (with Arthur Hariri) and directed by Justine Triet. Still courtesy of MK2 / MUBI UK
What makes a person decide to become an artist? Usually, it is the kick out of showing work to others and receiving adoration in return. One can be funnelled towards writing, painting, composing or the other creative arts as a young person, but essentially the impulse to be an artist is no different from that of being an athlete. There is a high degree of narcissism and false modesty. The worst impulse is to believe that the art you create is meaningful to others and that it performs an important function. Your art can indeed be meaningful, in the sense of illuminating an issue that is little understood. It can undoubtedly give others pleasure. Whether it performs an important function is moot. A set of favourite films will tell you something about the person who chose them – about how they see themselves. 'Important' films, those with a strong moral imperative, are rarely on those lists because they tend to look at the darker aspects of humanity, the atrocities we are prepared to commit to justify our way of life. These atrocities in turn are narcissistic; genocide is motivated by a false sense of our own importance as people.
Director Justine Triet's film, Sibyl, explores the urge to create. It depicts art as an excuse to break confidence – the end (in this case a novel) being the product of betraying a relationship. It also shows art being created as a relationship is broken in front of the camera. At its centre, we are asked to believe that a psychiatrist, the titular Sibyl (Virginie Efira) would want to abandon her profession to go back to writing fiction. She has, as we discover, issues. Her creative writing mentor, Gabriel (Niels Schneider) left her with a child to raise. Her mother was a drunk and Sibyl, who attends Alcoholics Anonymous classes, fights to keep herself sober. Schneider and Efira have form, having appeared together in Catherine Corsini's Un Amour Impossible (2018), in which Schneider played a man who refused to acknowledge his ex-lover's child. Indeed, Efira and Schneider became a couple during the production of Corsini's film.
Triet, who co-wrote the script with Arthur Harari - he appears in the film as Sibyl's psychiatrist - begins the film with a series of single master shots in which the camera slowly zooms in. As the credits roll, we see Sibyl sitting next to a bespectacled man in a Yo Sushi-type restaurant. The man is midway through a diatribe.
'Writers basically take readers hostage,' Sibyl is told as dishes are conveyed past her. 'You're forcing someone to spend five, six, seven, eight hours in your brain. People have less time now. Ten years ago you had a minor bestseller. Now people are saturated with information. They have every excuse not to read. The fact is, that writers have less legitimacy now, than ever before. Not to discourage you but ten years ago was the wrong time to leave and become a shrink. I felt so bad. It was like a suicide. Someone with a deliberate waste of talent. I felt that I cut myself off emotionally.'
From this we deduce that Sibyl's lunch companion is her former literary agent or at least someone who was invested in her career.
'Right,' replies Sibyl, working her chopsticks and showing no sign of being emotionally invested in the man's words.
'Sorry to be so frank,' he continues, 'but you need to know the score. You say writing is your priority again. Superb! Superb! But we both know inspiration is a lie and hard work is pointless. People write like crazy and end up with nothing. They think they have an idea, but fiction is not a subject.'
We can see the hurt in Sibyl's face, though she says nothing. Clearly this isn't the pep talk she was hoping for.
'Fiction is about elements, triggering a process. Or it can be a pre-existing process, like a news item. That can work. Julian Dars wrote about an American who killed her roommate in Italy, caught between two justice systems.' [He is referring to Amanda Knox who was convicted for the 2007 murder of Meredith Kercher.] 'A crazy case, beauty on trial. Adêle Simonie has a book coming out about the text message murder case. This girl texted a suicidal friend until he killed himself. Talk about great chick lit.' Now he's being insulting.
Sibyl pauses, turning to her meal, then back to her companion. 'Thanks for your advice, Basile,' she remarks, hesitantly. 'Listen, I'm here to help you,' Basile replies. Sibyl tries to be more appreciative of his time. Basile cuts her off. 'I'm glad you're back,' he says. 'Send me your stuff.' 'Perfect,' Sibyl replies.
The film abruptly cuts to Sibyl in her office. She is telling her patient, Boris, that she will no longer treat him and will refer him to a colleague. He is furious. 'Isn't it terrifying enough to have lived this life and [then] to have told it to a total stranger?' In Boris' words, Sibyl has stolen his 'work', 'seven years of my life'. He places the backs of his hands against his cheeks. 'I'm going to drop dead.' Not a great start to a resumption of her literary career.
Piano music kicks in. It is night. It is raining. The camera zooms into a building, specifically an apartment building. The cast list is superimposed over this slow zoom. We can see a figure at a desk.
Sibyl gets out of her car in the rain and runs to the building, using her red jacket as an impromptu umbrella. By this point, four minutes into the film, we think we might be watching a thriller. Sibyl enters her apartment, the door behind her cluttered with pictures. A candle is lit. The light switch doesn't work. There is a flash of lightning from outside and the sound of thunder, before Sibyl's sister, Edith (Laure Calamy) and two children appear, singing 'happy birthday' to her in English. (We can see the oven clock, indicating it is 21:05). Sibyl's husband, Etienne (Paul Lamy) stands behind the children. Sibyl tells him she has left most of her patients to focus on her novel. 'I think it's great,' says Edith, though in time we will learn that she resents her sister's tranquillity, an ability not to be defined by trauma. 'But how you will your patients feel?' asks Etienne. 'What if a surgeon said, mid-operation, goodbye, I'm off to write.' Sibyl doesn't answer. 'A bit of guilt never hurt,' Etienne adds.
The inciting incident comes with a telephone call from a hospital. Margot (Adèle Exarchopoulos), a young actress at the start of her career, is desperate to speak to a psychiatrist. She has a decision to make and needs help. Margot has discovered that she is two months pregnant. The father is her co-star, Igor (Gaspard Ulliel). Margot feels that she cannot keep the baby. Moreover, she does not want to tell Igor, who is in a relationship with the film's German director, Mika (Sandra Hüller). Sibyl doesn't want to take on a new patient, though she reveals that she has kept a few. She reluctantly treats Margot, who makes particular demands on her, notably that she speaks to Igor on the set of the film; Margot clearly has no idea how the patient-psychiatrist relationship is supposed to work, but then neither does Sibyl, whose blank screen – the first page of her new novel – haunts her. Sibyl starts to write about Margot, exploiting her confidence. Her agent is very pleased by the pages.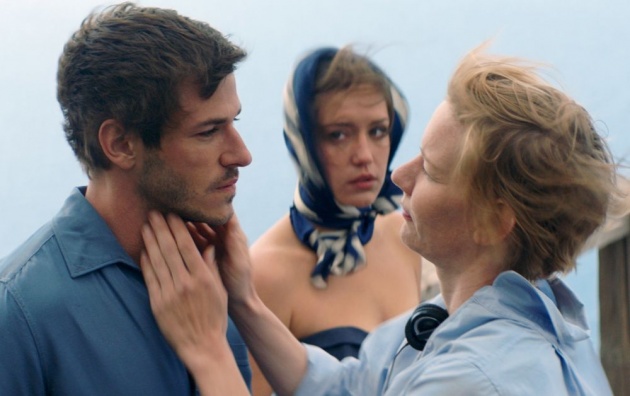 Pictured: Mika (Sandra Hüller) directs Igor (Gaspard Ulliel) and Margot (Adèle Exarchopoulos) in a scene from the French film 'Sibyl', co-written and directed by Justine Triet. Still courtesy of MK2/ MUBI UK
In Greek mythology, sibyl, or Sibylla, were prophetesses, relating the future in writing. The film's Sibyl relates the present. She is tortured by flashbacks, involving her sister, who thinks Sibyl trivialised their mother. 'Go back to your silly songs,' she tells her at a party, during which Sibyl performed Peggy Lee's 'Fever', forgetting some of the words. (We wonder whether the party might be the launch of Sibyl's first novel, the 'minor best seller' mentioned by Basile.) She also recalls her intense relationship with Gabriel. At one point, they make love. Much of the sex scene is captured in a single take with Sibyl (naked) on top of Gabriel before Gabriel takes control. The purpose of this flashback is to pre-figure a later scene, shot very differently and fully clothed, in which Sibyl betrays her patient.
The exploration of 'creativity' extends to Sibyl's children, specifically her eldest, who was fathered by Gabriel. In a wicked mood, Edith instructs the child in how to emotionally manipulate her mother, asking her to tell Sibyl that she feels low and worthless. The language the child uses is adult and inappropriate but Sibyl's mothering instinct kicks in immediately, collapsing to her knees and embracing the child, comforting her with a reassuring hug.
Children are the creations that we cannot control. We can only guide them and endeavour to instil some sense of morality. Triet does not examine parenting. However, the one patient that Sibyl does not abandon is a young boy, who plays Monopoly with her during his sessions. He will only answer questions during the game – Sibyl can only ask one at a time. He asks her a question too. 'What's your favourite place?' 'My office,' Sibyl replies, 'it is where I feel most control.' At the end of the session, the boy says, 'you want to ask me what my favourite place is'. However, the rules that they have set out do not allow this. In another session, he reveals it is an airing cupboard. 'Why?' 'Because it has a lock on the inside.' In another session still, he reveals that he listens to the last song that he and his mother heard together before she was killed in a car crash.
Somewhat improbably, Sibyl is summoned to the volcanic island of Stromboli, where she has the role of acting as intermediary between Margot and everyone else, but especially Mika and Igor. At one point we see Sibyl with Mika, watching a scene through a monitor. I found myself wondering, 'wow, they would really allow that?' A slapping scene is shot – and shown – multiple times. Sibyl finds herself standing in for Igor during a musical number, in which she sings in Italian. Sibyl is pretty good but at a certain point (again) words fail her. Margot's face explodes into joy and laughter, the trauma of her abortion decision temporarily lifted.
In her few brief scenes, Hüller takes over the film. It isn't just that she is acting in English with confidence and panache, but that she is playing a director who is repressing her emotions for the sake of the film – and lets everyone know it. She is the most honest and bravest character in the film. Unlike Margot, she is trying to do it alone, knowing that her lover has betrayed her. At one point, during a poorly acted scene on a yacht, in which Igor objects to his performance being interpreted knowing that the camera can only see the back of his head, Mika has had enough and plunges into the water, leaving the crew to finish the scene. Sibyl is volunteered as director and coaxes Margot and Igor through a love scene.
Sibyl's role on the film doesn't end well – never go for a walk with a performer. In the film's climax, ten months later, she attends the premiere, attempts to sing a sing in Italian again – but after a confident and commanding start cannot remember all the words, another singer taking over from her and attempting to drown her out. Sibyl causes further drunken mayhem until she is led away. Quite how she got into the premiere party, given her ignominious departure – we'll never know. 'It is better that you say nothing,' Mika tells her at the end of stay on Stromboli. Margot takes Sibyl home and tells her she has read her novel. 'I am flattered,' she says, perhaps resenting that her life story has been appropriated but not showing it. In any case, on the island, Margot went on a wrecking spree in Sibyl's room after her slip. When she is about to smash the laptop, Sibyl cries, 'no, not that.' Acknowledging her drunken state, Etienne will not let Sibyl inside.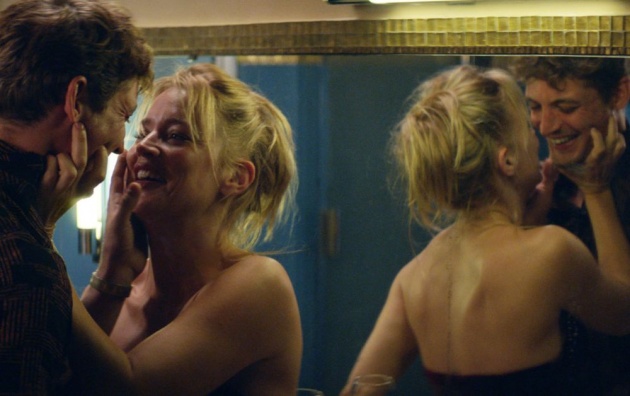 Pictured: Gabriel (Niels Schneider) and Sibyl (Virginie Efira) in a romantic flashback as featured in director Justine Triet's film, 'Sibyl'. Still courtesy of MK2 / MUBI UK
There are two codas. One that confirms that Sibyl is sober, the second involves Gabriel at a fairground. Finally, Sibyl is left with her own creation, the one that has a trace of her, unlike her second novel.
The film-within-a-film in-jokes amuse. 'Why did you film on Stromboli?' Mika is asked. 'I wanted to film away from home, to be different.' (We expect her to acknowledge ) There is also a male producer who speaks to Sibyl in English, offering her a drink and a marijuana joint, both of which she declines. (I think he is supposed to represent any number of predatory men on a film set.) ThRoberto Rossellini.e film doesn't really answer the question, why create? Then again, it doesn't have to. On one hand, the film is Triet's reflection on being a film director, not being in control of all the elements. On the other, there is the desire to tell stories, not just to listen. The film is only marginally more closed than Sibyl's psychiatric patients, for whom therapy is a process not an event. The real question the film asks is: how connected does an author have to be to the story that they are telling? In some ways, Sibyl faced Margot's dilemma herself and chose to have the child. (Her situation was less loaded – she didn't face losing her job and career in the same way that Margot does.) Sibyl too experienced intense desire, as Margot did, the feeling of being looked at in a certain way. Ultimately, the answer is that you can deal with the issues in your own life as fiction when they appear to be someone else's.
Reviewed on Saturday 24 July 2021 on Mubi.com (streaming service)