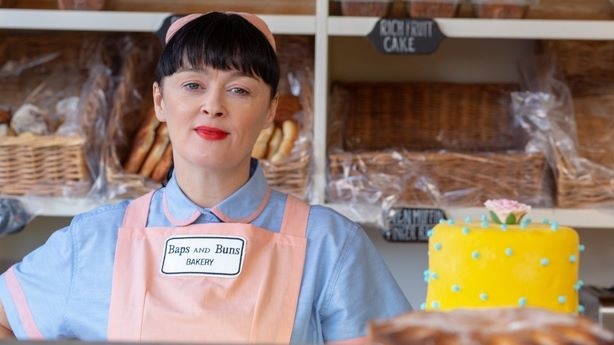 Pictured: Pamela (Bronagh Gallagher) shows off a cake whilst hiding her bun in the oven in 'A Bump Along the Way', a film set in Derry, Londonderry written by Tess McGowan, produced by Louise Gallagher and directed by Shelly Love. Still courtesy of Element Film Distribution / Northern Ireland Screen
Films that revolve around pregnancies are rarely about the pregnancy itself. They are really concerned with confronting problems that exist outside of expecting a child. This is because, once a child is born, you won't have time for those problems. Instead, you'll be devoted to a tiny being whose sole purpose – at least for the first few months – is to feed, excrete and cry a lot. You may think you are teaching the baby words, but the infant is teaching you more curse words than you normally would use, making you nostalgic for back pains and morning sickness.
A Bump Along The Way is a comedy-drama from Northern Ireland nurtured into being by a trio of women: writer Tess McGowan, producer Louise Gallagher and director Shelly Love. It is a 'what if' movie: what if a forty four-year old woman, Pamela (Bronagh Gallagher) having had van hanky panky with a twenty four-year old driver who lives with his mother, suddenly became pregnant, having been estranged from her Vegan, environmentally conscious fifteen-year old daughter, Allegra (Lola Petticrew).
The filmmakers spend some time dismissing dramatic options. Pamela is in no danger of giving birth to a disabled child. Although there is a humorous reference to a 'geriatric pregnancy', her child is pronounced healthy. Then there is the question whether the pregnancy will stop Pamela from working, but her employer (Dan Gordon) at the Bun and Bap shop is agreeably tolerant. We wonder whether the driver, Barry (Andy Doherty) will man up to fatherly responsibilities, but he only had sex with Pamela because he thought she wouldn't get pregnant. Pamela has no intention of going to England to procure an abortion – the filmmakers want to stay on the right side of a conservative, Northern Irish audience - Northern Ireland is the only part of the island of Ireland that continues to criminalise the termination of a foetus, regardless of whether the pregnancy resulted from rape. Pamela does not remain socially irresponsible. Her body tells her that she does not feel like drinking and she cuts down.
With the film playing safe in so many areas, you wonder where the drama will come from. Pamela remains estranged from Kieran (Gerard Jordan), who only provides a modest amount of financial support and she is annoyed that he turns up prior to her sixteenth birthday to take her out for a meal. She eventually contacts him to ask for more support, but this isn't a significant dramatic conflict. She also makes a similar demand of Barry, in a scene played for comedy – Barry is frightened of his mother hearing their conversation.
Instead, screenwriter McGowan reflects on Pamela's own upbringing, raised by a cruel mother. Pamela might have inherited the house, without being burdened by either rent or a mortgage, but she wishes she had stood up for herself more.
At no point does Pamela wonder why she hasn't maintained a relationship; the film does not problematise her. She is however considered an embarrassment by Allegra, who hates her name – it's from the (fictitious) 'Alfie and Allegra' children's book.
Much of the film is taken up with Allegra abandoning her tall – and it is implied misfit - best friend Mary (Meghan Reid) and hanging out with a new crowd. She is infatuated with a peroxide-blonde haired rugby player who does not see her. On her sixteenth birthday, Allegra ('call me Allie') leaves her mum behind, hangs out with her new best friend who is dating said rugby player, cosies up to him and throws up on his shoes. Allie retreats into deep depression, refusing to answer her phone, as Pamela goes into labour.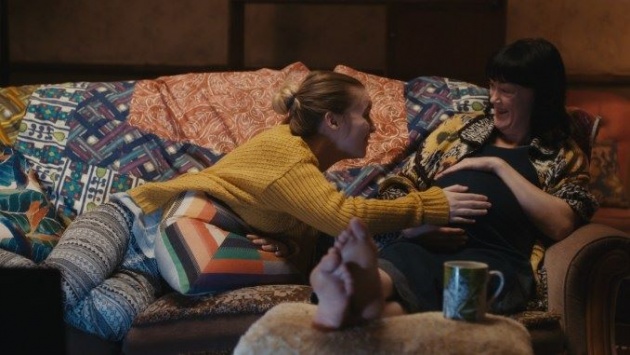 Pictured: Teenage Allegra (Lola Petticrew) feels the kicks from the baby in her mother, Pamela's womb in the film 'A Bump Along The Way'. Still courtesy of Element Film Distribution / Northern Ireland Screen
Finally, though this is a feel-good film. Allegra is shamed by the class bully but then stands up to her, though I wasn't so keen on Allegra's retort, 'anybody would think that you fancy me' – the line is homophobic. She makes up with Mary and decides that the rugby player isn't for her.
Mary Moulds makes a brief impression as Pamela's best friend, Sinead, who is always there for the hair of the dog. Sinead isn't there when Pamela really needs her. The film's biggest laugh is in the delivery room, when Pamela offers her quinoa-loving daughter some gas and air to cheer her up, a scene that will resonate with all mothers who have opted for pain relief.
Gallagher is likeable but Pamela is a sitcom character in a film that has very few jokes or set pieces. In two scenes, Pamela hides from Barry's van when it passes her shop as if embarrassed to have had sex with a younger man.
Allegra's talent is in her artwork and she receives encouragement from her new teacher, who also spots that she is being bullied. The film suggests that the Northern Irish school system is inadequate when it comes to class bullying, relying on victims to come forward rather than acting on what they see.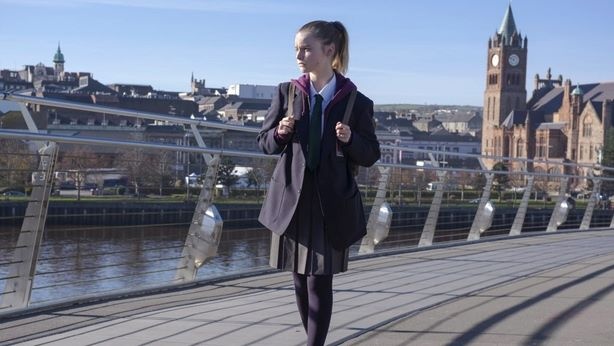 Pictured: Allegra (Lola Petticrew) takes a meaningful walk over Derry's Peace Bridge in 'A Bump Along The Way' a film from Northern Ireland about an unplanning pregnancy. Still courtesy of Element Film Distribution / Northern Ireland Screen
At least twice, Allegra is shown crossing the Peace Bridge, a cycle and foot bridge over the River Foyle, that was opened in June 2011 and symbolises the city's attempt at putting the past behind it. Love turns this into a cliché. When we first see Derry from a distance, it is at night, out of focus, a twinkle of lights. This shot too is repeated.
Ultimately, A Bump Along The Way doesn't deliver. It softens the edges of its spiky protagonist and falls into the cliché ending of 'a baby makes everybody happy'. Pamela doesn't find happiness with an adult man but does so with her wee fella. Allegra too is cheered up.
Reviewed at (London) Irish Film Festival, Regent Street Cinema, Central London, Thursday 21 November 2019, 20:00, without the 'drink on us' that the organisers promised (shameful false advertising)