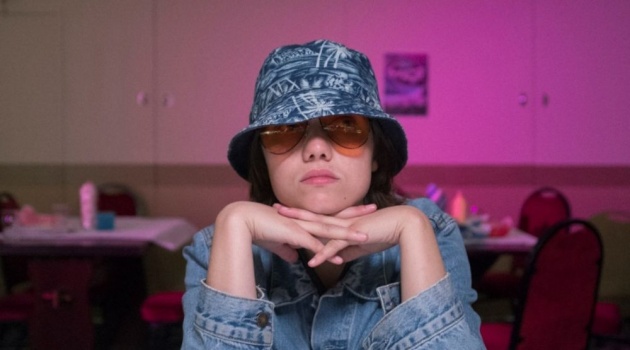 Pictured: 'The heart is a lonely Hunter S Thompson'. Nell Barlow as AJ (April Jane) in a scene from the British caravan park romance, 'Sweetheart', written and directed by Marley Morrison. Still courtesy of Peccadillo Pictures / Glasgow Film Festival
Contains spoilers
Never underestimate the impact of a coming-of-age film for those who had never seen themselves on screen before. Sweetheart, the debut feature of the now 35-year-old British writer-director Marley Morrison, captures frighteningly well that feeling of being a teenager, resenting your family, but not being sure of what to do next.
'I used to love all this,' muses AJ (Nell Barlow) in voiceover, looking at the detritus of a 9th birthday party enjoyed by her younger sister, Dayna (Tabitha Byron). 'It was my whole world.' The line is spoken at a critical point. AJ, formally known as April Jane, has fallen for Isla (Ella-Rae Smith), a lifeguard at the Dorset caravan park, Freshwater, where AJ and her family are vacationing. Only AJ's feelings for Isla have reached a critical mass. AJ saw Isla stepping into a caravan with fellow lifeguard Nathan (Steffann Cennydd) and imagined the worst. This after the two young women had kissed.
AJ's holiday reading is the poetry anthology, 'The Dizziness of Freedom'. She hides her self-chopped hair under a denim-bucket hat and covers her eyes with huge sunglasses. When we see her late in the film wearing a safari-style shirt, it appears AJ has gone full Hunter S Thompson. However, she has no aspirations of being a gonzo writer. Instead she wants to volunteer to knit jumpers for elephants in Indonesia. 'I thought elephants lived in the desert,' says Steve (Samuel Anderson), AJ's laidback and generally placating brother-in-law, married to AJ's heavily pregnant older sister, Lucy (Sophia Di Martino). 'Yes,' agrees AJ, 'but they get terribly cold at night'. This 'jumpers for elephants' (as opposed to 'for goalposts') fad is only AJ's latest enthusiasm – at least according to her mother, Tina (Jo Hartley). Responding to AJ's announcement that she wants to leave school, aged seventeen, having not completed her A levels, Tina screams at her, 'you don't know what you want'. AJ wanted to be left at home and not join her siblings for the trip to Dorset, only mum wouldn't allow it, worrying that unsupervised she would end up taking drugs. AJ would rather hang out with her dad, whom Tina had thrown out of the house and who isn't joining them for the holiday. Dad, however, doesn't answer the phone. Tina imagines him getting drunk somewhere.
The opening scene put me in mind of Greta Gerwig's 2017 film, Lady Bird. Like Christine 'Lady Bird' McPherson, AJ has re-branded herself. Like Lady Bird, Sweetheart also opens with a car journey, Tina pointing out cows to AJ and Dayna. AJ doesn't do anything as drastic as Lady Bird, but she is just as argumentative and misunderstood. When they arrive at Freshwater, they meet Lucy and Steve. AJ is ordered to carry the luggage.
The caravan park is not AJ's idea of fun. She doesn't swim. The evening entertainment, which includes a singer and a magician, doesn't have any appeal for her. However, she is struck by a photograph of Isla on the employee board. When Isla and AJ meet, there is instant chemistry. Isla invites AJ to a party. AJ persuades her mother to let her have some time away from the family, during a particularly cheesy, yet slick magic show (William Andrews, as Phil the magician, has his routine down pat).
One of the lifeguards believes that the Earth is flat – he's a sceptic who reminds us of the all-too-numerous climate change and Covid-19 deniers; the film was shot in 2019, pre-Covid. AJ describes how you can prove the world is round. The horizon is lower. Her explanation is so authoritative that it silences the room. She is asked how she knows this stuff. 'I conducted experiments while climbing a tree. I got this mark falling from one,' she adds, pointing to her head. AJ explains to the group that she is eighteen and not going to university, giving them the elephant jumpers in Indonesia spiel. 'Is that like a gap year?' someone asks.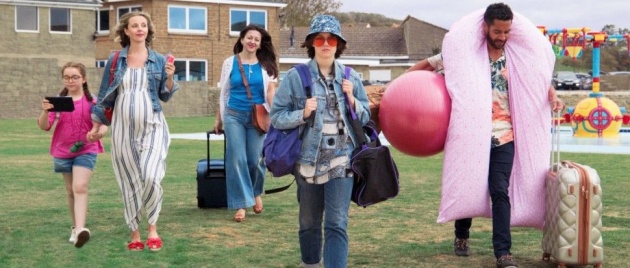 Pictured: Carrying the luggage. From left to right, Tabitha Byron, Sophia Di Martino, Jo Hartley, Nell Barlow and Samuel Anderson in a scene from the British caravan park romance, 'Sweetheart', written and directed by Marley Morrison. Still courtesy of Peccadillo Pictures / Glasgow Film Festival
AJ and Isla almost kiss in the bathroom. Only someone is desperate for a wee. (Talk about killing the mood.) When Isla disappears with Nathan, AJ responds by doing shots with a boy. She ends up horribly drunk and, after staggering back to the caravan, vomiting on her sister's shoes.
One of the most welcome aspects of the film is that the family – except for maybe AJ's younger sister – is reconciled to her sexuality. They know she is queer. Sweetheart isn't a coming-out film – that is happily so last century – rather a film about a young woman struggling to read the sexuality of others. Isla passes for heterosexual and is accepted in her peer group as such. However, AJ later discovers that Isla has a reputation for, to be put it obliquely, temporary enthusiasms.
AJ really gets to know Isla when she is invited to the beach on Isla's day off. 'So this is what we're doing – sunbathing,' remarks AJ. AJ explains how she lied about being eighteen. She's seventeen and still at school. In the course of her explanation, AJ catches the sun. They strip to their swimsuits – Isla thinks AJ wears too many clothes - and stand in a rockpool, an area on the otherwise stony beach where sea water was collected. They end up in Isla's caravan and kiss. AJ withdraws suddenly and runs. When AJ and Isla speak again, they row, AJ making a disparaging comment about Isla working in a caravan park.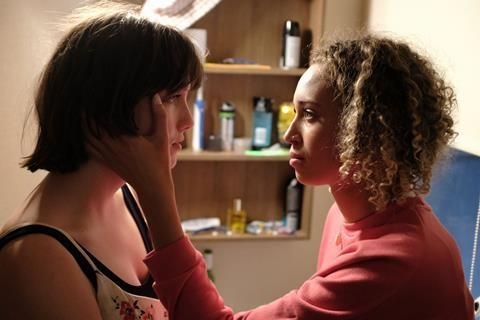 Pictured: It continued with a kiss. Nell Barlow and Ella-Rae Smith in a scene from the British caravan park romance, 'Sweetheart', written and directed by Marley Morrison. Still courtesy of Peccadillo Pictures / Glasgow Film Festival
AJ upsets her mother further by leaving Dayna on her own in the pool while she looks for Isla. She tells Dayna that she is going to the toilet. When AJ returns, Isla is gone. After a frantic search, she returns to the caravan. Dayna is there listening to music through her headphones. Tina is furious. AJ had one job to do. AJ's surliness takes over. She talks to, then kisses Elvis (Spike Fearn) another of the resort's lifeguards. Only she stops kissing him and flees.
The film builds to disco night when AJ is almost happy, rejecting Nathan's offer to buy her a drink. 'Grease is set in the 1950s,' she says referring to Nathan's attire during the 1960s 'Dirty Dancing' night. Nathan doesn't understand the comment. Seeing Isla with Nathan, AJ leaves. Lucy follows her. She then experiences a stomach pain. 'If you make me give birth in a car park,' she explains whilst in discomfort. However, there is no mad rush to the hospital; we've seen that film before. Instead AJ and Isla speak - and then some. Meanwhile, Tina, sitting at the disco waiting for AJ, gets talking to magician Phil. Gentle flirtation doesn't lead anywhere
Sweetheart doesn't do anything particularly new with the teenage romance at a holiday park genre – you know, 'the summer when everything changed'. But what it does is portray it with honesty, warmth and humour. Flat earth discussion and AJ's Hunter S Thompson attire aside, there are no flair moments. However, each character is given a grace note. For all her moaning, Lucy tells AJ that she was seventeen once. Steve can see that AJ fancies Isla. Dayna is very talkative on her ninth birthday and Jo reminds her daughter that she is struggling to keep the family together and loves AJ. AJ's caravan park romance is bitter-sweet but also old-fashioned. There is no mention of keeping in touch through social media, rather meeting again next summer – when AJ really would be eighteen. Her tentativeness – and Nell Barlow's central performance – grounds the film. The threatened one-night stand between Tina and Phil is gently understated. It ends with Tina taking off her shoes and walking back to the caravan. The soundtrack is full of middle of the road songs with strumming guitars and heavy drums – aural wallpaper (which ought to be the name of a band but strangely isn't). Morrison's route to making the film is fascinating, abandoning a more political film that she previously received funding for, and, in her youth, previously playing for Watford Ladies and Newcastle Ladies football clubs, until a back injury curtailed her career. 'My father wanted a boy,' AJ recalls at one point. 'I think about that a lot.' Unquestionably, from its reception at film festivals – it won the audience award at the 2021 Glasgow Film Festival – Sweetheart resonates and will win you over.
Reviewed at Ashford Picturehouse, Kent (Screen Six), Sunday 19 September 2021, 11:00 members preview screening