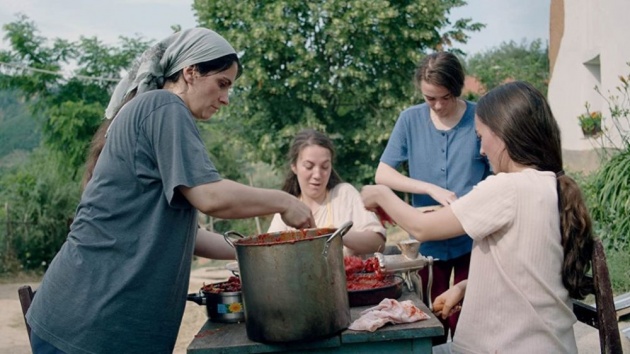 Pictured: Fahrije (Yllka Gashi, standing, foreground) leads a group of women preparing Ajvar, a red pepper side dish, in 'Hive', a fact-based Kosovo-set feature film written and directed by Blerta Basholli. Still courtesy of Zeitgeisty Films (US) / Altitude Films (UK)
Contains significant plot detail
Hive, the debut feature of writer-director Blerta Basholli, is set in Kosovo, several years after the end of the Kosovo War (March 1998 to June 1999). It is based on the true story of Fahrije Hoti (played in the film by Yllka Gashi) whose husband went missing after she fled to Albania with their two children. According to local rumour, Fahrije's husband was executed by the river near to their home along with 200 or so other men. All that is left of them are their clothes.
Kosovo was formerly a province in the south-east of Yugoslavia, a state that eventually collapsed in the early 1990s that consisted of countries we now know as Slovenia, Croatia, Bosnia and Herzegovina, Serbia, Montenegro and Macedonia. Its population was 90% ethnic Albanian; both Kosovo and Macedonia have a border with Albania. Slobodan Milošević, then President of Serbia, reduced Kosovo's constitutionally guaranteed autonomy in 1989, siding with the Serbian minority in the province (who complained of mistreatment by the Albanian majority) and encouraged Serbian nationalism. The Kosovo Liberation Army (KLA), formed in 1993, fought against the Serbian police and military forces that had moved into the country; Serbian forces would later be judged guilty of ethnic cleansing.
In the Kosovo War, 13,000 were killed. Many of the dead, buried in mass graves, were unidentified. In the years that followed, the families of the missing pleaded with the Serbian government to tell them what had happened to their loved ones. This is the context in which Hive takes place.
When we first see Fahrije, she is hovering round a Red Cross-administered site where the clothes of some of the missing are displayed. When no one is looking, she slips under the white taper and makes her way to a white tent, where she uncovers piles of clothes laid out as if to represent a body. She is noticed. 'You're not supposed to be in there,' she is told.
Like many women of her generation, Fahrije is neither wife nor widow. She lives under the protection of her father-in-law, Haxhi (Çun Lajçi) with her teenage daughter, Zana (Kaona Sylejmani) and son, Edon (Mal Noah Safçiu). When not tending her husband's bees, which give the family an income, with Haxhi minding the stall, Fahrije stares out at the river, where a half-submerged car rests uneasily. Edon insists that he saw a fish in the river. Fahrije is unconvinced. The inference is that the river has hosted too many dead bodies to nurture life.
Fahrije is a member of a women's group campaigning to be told their husbands' whereabouts. They have a centre. A car becomes available. Fahrije offers to learn to drive and to take possession of it. She has no competition. Women in Fahrije's position cannot be seen to be exercising independence – to do so is an affront to their husbands.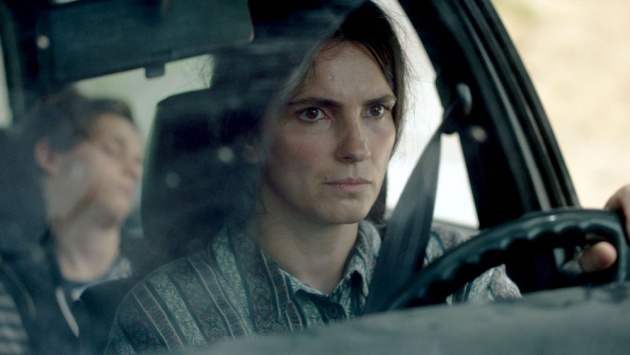 Pictured: 'Drive my car'. A determined Fahrije Hoti (Yllka Gashi) is at the wheel with her young son, Edon (Mal Noah Safçiu) in the back in a scene from the Kosovo-set fact-based drama, 'Hive', written and directed by Blerta Basholli. Still courtesy of Zeitgeisty Films (US) / Altitude Films (UK)
Fahrije starts to drive but has a second endeavour – to manufacture Ajvar, a roasted red pepper relish manufactured with bell peppers, eggplant and garlic. A supermarket offers to take it. Fahrije buys a stock of red peppers on credit, but she needs money. When she removes her husband's buzz saw from the workroom, Zana objects. 'Why don't you sell this photograph?' she cries. To her Fahrije is besmirching her husband's – Zana's father's – memory. When some men come to collect the buzzsaw, the otherwise wheelchair bound Haxhi refuses to allow it, and the sale is cancelled.
Fahrije's pepper supplier is keen to share a coffee with her, but Fahrije refuses. She is aware that she already risks being thought of as unfaithful. Whilst out driving her car window is broken by an unseen attacker. With the help of Edon, Fahrije patches it up, undaunted.
More women help Fahrije manufacture Ajvar. They participate in a protest rally, appealing to Serbia to release information. Her husband's body would be easier to identify if Haxhi gave a sample of his DNA. However, the old man refuses to do so.
As Zana experiences menstruation, Fahrije expresses the hope that she won't end up like her. The protest against her fledgling business continues. The women's centre is broken into and jars of Ajvar are smashed. The women salvage what they can. In response, Fahrije smashes the window of a local café, from which her car was first attacked. 'If you were a man, I would know what to do to you,' says the owner. There are no further attacks on her stock.
However, Fahrije's pepper supplier assaults her as she collects stock, fully intending to rape her. Fahrije fights him off, gets into her car and drives off. In a subsequent scene, trembling, she brings him his money and leaves.
Zana, who had previously disapproved of her mother, offers to help. Haxhi supplies a DNA sample. Later, members of the International Red Cross summon Fahrije. She is presented with some clothes. Her response is to deny that those are her husband's. She prefers hope to certainty, or at least does so at that moment.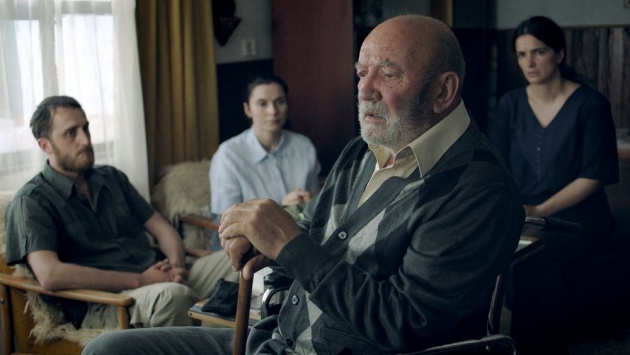 Pictured: Haxhi (Çun Lajçi, foreground) listens to an appeal for DNA to help trace the whereabouts of his son in a scene from the fact-based Kosovo set drama, 'Hive', written and directed by Blerta Basholli. Still courtesy of Zeitgeisty Films (US) / Altitude Films (UK)
The supermarket stocks her Ajvar and the women produce a label, the brand is christened 'Krusha'. A caption tells us that the company continues to trade. 'Krusha' is a female-owned, female-staffed enterprise. Fahrije has accepted her husband's death.
Winner of three awards at the 2021 Sundance Film Festival – the Grand Jury Prize, the Audience Award and Directing Award – in the World Cinema section, Hive tells an inspiring story of endeavour in the face of uncertainty. With the action seen from Fahrije's point of view, the storytelling is solid and straight forward. The ending cannot be described as happy, but Fahrije transcends what the male-run community expected of her. The film has been long listed for the Best Film Not in the English Language for the 2022 American Academy Awards, though it faces stiff competition from the animated documentary, Flee, about a gay Afghan refugee, and Drive My Car, an adaptation of a Haruki Murakami short story that has gained critical and audience acclaim (7.9 out of 10 on imdb). Basholli is unlikely to win but may find it less difficult to secure funding for her follow-up.
Reviewed at Electric Cinema 2, White City, West London, Monday 13 December 2021, 18:30 (press) screening