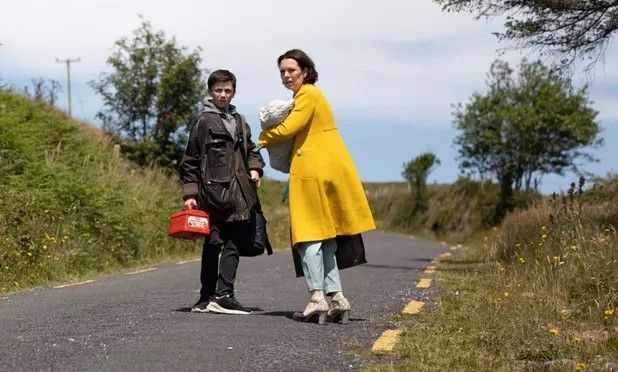 Pictured: 'Hey, brood, where's my car?' Twelve year-old runaway Mully (Charlie Reid, left) and anxious new mother, Joy (Olivia Colman) in a scene from the Irish road movie, 'Joyride', written by Ailbhe Keogan and directed by Emer Reynolds. Still courtesy of Vertigo Releasing (UK)
The casting of Olivia Colman in Irish editor-turned-documentary-maker-turned-feature film director Emer Reynolds' Joyride is both a blessing and a curse. Blessing because the Best Actress Academy Award winner gives the film a marquee value it otherwise would not have had – it is playing for a second week at my local multiplex, which for a low-budget Irish road movie is practically unheard. Curse because Colman is neither Irish nor the right age for the part she is playing. To accept the 48-year-old Colman as a new mother is a bit of a stretch. You just have to go with it. However, there are scenes when her character Joy tries to breast feed – the film doesn't shy away from nipples put to natural use – and you are acutely aware that a maternal stand-in was used. Showing female breasts in unheard of in Irish cinema. I sensed that Reynolds was making a political point. Breast feeding in public should not be outlawed, although a mother may prefer privacy. Prudes and conservatives should get used to it.
Written by Ailbhe Keogan, Joyride is stolen by Charlie Reid as Mully, a twelve-year-old thief who steals a taxi with a mother and baby in it. It is a highly contrived set up – Mully has to make a quick getaway having snatched a wad of banknotes from his da (Lochlann O'Mearáin) who wants to take money raised for charity in his late wife's name to pay off a gambling debt. Mully misses his mother, who died from cancer. All he has of her in physical terms is her lipstick. Mully's mother used to plant a kiss on his cheek while he slept giving him what he considered to be a pleasant surprise in the morning. Other boys might disagree. Mully is the kind of kid who yells at adults, smokes, drives and occasionally crashes a car. In other words, an obvious referral to social services. His father's one defence as a parent is that he kept the boy at home, which isn't much of a virtue.
Colman's character, Joy, is the pun we never wanted. She's an alcoholic lawyer – Mully refers to her as 'gin and tonic' – who doesn't know who the father of her recently born child is. To be fair, she doesn't want to know. Joy wants to pass on her unnamed baby daughter to her friend, Angela (Aislin McGuckin) who is unable to conceive. Her plan is: give birth, gift child to friend, fly to Lanzarotte. We wonder whether she has a job to return to. The plotting of the film is so thin that the only drama is whether Joy can learn to love of her child and, if so, what the implications might be. This aspect of the film doesn't get much running time.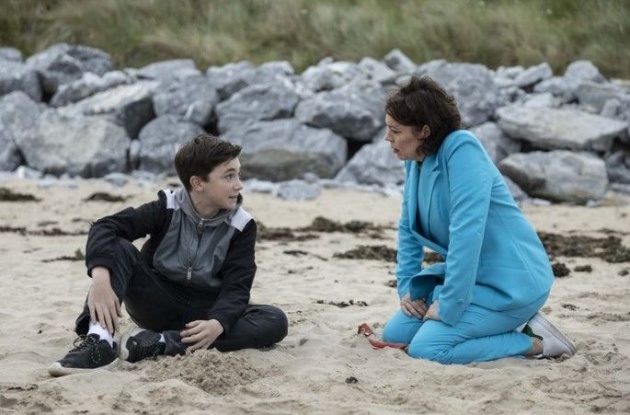 Pictured: 'I thought you deserted me.' Mully (Charlie Reid, left) and Joy (Olivia Colman, right) in a scene from the Irish road movie, 'Joyride', directed by Emer Reynolds. Still courtesy of Vertigo Releasing (UK)
The film is about the fractious relationship between Joy and Mully. While he calls the shots, she is an assertive adult. We root for Mully to a point, showcased in an early scene singing 'Minnie the Moocher' at his late mother's fund raiser. Only when he sees his father appear to be sneaking off does he leave the stage. Reid is quite the performer and when he grabs the cash, offended by his father's intention, we root for him. He is extremely disrespectful towards Joy but loves babies. His sentimental streak and practical advice offsets the more disruptive aspects of her personality. Any older, he could be genuinely threatening.
Colman is something of an English national treasure – a Dame Judi Dench in waiting. Having won an Oscar playing Queen Anne in the cruel menage a trois film, The Favourite, she took over the role of Queen Elizabeth II from Claire Foy in the Netflix series, The Crown. The Covid-19 outbreak to some extent has stopped Colman from taking any number of roles in Hollywood films or HBO series and she hasn't yet done a Marvel movie. However, she continues to appear in British movies and television series, eschewing her earning potential. In her signature roles, of which this almost one, she is simultaneously erratic and determined, truthful yet unreliable, capable of a pitiable look and a withering glare. Her character Leda's theft of a child's doll defined Colman's performance in The Lost Daughter, a spiteful act that Leda came to reconsider. Her characters – Queen Elizabeth aside - go to the brink and back again.
As Joy, Colman does indeed go to the brink and back again, though in the service of a film that wobbles between comedy and drama. Documentary makers have a predilection towards the latter and labour the former. Reynolds joins a group of noted documentary filmmakers - Errol Morris, Michael Moore and Alex Gibney - whose forays into storytelling with actors (respectively, The Dark Wind, Canadian Bacon and The Looming Tower) produced mixed results.
The plot moves from point A to point why? Mully drives the cab to a scrapyard where he takes possession of a car that has his jacket in it. What is his jacket doing there? The inference is that the scrapyard is somehow safer for his private stuff than his own home, though this hardly makes sense. At any rate, Mully is able to start up any number of vehicles – including the one with his jacket in it – without a key, taking Joy and the baby with him to apparently prevent her from reporting him to the police for kidnapping. He wants to go elsewhere. She wants the ferry, a drop-off point, and the airport. In the course of their shenanigans – great word – they go to fetch petrol after catching a lift, slip through a roadblock, only for Mully (locked in the car boot) to start screaming as a spider crawls up his leg, elude the police car in pursuit and miss the ferry. Mully helps Joy feed her child with the bottles of formula she has prepared in advance. He also rings his father and locks himself in the toilet. Joy tries to tempt him out by reading from the menu; it is the only moment where the comedy lands.
Joy is forced to breastfeed her child at the port; a kindly gentleman allows her into his hut. Mully also re-thinks his decision to turn himself over to his father. They take the ferry, though Mully is quite rude about the jacket offered to him by a kindly ferryman who gives him his flute.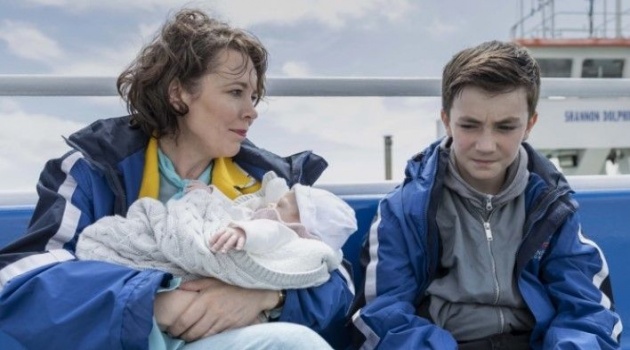 Pictured: Ferry across the cliché. Joy (Olivia Colman, left) and Mully (Charlie Reid, right) in a scene from the Irish road (and ferry) movie, 'Joyride', written by Alibhe Keogan and directed by Emer Reynolds. Still courtesy of Vertigo Releasing (UK)
Music plays some part in the drama, though I was disappointed that 'Minnie the Moocher' was reprised in the car so soon after Mully's scene-stealing performance – 'I hate that stupid song', he curses. As the car moves away down a country road, we hear 'Chirpy Chirpy Cheep Cheep' by Middle of the Road as the camera cranes up and we see a chirping robin. This moment is on-the-nose on so many levels that simply grimacing whilst witnessing it isn't enough.
Why does Joy not want to raise a child? At a particular distressed moment in her life, Joy's mother took Joy to the beach. Joy was allowed to go for a swim and started to struggle against the tide. As she called out and frantically attempted to stay afloat, she saw her mother look left and right as if tempted to abandon her child. Joy was rescued but her mother's hesitancy stayed with her. In short, Joy does not want to become her mother.
So damned if Mully's father catches up with them. Damned if they pretend to be a family for the night at a hotel. Damned if Mully's father makes a pass at Joy after he returns from the pub. Damned if this turns Mully against her. Damned if Mully's father asks his son to take money from the kindly landlady who, during the night, shared a drink with Joy and allowed her to use her car to get to the airport. Mully's father is damned. Mully steals the money from him a second time.
Joy gets to the airport, buys a new ticket and some clothes and boards the plane. Then she has a change of flight and asks to leave – that's Colman's signature erratic behaviour for you. The stewardess refuses to let her do so with the explanation that it will delay the plane. 'I only have hand luggage and the stairs are still there,' Joy insists. A stag party joins in with her protest. Eventually she is allowed to leave. Thank goodness for rowdy stag parties.
Joy acts out of concern for Mully and somehow finds his abandoned car, having driven away the kindly landlady's car (still parked outside the airport) just before it is about to be clamped. Mully makes his way through a Gaelic parade where men and women are dressed as mythical hairy beasts and steals an ice cream van. One of the costumed townsfolk worked at the port. She recognises Joy, who immediately wants to hire her car. The young woman offers to drive her. They end up at the beach. Joy confronts Mully's father. Mully runs into the water, replaying the traumatic moment in Joy's life.
Periodically, characters speak with Sideline Sue (Olwyn Fouéré) who observes everything from her doorstep. Joy refers to Sue as her mentor. She comes up with an explanation to justify stealing a car and fleeing from the police – 'post-partum depression'. There is the resolution we expect. Does the baby get a name? Why Robin, of course – that crane shot just got even more groanworthy. Joy's character arc might be more meaningful if she really did have a new life to go to and not just a holiday. Ah well, everyone concerned knows it's a caper. One just wishes it was invested with more logic. Having failed to be feelgood, Joyride is not quite a 'feel nothing' movie but its virtues are minimal. Sadly, Reynolds does not show a flair for comedy drama, rather a kitschy pop song from my youth.
Reviewed at Cineworld Ashford Screen Seven, Kent, Sunday 31 July 2022, 18:40 screening