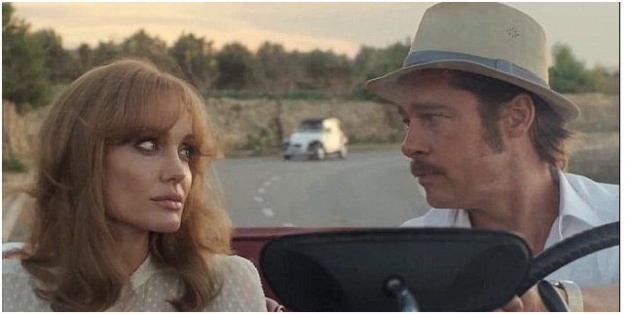 If By The Sea were not written and directed by one half of a Hollywood power couple, Angelina Jolie Pitt and not starring herself and her husband Brad Pitt in the leading roles, it would be viewed more sympathetically than it has been by film critics and audiences. It is a film that is languorous in pace and slow to yield its real subject.
But its style is very much equal to its content: it is about making the audience feel what it is like to be in the position of Vanessa (Jolie Pitt), one half of a couple on a semi-working vacation in the South of France sometime in the 1970s. It is a portrait of a marriage in which the husband, Roland Bertrand (Pitt) tries to write – notebook stuffed in the back of his trousers - but finds (eventually) gin for breakfast an easier option. Practically every scene involves either a pill or alcohol; you could, in an unkind mood, turn By The Sea into a drinking game. Jolie Pitt's subject as a director is endurance. How do you cope when your body has let you down? When there is no one to blame and you are left with a sickening absence that you can only fill artificially?
In this movie, Jolie Pitt acts as if she is uncomfortable in her own skin. Vanessa cannot sleep well, nor has she anything to do. At times, she appears to be posing for a fashion shoot – the false eyelashes, wide-brimmed hat, one calf of her leg revealed for our view. In a recurrent tic, she puts her sunglasses lens down; either she or Roland quickly turn them face up. It is another gesture for that darned drinking game. But Jolie Pitt's acting is pitched towards expressing what can't be spoken, because the word for her condition is too small for the emptiness that she feels.
The action is mainly repetitive. Jolie Pitt takes as her inspiration European arthouse movies. Roland is introduced to us speaking French. He is more at ease, in the driving seat, eager to project calm and purpose for the sake of his wife, though he can't keep it up. 'If you can't write here, you can't write anywhere,' Roland proclaims as if the location will give him a story. Although he befriends the widowed patron of a local bar (Niels Arestrup) he quickly turns in on himself and towards the bottle.
Roland knows he can't talk to his wife about what ails her. What he gives us is space. Vanessa – or Nessa as she is often called – finds a hole in her hotel suite wall about one foot off the ground. She starts spying on the young couple (Melvil Poupaud, Melanie Laurent) in the next room. They have sex loudly and frequently, trying for a baby.
Slowly –and I do mean slowly, there's nothing hurried about the film - Nessa gets to know the couple. After discovering the hole and looking through it with Nessa, Roland invites the highly sexed couple for a pastis-consumption session. Then they watch the consequences. Roland is disturbed when Nessa starts dressing the young man in a jacket similar to one he once wore. The young couple represent what life used to be like for Nessa and Roland, when there was just hope – and sex.
Nessa absolutely refuses to let Roland touch her – he makes a boozy lunge at her after a day out drinking but otherwise respects her aversion to sex. For her part, she watches the comings and goings of a fisherman, who returns each night with little to show for his work. Nessa does consent to a drive and to Roland taking her dancing at a restaurant – she complains that she hasn't dressed for dinner and you feel her sense of compromise. When Nessa dances, she is seen through the fragments of a ceiling mirror, spinning on her own, out of control.
You cannot call By The Sea entertainment in any conventional sense, unless you are a fan of Serge Gainsbourg on the soundtrack and enjoy the scenery – the film was shot in Malta. It is about psychological pain. At various points, there are smash cuts to a montage that suggests Nessa's inner (or should I say innards) pain. She is not on the verge of suicide, but her pain is converted into something approaching resentment - a desire to provoke.
At the same time, By The Sea is a celebration of forbearance, of allowing your spouse the space to explore her own emotions. Some psychologists would favour the talking cure - as if articulating the problem would make the pain go away. This is very much a male perspective. Implicit in the 'talking cure' is the listener's power over the storyteller. The listener knows more about the person in pain than the sufferer does about their audience. The listener can reduce the sufferer to a diagnosis; the sufferer conforms to a stereotype. By not telling her story, Nessa retains her individuality, what makes her feelings unique and meaningful to her. In life, no one wants to be like everyone else. Artists – and both Roland and Nessa are in the arts (she is a former dancer) – want to be considered exceptional.
By the end of By The Sea, I felt the power behind a single word and what a woman might feel describing herself using that word. Jolie Pitt's film achieved this objective. When a person is in pain, their morals can take a hit. They become selfish and hurtful. Yet also by the end, Roland too achieves his objective. You feel the couple's sense of being able to live with imperfection, whilst outwardly projecting glamorous abandon. This isn't a movie star's indulgent dabbling, but an expression of something real.
Reviewed at Cineworld Haymarket (Screen 3), Central London, Saturday 19 December 2015, 21:10 screening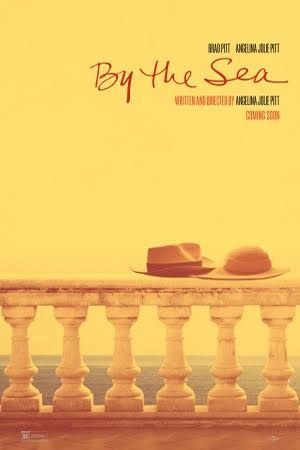 Still courtesy of Universal Pictures