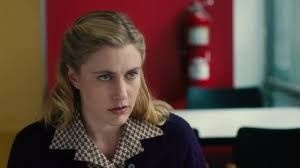 Rebecca Miller (born 1962) alternates film making with novel writing. She is a filmmaker whose feature debut, Angela, was released in 1995, then wrote a series of short stories, Personal Velocity, published in 2001 that she turned into a 2002 film of the same name. She wrote and directed The Ballad of Jack and Rose (2005) featuring her in-demand husband, Daniel Day-Lewis opposite indie legend Catherine Keener, then wrote her first novel, The Private Lives of Pippa Lee (2008), which she subsequently filmed - it was released in 2009 with Robin Wright Penn in the title role. Then she published another novel, Jacob's Folly in 2013 before premiering her fifth film, Maggie's Plan in 2015. She was also variously an actress – she appeared in Alan Pakula's 1992 thriller, Consenting Adults, opposite Kevin Kline, Kevin Spacey and Mary Elizabeth Mastrantonio - and a painter. She made experimental short films too. She could be judged as an artist who uses multiple forms to communicate her vision – a polymath. Except that I'm not exactly sure what her vision is.
On considering her progression, I arrived at one conclusion: that every work is her first. Each film or novel is produced as if the previous work hadn't existed. The works are an articulation of frozen space – where there is no before or after. Each work stands alone as if made by a different person.
When a writer-director produces a varied body of work, it is tempting to conclude that this or that film or story represents her political or auto-biographical, comic or serious side. I'm not sure these labels are helpful. If you practice art intermittently, not moving from one project to the next, but creating, living, then creating again, your work becomes an expression of yourself at that moment. A critic might want to join the dots, but this might not be entirely helpful. I suppose the one recurring motif though is the character name in the title.
So, what is Maggie's Plan? It is not a strategy, that's for certain – a line for all those strategic planners out there. (What, no one?) A plan in a movie title represents a certain form of hubris, for example, in the Coen Brothers' 2009 film, A Simple Plan. There is Plan 9 from Outer Space, which was director Edward D. Wood's form of hubris – the worst film ever made? 'My next film will be better.' In 1998, director John Landis released Susan's Plan, a contrived black comedy about murder that attracted few viewers. Then there's Best Laid Plans, writer Ted Griffin and director Mike Barker's noir-ish tale of deception, starring Alessandro Nivola, Josh Brolin and Reese Witherspoon.
A plan in a title is essentially doomed, right?
Maggie's Plan is adapted from a story by publisher Karen Rinaldi (currently at Harper Collins, previously at Rodale, Bloomsbury USA and Random House) about a university student advisor, Maggie (Greta Gerwig) who after concluding that she is never going to have a relationship that lasts more than six months, decides to have a child by artificial insemination. She accepts a donation from Guy, a pickle salesman (Travis Fimmel) – she's in a pickle, he's a salesman, whatever. Then she meets university lecturer John (Ethan Hawke), married to a brilliant but cold academic, Georgette (Julianne Moore) with children of his own. Maggie describes herself as a bridge between art and commerce. She helps students position themselves in the marketplace. John says he has a need for such a talent, gives Maggie the first chapter of his book and she is hooked.
Maggie becomes pregnant and John moves in with her, leaving his family. Shock revelation: they last longer than six months. But Maggie senses the relationship is getting stale. John is still writing his darned novel but is more himself when he is lecturing. Which man isn't more himself than when he's lecturing? Maggie contrives to get John back with Georgette so she can live happily alone with Lily (Ida Rohatyn).
The premise is quite subversive: can a heterosexual woman live happily without a man? But the film is not about the general point of dispensing with men (who, in my household, are good for laundry and listening to problems about work). It is about the particular viewpoint of one person. Maggie's Plan raises an intriguing point about how we consume narratives: should we always assume that the author is making a universal point? The answer is a 'heck, no'. (Though I thought, 'heck no' was a kind of electronic music.)
A paragraph on the acting style: it is fair to say that Greta Gerwig, Julianne Moore and Ethan Hawke are acting in different movies. Gerwig, the muse and partner of director Noah Baumbach, has a talent for projecting optimism. She has radiant energy and in movies such as Frances Ha takes the people around her at face value. She would be like the perfect party host – I want to go to Greta's party, or rather soirée, because you can get the wrong sort of people at parties. Hawke is the moody father of mumble-core, a genre he anticipated. He's a slacktivist, which sounds like a contradiction in terms. Laid back, facial hair forever goatee, he is like the permanent undergraduate who is forever missing lessons (maybe next semester). He is too old for Gerwig, and the wrong generation. He's like a warning to mumble-corners everywhere: if you stick to naval-gazing lo-fi indie fare you can turn into him. Don't do it! Julianne Moore, recipient of the 2015 American Academy Award for Best Actress in a Leading Role, hideously over-acts. She affects a Scandinavian accent of the type you'll never hear in Scandinavia, because it sounds Germanic. Scandinavian is a short cut for being cold, aloof, interested in a world of ideas rather than emotions - please put away that pathetic box of chocolates. Wait, I'll have that one. It is a cliché. Moore has done comedy before but here she looks exposed in a one-note performance. It is the kind of acting that you do if you know you are only in one scene and have to make an impression. But Moore is in several: she keeps coming back. She has one good scene when Georgette returns John's manuscript to him, but I'm not sure it was her acting that made it work.
Also in a different movie, in supporting roles, are Bill Hader and Maya Rudolph, as Maggie's real friends. I say real friends because in a lot of movies the best friends really don't look out for the main character and are there as lower paid comic relief. Hader and Rudolph are veterans of Saturday Night Live and the oeuvre of Judd Apatow. I cannot imagine Miller and her method actor husband Day Lewis watching Bridesmaids or Trainwreck.
The variance in tone struck me as kind of the point. If you wanted to convince us that the world was unified with everyone being better off heading in the same direction, a heterosexual, middle class normality with agreeable filter coffee, then you would affect a unified acting style. Miller reminds us that everyone is different, with different outlooks, different goals and different speeds. In this film, everyone lives in their tiny bubble of me. In reality, certainly in a middle-class heterosexual neighbourhood, everyone lives in their tiny bubble of me too.
I had to feel sorry for Guy, whose sperm gets neglected. He barely features in the movie. Miller's father, Arthur Miller famously wrote, Death of a Salesman. For Rebecca Miller's next work, couldn't she make Life of a Pickle Salesman?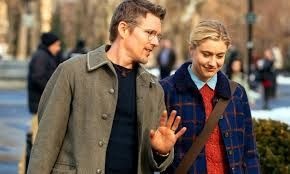 Reviewed at 2016 Berlinale, Sunday 21 February, 21:30, Zoo Palast