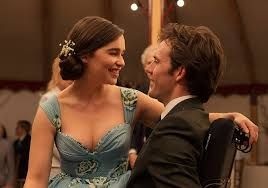 Directors can make stars of actresses. Thea Sharrock, who became the theatre director of the Southwark Playhouse aged 24, fifteen years ago, elicits a fine performance from Emilia Clarke in the British romantic drama, Me Before You. It is a case of 'you before me' as far as Sharrock is concerned, making her first feature film – her only other screen credit is for television, The Hollow Crown – Henry V. Clarke, best known for her recurring role as Daenerys Targaryen in Game of Thrones, blossoms on screen before our eyes – well, the butterfly dresses in this ace tearjerker certainly help. Incidentally, I have never written the words 'ace tearjerker' before, though I might have described Marley and Me thusly: 'Ace Tearjerker, Pet Dejected'.
Jojo Moyes has seen off two screenwriters Scott Neustadter and Michael Weber (500 Days of Summer) to claim sole script credit. I hope Messrs Neustadter and Weber got a thank you note for polishing the silverware, as opposed to script polishing the Joel Silver-ware which means inserting a few zingers. It is based on her 2012 book which owes something to Jane Eyre, minus the mad woman in the attic. Imagine Mr Rochester played by an actor who was in The Hunger Games confined to a wheelchair attended to by Sally Hawkins' character from Happy Go Lucky in an adjunct to Pembrokeshire Castle – visitor numbers likely to spike – and you'll get some idea of the appeal of this film. Heck, someone might think to cast Clarke in a new version of Jane Eyre; she's good with romance and fire (in that order). Note to ITV: we don't need another adaptation just yet.
The film opens in soap powder whiteness as the handsome Will Traynor (Sam Claflin) emerges from a glorious white duvet to the shower and then to a suit. He must have been dazzled by all that whiteness because he doesn't watch where he's going in traffic and – aieeee. Cut to two years later and Louisa Clark (Clarke) is serving her last three customers at the Buttered Bun. Can't afford those cakes, well, I'll discount them for you if you eat them standing up – I don't think Messrs Neustadter and Weber are familiar with British Value Added Tax rules, hence their disappearance from the credits. Cannot finish your sandwich, well, I'll wrap it up for you. Lou gets her last pay packet in a brown envelope – cash. I can't imagine Neustadter and Weber knowing about that either. I imagine Sharrock thought long and hard whether international audiences would understand the concept of a P45.
Lou as she is affectionately known – and she gets less than she gives - is the family breadwinner. She worked at a café so there might have been spare. This represents a calamity. At the job centre plus, she is notified of a vacancy as an assistant to a quadriplegic, a man who has completely lost the use of his limbs. Interviewed by the frosty Camilla Traynor (Janet McTeer) as her tight skirt chooses an inopportune moment to rip, Lou realises that the man she has to care for is not Camilla's husband (Charles Dance, a former Mr Rochester himself) but their son Will. As the interview goes from bad to worse, she is startled to be offered the job.
Will thinks it is enormously funny to impersonate Daniel Day Lewis in My Left Foot. But the joke is on him because I don't think Lou was alive when My Left Foot was released – if he had impersonated Day Lewis in There Will Be Blood, she might have understood the reference. Incidentally, Me Before You is a period piece because at one point Lou and her 'young entrepreneur of the year' fitness trainer Patrick (Matthew Lewis) go to see 'the Adam Sandler film'. Who sees Adam Sandler movies at the cinema now?
Lou is startled by Will's playacting but more put out when he tells her that he doesn't like her chattiness. Will cannot fire her – she was hired by his mother. She does have the Australian physiotherapist, Nathan (Steve Peacocke) to talk to. He does the heavy lifting.
Gradually, Lou and Will bond, over a Xavier Beauvois movie, Des Hommes et des dieux (Of Gods and Men) no less. It is Lou's first subtitled movie and she is bowled over by it – 'why didn't they just leave?' It's a shrewd choice for a cultural reference – Sharrock and Moyes must be commended for not pandering to the audience by picking something obvious, though the film is about an order of monks who continue to serve their community in Algeria in the face of Muslim unrest. Lou also meets Will's ex, who is now dating his best friend (expletive). Then she makes a shocking discovery.
That's quite enough of the plot. The pleasure is in watching the developing relationship – Lou shaving Will for the first time, during which Sharrock cuts the incidental music, emphasizing the charged intimacy of one face close to another and a razor blade. Sharrock is great at the delicate moments, though much of the film plays broadly: a trip to the races in which Will's chair gets stuck in the mud; a Mozart concert; Lou's birthday and a wedding. Oh, as a bonus we get Sam Claflin's audition tape for the role of James Bond 007. You'll see what I mean.
Me Before You has been likened by the French drama The Intouchables (avec François Cluzot et Omar Sy). Fortunately, I haven't seen it so I cannot say 'what a rip off'. If the story beats are similar, this film works on its own terms. It is hard to fake chemistry - Clarke and Claflin have it in super-abundance. This ultimately elevates the film from 'moving' to 'two hankie job'.
What I really enjoyed was Lou's refusal to dislike anyone. She should be running the country. That said a woman at a racecourse restaurant does get her back up. It is also a love story without sex, although there is talk of it. It is a film about the refusal to compromise, of judging one's own value on life and of setting free the butterfly. The performances are uniformly study from Jenna Coleman as Lou's sister to Brendan Coyle as Lou's dad, who delivers the inspirational dad speech just in time for UK Father's Day (19 June 2016). Me Before You is an unashamed feel-good movie. It might even revive the fortunes of The Buttered Bun tea room enough for Lou to get her old job back.
Reviewed at Screen 11, Cineworld Wood Green, North London, Sunday 29 May 2016, 10:30am preview screening; with thanks to Show Film First and Warner Bros