7 Wonders Of The World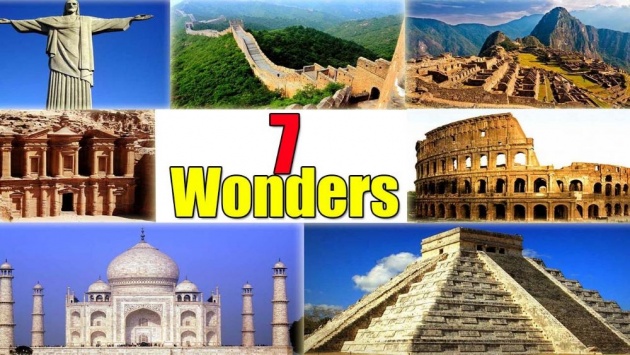 Image Credit: gcaol.com
Hi Friends.
In this blog, I'm going to tell you about 7 Wonders of the World and each Wonder of the world has its own mystery behind it. Let's see the basic overview of these 7 wonders of the world.
1 - Taj Mahal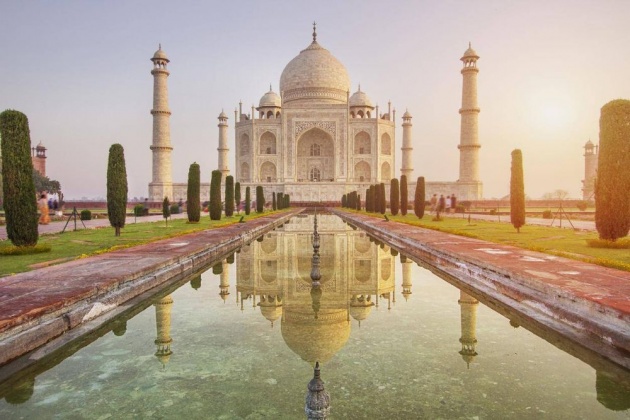 Image Credit: independent.co.uk
The first number in 7 Wonders of the world is of Taj Mahal. Till the Era of Shah Jahan, the great Mughal Empire was spread on almost all the subcontinental. Treasure of Mughal Empire was in huge amount. Mumtaz Mahal was 3rd and most lovely wife of Shah Jahan. In fact, Taj Mahal is the tomb of king's loveliest wife Mumtaz Mahal that was built in the memory of his wife after her death.
Construction of Taj Mahal was begin in 1632 after the death of Mumtaz Mahal and completed in 1653. It is said that, 3 crores 20 lac rupees were spend in the construction of Taj Mahal and empire got empty. For this, Aurangzeb son of Shah Jahan put his father under arrest in Agra Fort from where he could see the tomb of his lovely wife.
Ustad Ahmad Lahori and his skillful workers construct Taj Mahal. It is said that all hands of all workers were cut after the construction of Taj Mahal so they cannot build another building like this. Taj Mahal is still maintaining its beauty in Agra city of India. Tourist comes from all over the world to see this memory of love.
2 - Leaning Tower of Pisa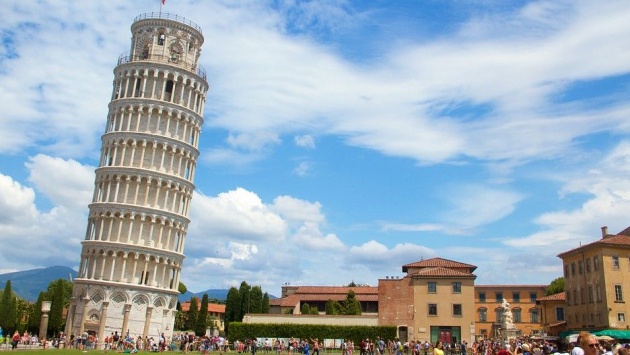 Image Credit: getsready.com
Leaning Tower of Pisa is in province of Italy Pisa. This tower started leaning from the beginning of its construction. It has 296 stairs and 185 feet height. Its establishment begins in 14 august, 1173 after the victory in a war. In this duration, ground floor was established of this tower only.
Its construction begin 2nd time in 1178 and added only two more floors. This time a big clock placed on the third floor because the tower started leaning. In 1272, its construction started once again. At least in 1319 its 7th and last floor constructed.
In 1372, A bell portion added to this tower. In this portion total 7 bells are placed and each bell produce one of the 7 basic notes of music. The last bell was placed in 1655.
3 - The Great Wall Of China
Wall of china is located on the historical north corners of china. It is from east to west. It was built in 700 B.C. The aim of this wall was to strop the enemies coming from north and to avoid their attacks. This wall built in many centuries. At the beginning, each province built their own wall.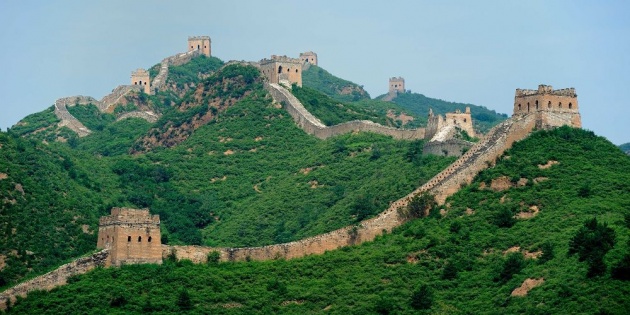 Image Credit: facts4u.co.in
A king of china Qin Shi Huang join all these provincial walls and built the great wall of china in between 206 to 220 B.C.
According to survey this wall is 21196 Km long. Height of this wall is 26 feet and width is 16 feet. It is said that this wall could be seen from the moon but its only a myth. But in this era this wall represents the hard work and struggle of the men and truly one of the wonders of the world.
4 - Petra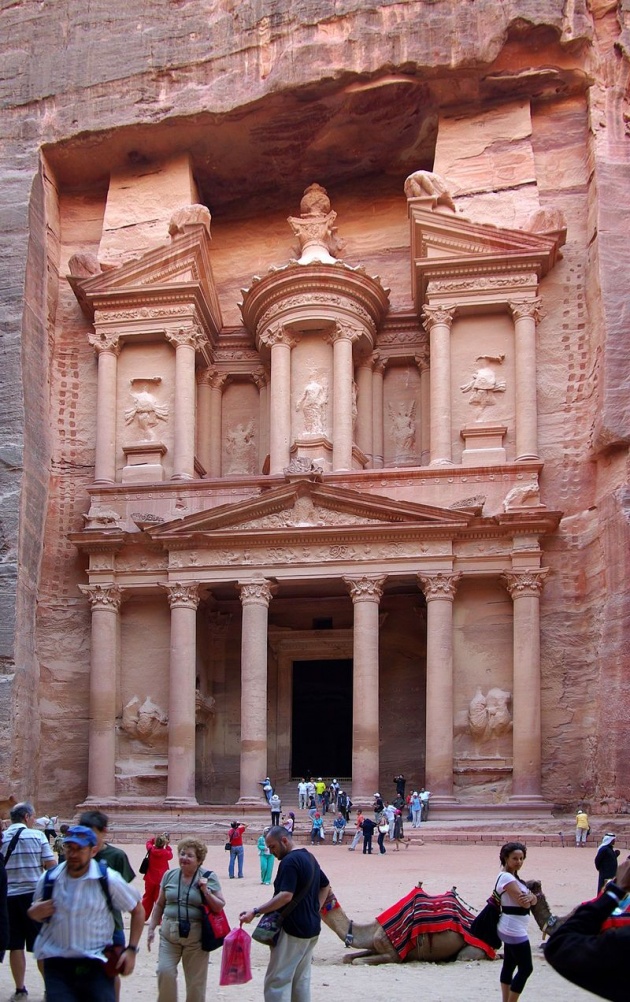 Image Credit: en.wikipedia.org
Petra is and historical site located in southern Jordan. This place is famous in all over the world due to its castles made by rocks. Petra is also known as the rose city because the rocks this city made of is of pink color.
These buildings were made in 312 B.C. Now this place represents southern Jordan and its biggest tourist attraction. This place was invisible from the world for a long time and discovered in 1812 by Swiss explorer Johann Ludwig Burckhardt.
Petra Documentary Video
Video Credit: Documentary HD via YouTube
5 - Coliseum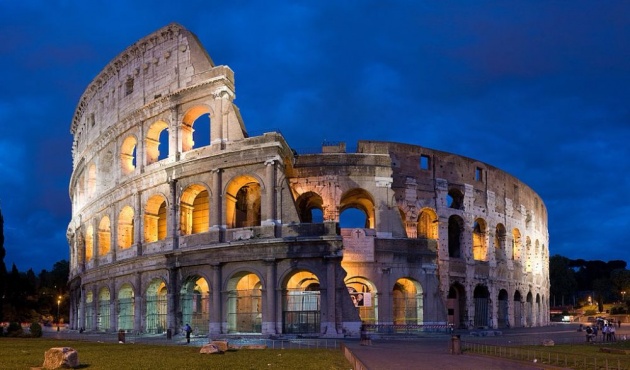 Image Credit: en.wikipedia.org
coliseum is located in Rome a city of Italy. Its construction was begin in AD 70 and ended in AD 80. It is completely made of stones and concretes. It is observed that almost 50,000 to 80,000 peoples could sit there. This building was made for games like human fight etc.
Anyhow it is still there in 21 centuries. This building is destroyed by many stone thieves and earthquakes. coliseum was recognition of the great Rome but now it is the greatest historical and tourism of Rome.
610 feet long and 515 feet wide coliseum building is spread on almost 6 acre. Its outside wall is almost 157 feet long.
6 - Chichen Itza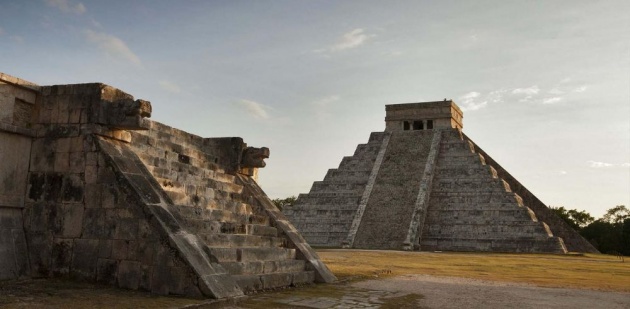 Image Credit: visitmexico.com
A historical city called Chichen Itza was formed in AD 600 in province of Mexico Yucatan by Maya peoples. Many buildings are still there in their real shape but many are destroyed by the earthquakes.
This city was the biggest city of Maya civilization. the name Chichen Itza is basically word of Maya language meaning "on the mouth of the well of Itza". In Maya language Itza mean, magician of water.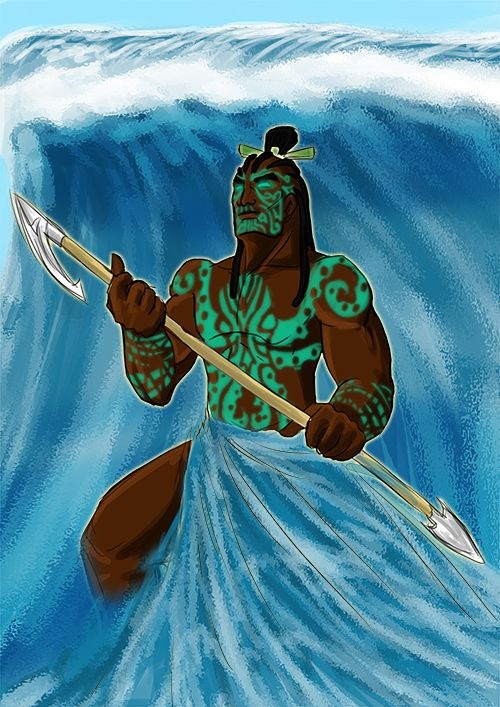 Image Credit: funnyjunk.com
This city was the economic hub of Maya civilization. There were big markets and buildings. Almost 15 lac peoples come here to see this city every year.
7 - Machu Picchu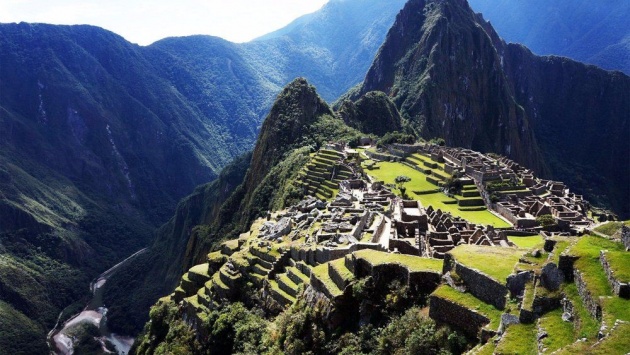 Image Credit: outsidego.com
Machu Picchu also known as the lost city of Incas located in Cusco Urubamba Province, Machu Picchu District in Peru. It is 7970 feet above the sea level.
This city was formed by the Inca emperor Pachacuti between 1430 to 1472. This was the main city of Inca but unfortunately they leave the city after a century when Spanish started the war against them.
After that, this city was invisible to the world for almost 5 centuries. Finally an American historian Hiram Bingham discovered it and brought it to international attention in 1911.

Image Credit: en.wikipedia.org
From that time Machu Picchu is very popular in the world of tourism. Many buildings of the city were destroyed. In 1976, it is decided rebuild the city in its original shape so that the tourist could understand the architecture of this city.
Work on this city is still on. Thousands of human skulls were foud during reconstruction of this city. Experts believed that, maybe these skulls belong to the women that Inca peoples sacrificed. to their sun god.
Machu Picchu Full Documentary Video
Video Credit: Christopher Johnson via YouTube
_oOOo__oOOo__oOOo_
I hope you enjoyed these interesting facts about world. join us and share ideas on Bitlanders.
Written by Kainat_khan
for Bitlanders
Thank you for reading
DISCLAIMER: Photos and videos used in this blog are only for presentation purpose.
See My other Blogs