"The host will not negotiate to the thief who loots their house". Let me start this post with his quote, actually this one is my favorite one!
He is Sutan Ibrahim, but more popular as Tan Malaka. He was born in West Sumatera, Indonesia at June 2nd 1897.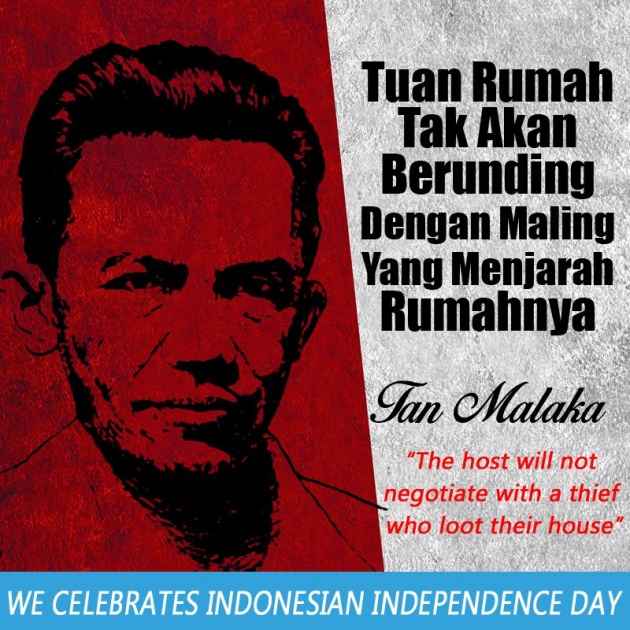 As a man who also born in west sumatera, especially in his (tan malaka) hometown, i think it is interesting me to write about him. The title "a Forgotten Hero" is the way to show us the fact about what happened today after his fight against colonialism. Even in the historical book that used in formal school in this country, you can't find the whole story about what tan malaka have done for this republic.
He start fighting against colonialism when he realized there is a giant gap between indigenous with the comer (colonialist). Tan malaka saw how poor and painful his people under the colonialism. And at this moment, he start to fight back the colonialist by writing article on newspaper. One of his article titled "Tanah Orang Miskin (the poor people's land) ".
Tan malaka known as a smart person, with a big spirit on his disagreement of colonialism in Indonesia. Most of his lifetime spent for escapement from the colonialist. Even when Indonesia get the freedom, Tan malaka still show his disappointment to soekarno as the first Indonesia President. But however, soekarno awarded him Officially as The National Hero.
After soekarno being replaced by soeharto caused the political crisis at that time, the name of tan malaka become stranger and it is disappeared from the historical timeline of this republic. Until now, his name is exist but seldom to remember as one of important figure in the way of Indonesian Succeed to reach the freedom.
Tan Malaka :
Born : Suliki (west sumatera), June 2nd 1897
Died : Kediri (east java), February 21st 1949
Party : Murba (founder)
Religion : Islam
Main Interest : Socialism, Marxism, Pan-Islamism
Awards : The National Hero of Indonesia
more about tan malaka here!