Here's a very quick overview to the book I am posting about before I start off with my second blog here in Bitlanders!
This book:
1. is the singles edition of the original book published for married couples
2. "includes Personal Assessment Tool and Study Guide"
3. was written by the New York Times bestselling author, Dr. Gary Chapman

(image from: covers.audiobook.com)
(image from: theodysseyonline.com)
SECOND EVER BLOG FOR BITLANDERS BUDDIES
Hello there my friends from this amazing land of Bitlanders!
This is my second attempt to write a blog here. The first one, "NBA CARES AND BASKETBALL: MORE THAN A SPORT AND RECREATION", was made out of the urge to join the double reward topic posted by micky-the-slanted-salerno which is Sports and Social Good. After Hillary Summers reviewed it, I luckily got a 4-star rating for my first ever blog which I think was really very fortunate of me since it really looked newb.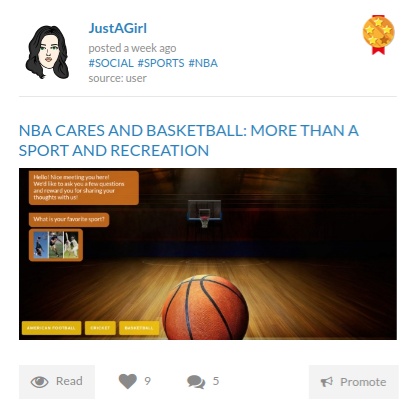 With this, I am more inspired and encouraged to write another blog. This time, I am not taking on any double reward topic, because there is nothing posted yet. I decided to take on one of my favorite hobbies… reading! And right now, I'm gonna share with you one of the good old books I have read back in 2013.
(screen cap: JustAGirl)
Dr. GARY CHAPMAN'S THE FIVE LOVE LANGUAGES
Honestly, I was never a fan of this kind of books… you know, the life and counsel-type of book or whatever you call it. However, when I put my hands on it 3 years ago, I knew I had to read it. At that time, I was not yet in a relationship… let alone never been in a relationship.
Singles Edition
(image from: pixabay.com)
The Five Love Languages was originally published for married couples. This work of Dr. Chapman was proven a bestseller having sold over 5 million copies at the time the book I have was published (and about over 10 million copies at the time I am writing this blog). But according to the book itself, the love languages had proven themselves universal and so the birth of this "singles edition" and a couple of other published editions too.
Check out this video of Dr. Gary Chapman himself talking about his book.
(video from: youtube.com, Moody Publisher)
The book serves generally all readers but may well be accurate and suitable for people who are: Never married, Divorced, Separated but not divorced, Widowed, and Single parents.
About the Book
The Five Love Languages Singles Edition focuses on discovering and learning how to give and receive love "properly" through the help of these so-called love languages.
Words of Affirmation
Gifts
Acts of Service
Quality Time
Physical Touch

(image from: theodysseyonline.com)
I won't spoil anyone with anything about these languages. I meant to introduce the book to all of you for your future reading references, and I don't want to ruin the experience for you, my buddies. Bonus! It includes a study guide that is perfect for small groups, workplace studies and book clubs.
MY REVIEWS AND RATINGS
Since this is not typical of me to read and review such kind of books, I actually don't have any standard format for this one. I just decided to rate this book according to four criteria which are:
Presentation - the overall look of the book, its inside and outside appearance, formats, etc.
Content - all the ideas and other stuff written in the book
Power - its ability to get me engaged
Overall - general evaluation of the book
PRESENTATION - 4 STARS
I really liked the fact that whoever drafted this book chose to use larger font size compared to the usual size we see on novels and other reads. This really got my nod. It gave my eyes easier reading experience, although it is something I would not want for general fiction books. Font styles used are okay and general format too. I am just not used to reading something like "sections within a chapter" thing.
CONTENT - 5 STARS
Definitely, and without a doubt, I will give this book 5 stars! I love how the concept of five love languages seemed logical and existing. As I read through the book, I was telling myself, "yes, this makes sense!" And to say it again, I was single back when I read it. Accurate.
Oh, and if I may add, the The Five Love Languages Profile and the Study Guide in the appendix section are awesome!
POWER - 5 STARS
I don't know if I should rate it as I did. I am not really into this kind of readings but then I found myself so engaged at it that I was able to finish it only three days within a busy schedule. REAL BUSY. Of course, there was nothing like peak or climax about it. I was not excited and all. It just so happened that it was interesting, and I will say it was sustained up until I finished the book. New definition of page-turner, I guess.
OVERALL - 5 STARS
Well, I can forgive the imperfection in the presentation of this book. It was definitely worth my time.
And yes, I recommend this to everyone.
(all star rating icons from/or edited: ithinkthereforeiteach.wordpress.com)
Let me leave you with a very beautiful chapter title in the book:
"SUCCESS: LOVE IS THE KEY"
And this video uploaded by Dr. Chapman himself, The 5 Love Languages Trailer.
(video from youtube.com, Dr. Gary Chapman)
Thank you for reading my blog!

(image from: Urbanbushbabes.com)