Hockey is our National game.It is very familiar game. There is no one who has not heard about this game because a hockey match is always interesting,It is played all over the country.It is not a costly game like cricket.Every poor student can play hockey. It is the game in which the situation changes very fast.Every minute can bring a surprise.The players continue running fast with the ball to score a goal .Everybody is very interested in this game.Modern media has made this game more popular.At school and college level it is also liked and played .At is a game in which there is lot of action and suspense.For a long time Hockey has been the world champion in this game.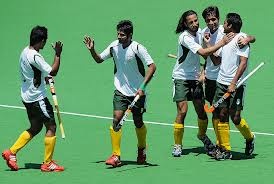 Last Sunday.there was played an exciting match between our school team and govt,High School's team. It was played in our school ground and a large number of students came to watch the game.Our players and students were very enthusiastic.We reached the school ground at about 2.00 p.m. At exact 3.00 p.m. the referee blew a long whistle and the players entered the playground.The referee was well known for the impartial decisions. The players had taken up their positions in the fields and looked towards the centre forwards who quickly came into action .Our centre forward pushed the ball towards the opposite end.The next moment, he was running after it.It happened so swiftly that opponents could not move before he had reached the ''D,.The goalkeeper tried his best but it was too late Ali had hit the ball right into the goal .A goal was scored.We went mad with joy .We shouted and clapped and whistled and our players waved to us.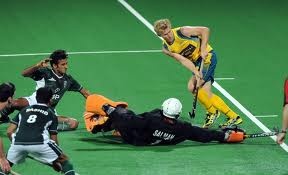 There was great excitement in the ground .Nothing could be heard .Everybody was shouting.Once again the game started. The players of the opponent team were more active.Both the teams were now becoming more and more aggressive in their moves They were trying their best to score the goals. Our team was dominating the field for a long time and the rival team was unable to score the single goal.The defenders of our team were very strong .They did not allow the rival team to score any goal easily . He dribbled it and passed our defenders and reached the goal mouth. But our goal keeper stopped the ball and sent it flying back.The ball was now with our players who were down to goal post.
Our school had won the trophy .Our principal was also very happy.He congratulated the whole team for their best performance.It was declared that the next day would be a holiday .In the evening we returned home happily.