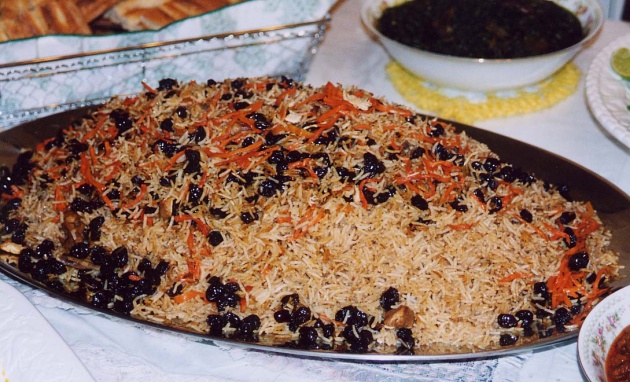 Qabuli Palu for 4 people:
Kabuli Palu is Kabul abd Mazari-Sharif's special food, but very famous in all over Afghanistan. Mostly people prepare it for big parties like wedding and even family parties.
Ingredients for Qabuli Palu:
1-Rice: 80 gr
2-Mutton: 50 gr
3-Oil/Salt/Paper/Garlic/Paste: As required
4-Raisins: 1 bushel
5-Carrots: 2 seeds
6-Onion: 1 seed
7-water: 1 liter
Recipe:
First of all you most put the oil in the clean and dry pot and let it get warm. Now you need to to add onion and garlic slides in oil and when their color was changed to pink you can add the steamed pieces of the mutton and let it get fry (not so much) then add the paste.
Here you can do it in two ways 1-You can add your water and when it was boiling then add the rice. 2- Take the mutton pieces out and then add the rice and add the mutton piece when it get ready.(I prefer the first way)After rice you can add raisins as well. Rice needs to be tailing for 30 minutes on low temperature.You can design it with fried carrot pieces.
Qabuli Palu is a heavy food better to serve it for lunch.
Susan Atai