It is almost the time when double rewards topics become an old story for bloggers here. After this long time, the bit-team has come up with something we can call additional rewards topic. Bloggers will get more rewards than usual but, it will be less than double of the usual. And one more difference that I noticed is the last date of submission is not announced for the topic. Well, speaking of the topic, the topic for "additional rewards" is Querlo, Querlo Survey Chat and contents related to it.

Image source: snapshot from Querlo, and bitlanders
Furthering this blog, let me begin with a little beginning.
Some intro

Since Bit-team is always keen to improve the quality of the platform by providing us with new features, they announced a feature called Survey Chat about 9 months ago. The chat before this feature was only meant to chat with people publicly or privately; with the new improvement, we could receive rewards by answering questions in the survey chat. The questioners in the survey chat are called Chatbots as they are not real humans. You can experience this Survey Chat at Bitlanders or Bit-miles platforms.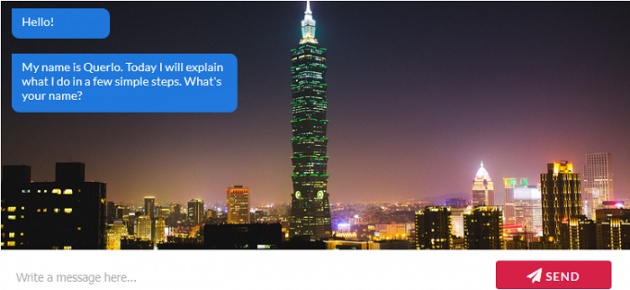 Image source: snapshot from bitlanders
Now, the team has moved a step forward with the new feature called Querlo. We know that the questioners in regular survey chats are automatically generated by Chatbots. Querlo is just another bot that comes in the survey but with an upgrade which is being called "a human touch". Let us talk about Querlo and what is new with it.
The Human Touch
When I read the slogan: "a chatbot with a human touch", the first thing popped into thought was Artificial Intelligence like Siri, Google Now, etc. After giving sometime to know more about Querlo, I learned it was a little too much to expect. However, this chatbot has some significant characteristics which I am going to discuss below.
Although I met Querlo once in bitlanders survey chat, but that was weeks ago, you will see it on its website or anywhere it is embedded. The simple reason to this is, we do not need Querlo here since it is intended for some other purpose. The purpose of Querlo is to place a interactive survey chat on the website of any business or any page on the web.
Querlo Chat embedded to a web page saved on my PC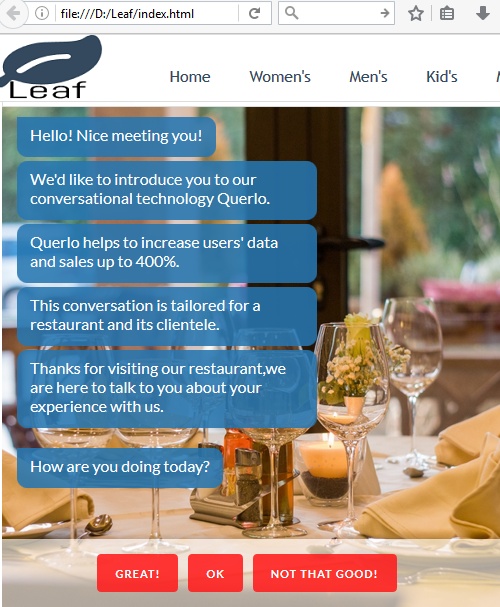 Image source: khokarjamal69 via bitlanders
Consider an example that you go to a restaurant and have dinner. In order to keep their standards supreme, they give you a form in which you are asked to tell about their service and food. This concept of getting customers' reviews and suggestions about any service is reshaped with Querlo's chat. Instead filling a form while sitting in the restaurant, why not login to their website later and answer Querlo's questions, when you are comfortable. Similarly, those who want to get a feedback from their audience in a good way, can use Querlo Survey Chat on their page.
Here, a template of restaurant survey chat is embedded.
This method of getting public opinions is beneficial for both businesses and also their customers. Customers get ease of giving their opinions and engaging with the service. Whereas the business which integrates this chat is claimed to have many advantages. According to the developers, using Querlo as a medium for getting user reviews can bring their engagement rate with the content, to 32%. It is obvious because of a humanly behavior of Querlo, the chatbot.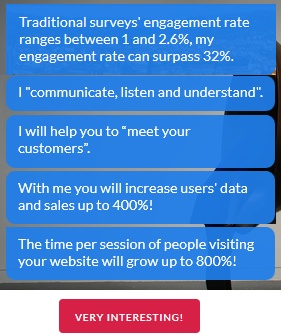 Image source: snapshot from bitlanders
One of its notable properties is sometimes, its replies depend on our answers which somehow justifies the slogan, "a chatbot with a human touch". The websites where revenues are generated by users' time per session, can take benefit from Querlo. It can increase the duration per session up to 800%. Surveyors can track the and analyze the user answers with the help of Querlo. It keeps the track of all data in well-understandable way.
Here is a video of chatting with Querlo with different answers.
Video source:
khokarjamal
via
bitlanders
, recorded from
Querlo
It can talk in many languages including English and Arabic, which is good for surveying from different regions.
Querlo speaking Arabic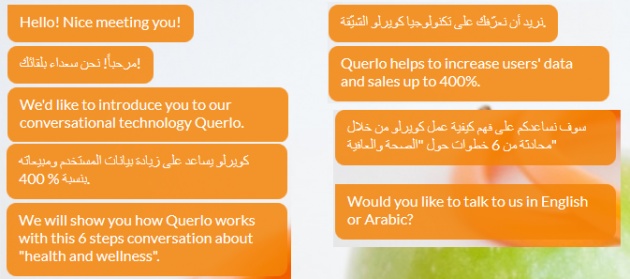 Image source: Snapshot from Querlo
Well, I guess for most of the bloggers in bitlanders, the key advantage of Querlo is the rewards. Writing about it and embedding a related Querlo Chat will give additional rewards. You can learn particularly about rewards on Micky's blog. The links to Querlo Chats are posted on this blog, which anyone can use for embedding.
This is all I could gather about this new platform, ergo this is it for now. Thanks for stopping by!