Competition News
New York Open Judo Championship
3:05am Mar 5
The New York Open Judo Team Championship at the New York Athletic Club was won Sunday by Team France for the second consecutive year. Team Japan took the silver and Team Germany, a two-time winner of this event, took bronze.
Tokai University sent two male teams and one female team to the New York Open. A special guest of the event was the Consul-General of Japan in New York, Ambassador Sumio Kusata and his wife Madame Kusata. The Consul-General gave out awards to the athletes and posed for photos with the teams.
The New York Open Judo Team Championship, sponsored by Arthur Canario, MD, Film Annex and United Water, was created to promote the Olympic Sport of Judo and to have international Judo here in New York City and available to all to see and enjoy. The team tournament format sends teams of five players against each other. The format encourages rivalry in an atmosphere of friendly competition. There are no professional consequences to the athletes winning or losing a match. As a result, the competitors play an inspired, action-reaction style judo.
The prize money for this year was $3500.
In the preliminary rounds, the youthful Canadian and USA teams were eliminated leaving two Japanese teams from Japan, the French and German teams all vying for the title.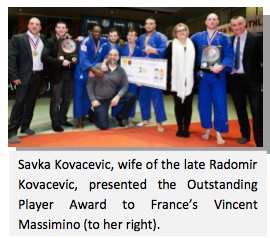 France's Vincent Massimino won the Radomir Kovacevic outstanding player award in recognition of his steady play in anchoring the winning squad.
However, two booming left-handed uchi matas (major inner thigh throw) by Germany's 22-year old Sven Heinle will not be soon forgotten by his American and French opponents.
Here is the final pool sheet: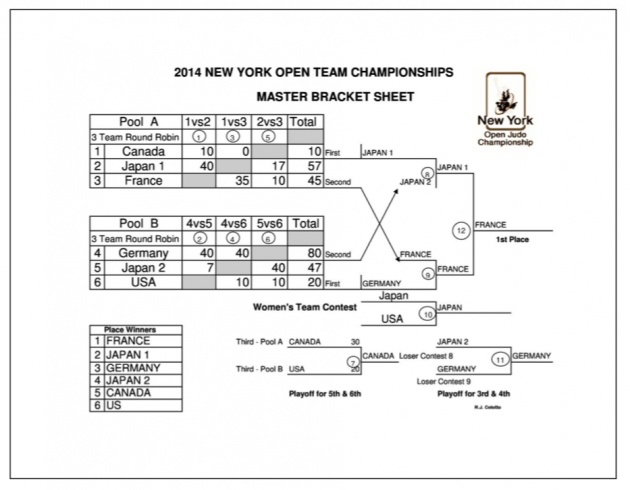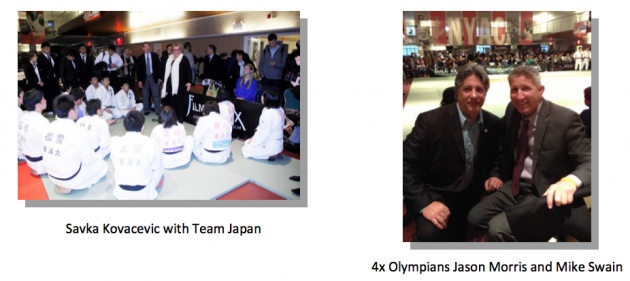 For more photos go to: http://www.filmannex.com/galleries/show/5146.
And Special Recognition was given to the tournament organizers...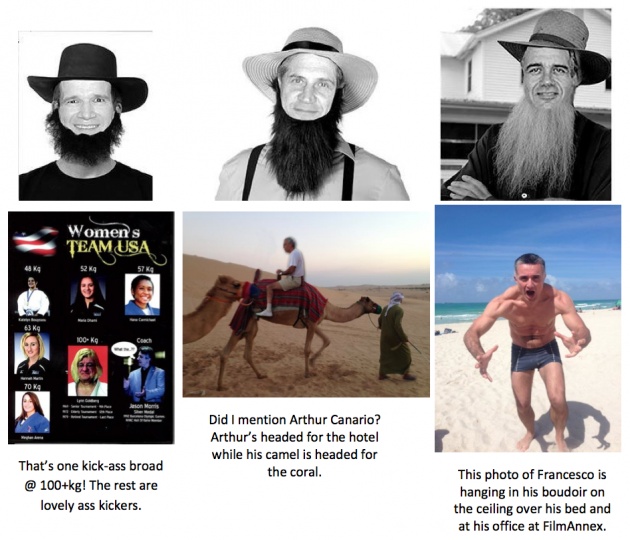 Results of Jimmy Pedro's Judo Challenge

Men's Senior Elite - Patryk Obiedzinski, Bronze - 73 kg senior

Women's Senior Elite - Hana Carmichael, Gold – 63kg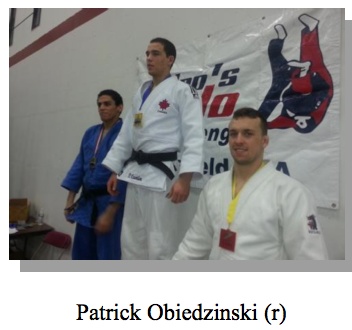 Results of the PanAmerican Open Montevideo 2014
60kg, Nick Kossor, Bronze

Kossor Wins World Cup Bronze


Montevideo, Uruguay - Burnt Hills High School graduate, Nick Kossor (28) led the way for the Jason Morris Judo Center (JMJC) athletes competing in the Uruguay World Cup by winning a bronze medal in 60kg March 17, 2014. Kossor's only loss was in the semis to Pam Am rival, Nestor Castillo (Mexico) who is ranked #25 in the world. Kossor capped off his bronze run catching Allan Kuwabara (Brazil) with jujigatame (arm bar) in the first 40 seconds to capture his 4th career World Cup medal. Brad Bolen (25) picked up some valuable World Ranking Points (WRL) points placing 7th at 66kg. Alex Turner (20) continued his improvement as he went 1-1 to crack the top 200 on the WRL in 73kg losing to eventual silver medalist and #25 ranked Marcelo Contini (Brazil). Bolen, Kossor and Turner will head now to the Buenos Aires, Argentina World Cup to finish their two stop SouthAmerican tour. - Jason Morris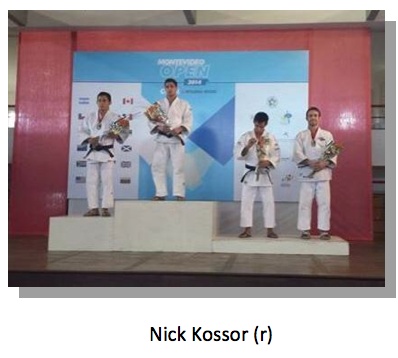 Results of the Grand Prix Tbilisi
Travis Stevens, 81kg – Silver


HUGE congratulations to Team USA's Travis Stevens, who went 3-1 to take SILVER at the Grand Prix Tbilisi in Georgia today! Stevens, ranked No. 4 in the world, was on the attack in the final gold- medal match against the No. 1-ranked Avtandili Tchrikishvili of Goergia when he was caught with a counter throw to lose the match in the 81 kg. division. Stevens (USA Judo Training Site, Pedro's Judo/NYAC, Wakefield, MA) has been on a roll lately, taking gold at the Grand Prix Dusseldorf one month ago today.

His U.S. teammate in Georgia, Hannah Martin, 63 kg. (Jason Morris Judo/NYAC, Glenville, NY), ranked 11th in the World, went 2-2 to take 5th place in her division today.

Stevens and Martin now head with teammate Alisha Galles to the Grand Prix in Samsun, Turkey, March 28-30. ... Stay tuned!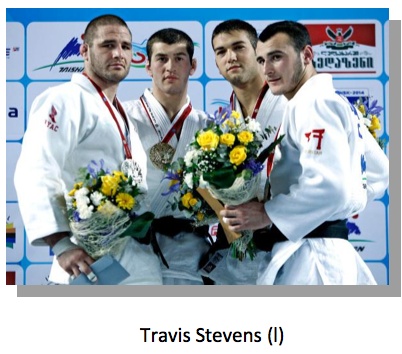 Results of the Scholastic Championships Dallas

Wojciech Szulinski - Silver Medal
Andrew Jacobs - Silver Medal



Results of the 2014 New Jersey State Judo Championship
Marshall Moir, Men <198, 2nd place

Results of the Grapplers Quest NY!

Wojciech Szulinski - 3 Place No Gi Submission, 1 Place Gi BJJ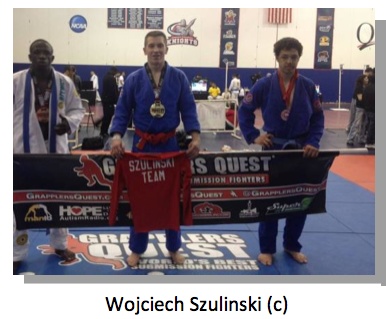 In Memoriam

The NYAC Judo Club announces with sadness the passing on
 March 17th of Bernie 
Lepkoffer at the age of 80. He had been a member of the New York Athletic Club for over fifty years and was the first great Judo champion to represent the Club.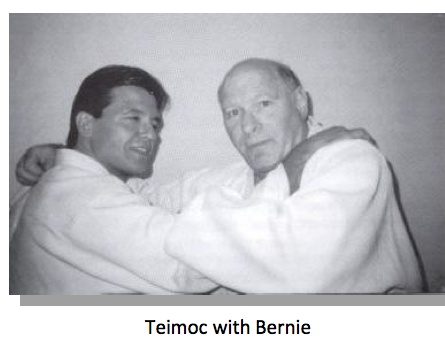 Bernie medaled in the US National Championships 10 times in his career (the last, a silver medal at age 45!), won the Metropolitan AAU championships as a heavyweight and then as the Grand Champion (the play-off among the winners of all weight classes) virtually every time he entered it. Internationally, he medaled in the Canadian Open Championships several times and won individual and team Gold Medals in four successive Maccabiah Games over a span of 16 years.

For those who knew and competed with Bernie, he was the gentle giant, immeasurably strong, but also a smart and talented competitor. Traveling to events with him was always a great adventure, as the training routine for this incredibly successful competitor focused on resting and finding the best places to eat. But once on the mat, the matches proceeded with monotonous predictability: his opponent would recognize his strength and opt to use foot techniques to try to keep out of reach of his python arms; Bernie would counter those techniques to throw the opponent and then pin him. And being pinned by Bernie was about the same as having a stake driven through you into the mat...you could, perhaps, blink one of your eyes, but nothing else moved.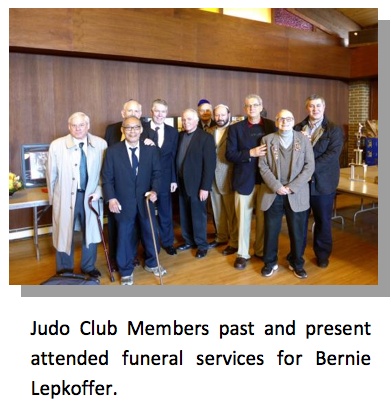 His biography, "The Judo Twins," tells the story of his and his twin brother Bob's lives in the martial arts. – Andy Blumenthal


Upcoming Tournaments and Special Events
LIBERTY BELL
April 4, 2014

Asplundh Field House Academy of New Church 2775 Buck Road Bryn Athyn PA 19009 Director: Anatoliy Kenis

215-469-0342

mailto:akenis@gmail.com

Starrett Spring Invitational
Date: April 6, 2014
Tournament Director: Parnel Legros
914-962-3380
mailto: Legrosports@yahoo.com

PJC CONTINENTAL CHAMPIONSHIPS
Dates: April 24, 2014 - April 25, 2014
Location: Guayaquil, Ecuador

JUDO GRAND SLAM
Date: May 02, 2014
Location: Azerbaijan

SENIOR NATIONAL CHAMPIONSHIPS
Dates: May 03, 2014 - May 04, 2014
Location: Reno, Nevada