Micky is an Administrator of BitLanders. Who is always monitoring the activities of users working here. He is responsible for guiding the people to use this platform right from first day. As a ban has been imposed on users from doing spamming so now every user should have to use Bitlanders very fairly. Now, users cannot do spamming for raising their Buzz score or earning. So, here today I will discuss how a user can get good Buzz score and earnings.

As I have already posted my blog about spamming so you can check it here:-


Snapshots: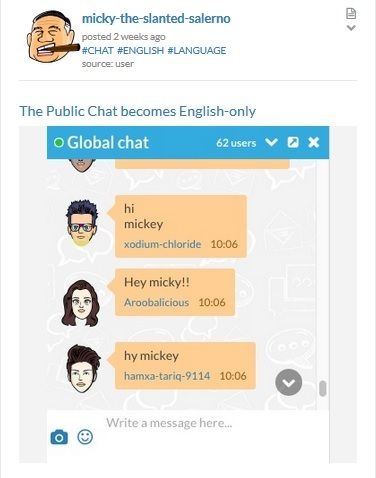 As already discussed about spamming in my first blog I suggest everyone to not to do such spam and to follow the rules given by Micky and its the way to get your buzz score high and up. Now instead of spamming I will try to explain the basics to get a good buzz score with out spamming on bitlanders.
Introduction for Every New User:
When a new user comes on Bitlanders he welcome and tells about how to use BitLanders and how to set up profile. He describes everyone about the main features of this platform. A new user is guided by Micky through an introduction and quest which everyone has to fulfill to start working here. The basics Steps that every user fulfill on very first day are the basics and are of very importance because by doing these tasks we get Buzz score and earn rewards. If we do these tasks regularly we get score on regular basis and it the way to increase Buzz score or rewards. I will discuss here about the basics that were told me when I started working here on BitLanders. And by doing these I got my Buzz score increasing day by day and I was able to set my position in Leader board. It happened only because I followed Micky's suggestion which are given to every user through Blogs posted by Micky.
WHAT IS BUZZ SCORE?
Buzz score is the reward that a user gets on BitLanders. There are different ways to get buzz score and rewards. I will discuss each one detail so everyone can understand it easily and its totally free of spamming. If a user post good stuff and get buzz score then its buzz score rises as shown in the picture given below, it also important to note that buzz score is a competitive score to it may fall also and it depends upon the working of user and the stuff that is posted.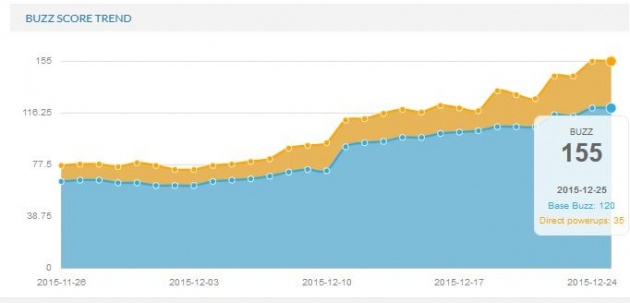 BASIC WAYS OF EARNING BUZZ SCORE.
There are many other ways to earn Buzz Score as describe by the BitLanders you can read all here and it is very easy to use:
# 1 Upload High Quality Contents as below to get Buzz Score:
1. Micro-Blogs
Post your thoughts,emotions, feelings, even a picture etc.
Examples of micro blogs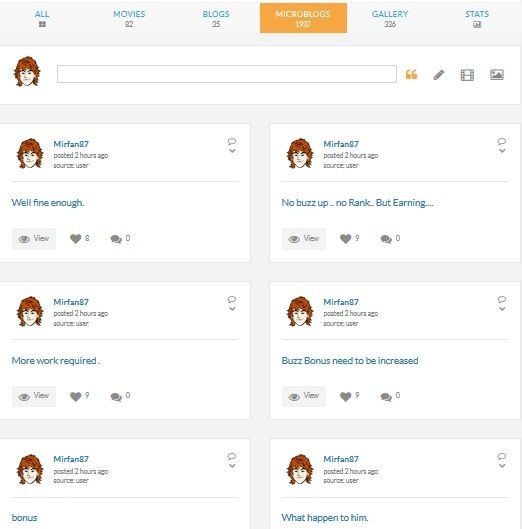 Snapshots:
2. Blogs:
To write quality blogs for users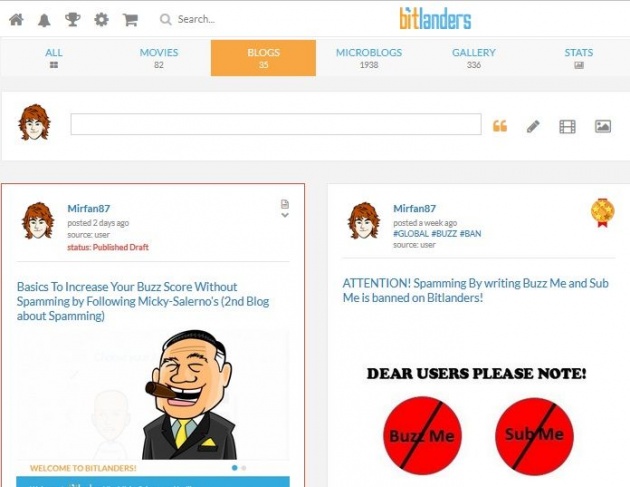 Snapshots:
3. Movies:
Upload high quality movies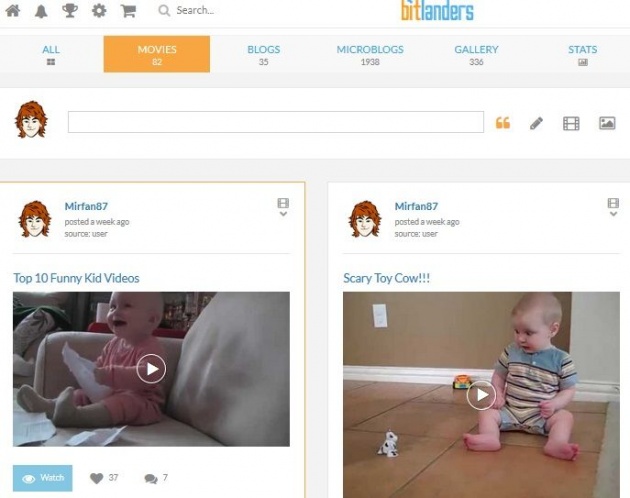 Snapshots:
4. Photo Album/Gallery:
Upload pictures in your gallery.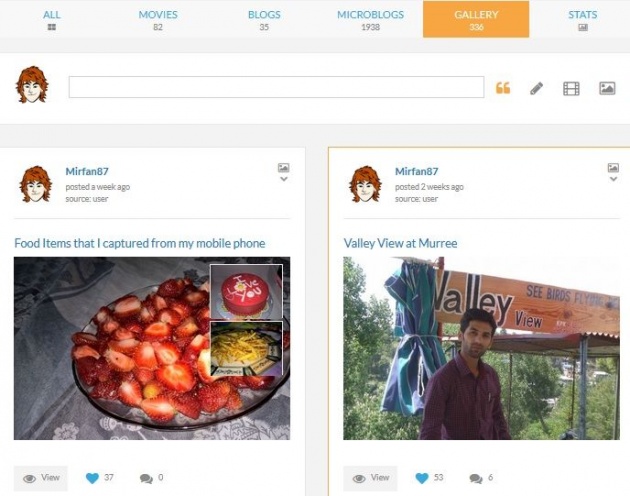 Snapshots:
# 2 Submit your content for Review to get high Buzz Score:
What is the "Content Review"?
"Content Review" is a feature which allows users to submit their contents to our editorial team. Once reviewed, submitted contents may receive additional Buzz bonuses depending on their quality. Higher quality contents will receive higher scores and higher bonuses.
Currently, only Blog Posts, movies and galleries may be submitted for review.
What are the requirements for the submission?
For Blog posts:
- Only English submissions will be accepted
- Submitted posts must be written in proper, well formed and well formatted English
- Submitted posts must be original
- Submitted posts must be exclusive and can not be present anywhere else on the web
- Submitted posts must be tagged accurately
For movies:
- Only English submissions will be accepted
- Submitted movies must be original
- Submitted movies must be tagged accurately
For galleries:
- Submitted galleries should follow a theme
- Submitted galleries must contain more than 5 images
- Submitted galleries must be tagged accurately
NOTE:
GEMS are very important to submit you content for review so keep them save and don't waste your gems on useless things.

# 3 Receive Buzz from users

Another way to increase your buzz score or reward is to get buzz from users. When you post anything on bitlanders the users on this platform buzz it if they like your post. So, to increase your buzz score you have to get buzz from users here on bitlanders. Every user can see that if the users have done buzz or not in the notification button under Activity Log.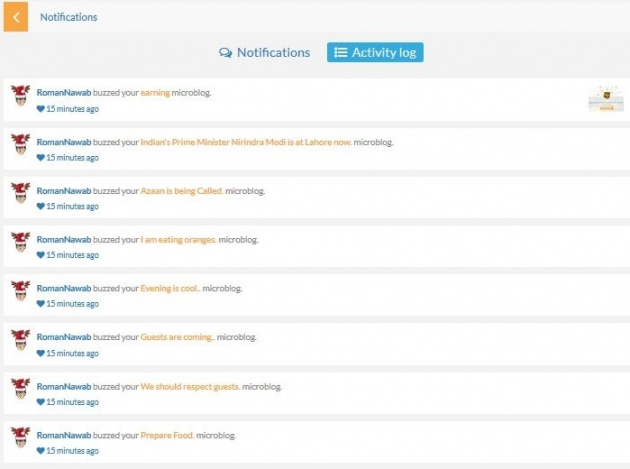 Snapshots:
# 4 Complete Daily Quest Box:

This is daily task which every user must complete as it is a way to keep buzz score up and competitive.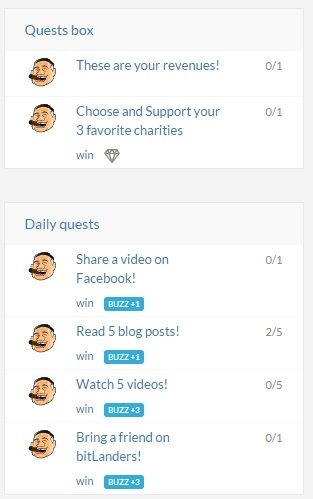 Snapshots:
# 5 Invite Friends:
Another way to get buzz score is to invite your friends through facebook or email address. If you invite your friends by sending your referral ling you get 20% bonus of their earning for life time if he/she sign up.
You referral link can be seen under setting button in Earn More menu.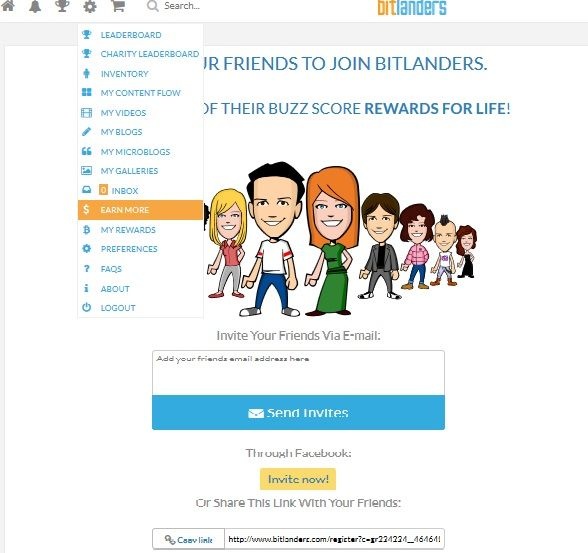 Snapshots:
# 6 Earn Daily Bonus:

1- Daily Login Bonus
If a user login daily on bitlanders he gets a specific buzz score which is temporary bonus which remains for one day and expires automatically so to get this every user have to login here for this kind of buzz score.
2- Treasure Box
This is also a temporary buzz bonus which is given a user read blogs or micro blogs and find this. This also expires automatically and every user have to login daily and do this task to get such bonuses regular basis.
# 7 Donate:
This is also a way to get buzz score and the users have to donate their earning to the charities of bitlanders which are mentioned and can been seen by users. I will show you here the list of charities and also the buzz score by donating to these charities. The buzz score and their days of bonus are different for every charities.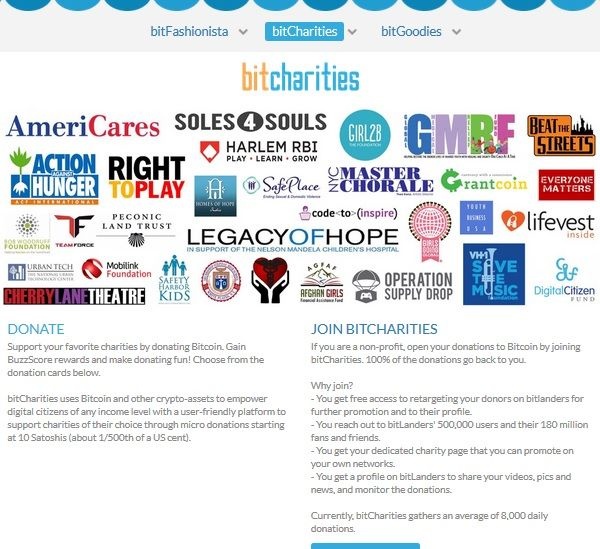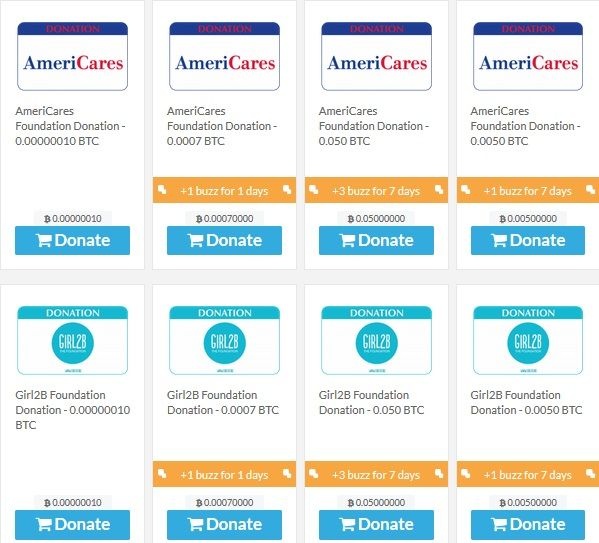 Snapshots:
# 8 :Buy Avatar Accessories from Shop:

To buy items for your avatar is also a way to get buzz and rewards for you. These rewards lasts for long time and every user must buy items if he has some earning and gems. Gems are very important to buy avatar items and for submitting content for review so I suggest everyone to use them with care and not lose them for nothing.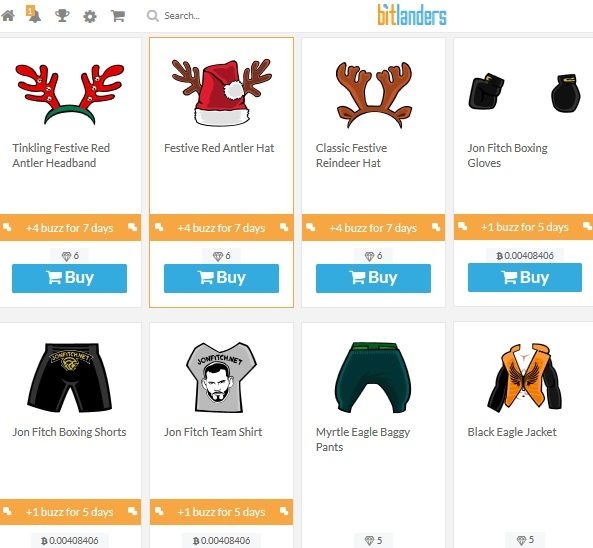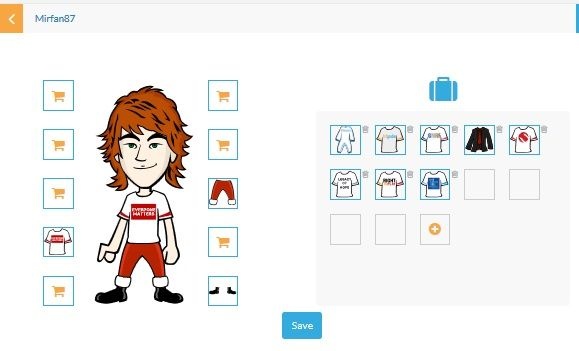 Snapshots:
After buying items from shop you can dress up you avatar as you like , as shown above in the picture.
# 9: Flappig:

By playing this game you get buzz score and reward also (Apple and Android users)
These are the tips for every user who want to earn reward or score by doing proper things which are not spamming. Every user must chat on global with the latest users to keep in touch with latest news and to earn rewards. If he visits top users profile he may get hints for doing the things what the toppers are doing to keep them in Leader board. If anyone wants to see himself in the board he must follow the rules given by Micky. Because its the only way to get everything on bitlanders.