Paying Bills With the Use of Bitcoin (Philippines)
In search for online sites or companies that accept bitcoin as payment, I have come across some sites that we can pay our bills here in the Philippines. I have learned of Rebit and Bills.Ninja through Satoshi Citadel Industries, Inc (SCI). SCI is a Filipino-owned bitcoin company here in the Philippines. Read more about SCI here in this article.
Rebit and Bills.Ninja are under the umbrella of SCI. You need to register first before you can use the site. With Bills.Ninja you can use your Facebook account to sign in.
BILLS NINJA
Bitoy is the name of the Pinoy Ninja (Filipino Ninja) they used in Bills.Ninja as stated in their website. Bitoy is a common name used by Filipinos. (Image source: Bills.NInja)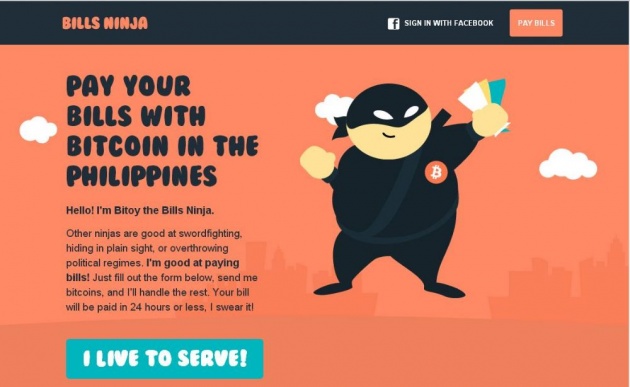 Below is an image from the website listing the telcom companies that accept bitcoin as payment. Smart and Globe are the two major telecommunication companies here in the Philippines. All the other companies belongs to either these two major players. (image source: Bills.Ninja)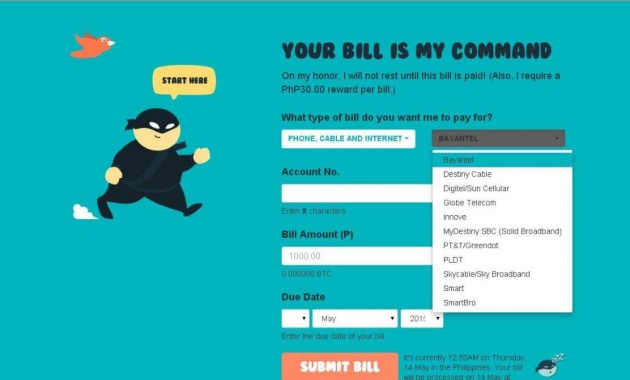 As you can see, all telcom companies are covered by this site and are already accepting bitcoin as payments. I didn't know how long these companies started receiving bitcoin but I am happy that they did. Now we have additional option where we can pay our bills. Also, through Bills.Ninja you can pay your utility bills (Manila Water, Maynilad, etc), insurance (Prudential Life, Pru Life, etc), and credit card for major banks like BPI, BDO, Metrobank, etc. Check the site (Bills.Ninja) for the companies or banks that accept bitcoin.
Be informed though that with Bills.Ninja there is a PHP30.00 fee or "reward fee" as Bitoy calls it for every transaction you make using Bills.Ninja. (image source: Bills.Ninja)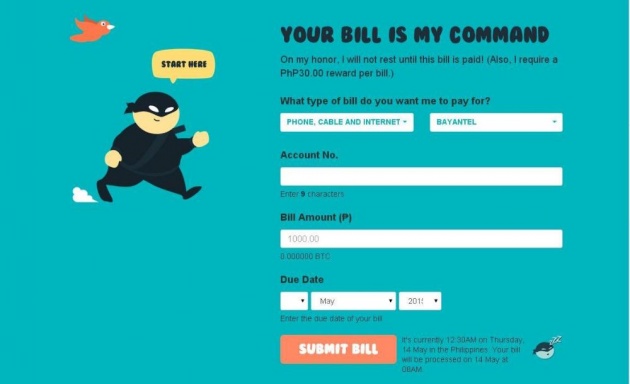 REBIT
Rebit on the other hand has a more extensive service than Bills.Ninja. Not only can you pay utility bills, telcom bills, insurance, and credit card but you can also pay some government agencies like SSS, British Embassy, etc through Rebit. You can even donate to organizations like Operation Smile and Red Cross. You can also pay Cebu Pacific, which is a major Philippine airline; universities like Ateneo De Manila and Miriam College or send money to the Church of Jesus Christ of Latter-Day Saints.
What I like with this site is that they have listed all the companies in one drop down button and the companies are arranged in alphabetic order making it easier to check and select names of companies, agencies or organizations to send/pay bitcoin.
Below are the lists of companies, agencies and organizations you can pay or send bitcoins. (All images are from Rebit.)
Note that you have to register first before you can access these lists. The site has made it easier for you to register. All you need is your first and last name and a valid email address.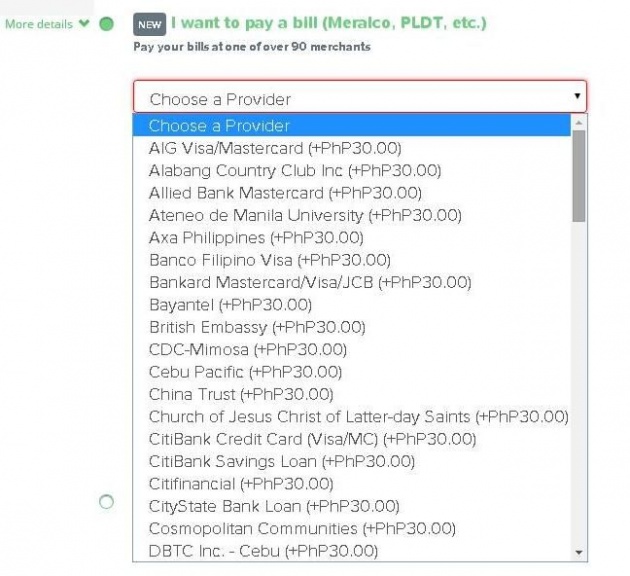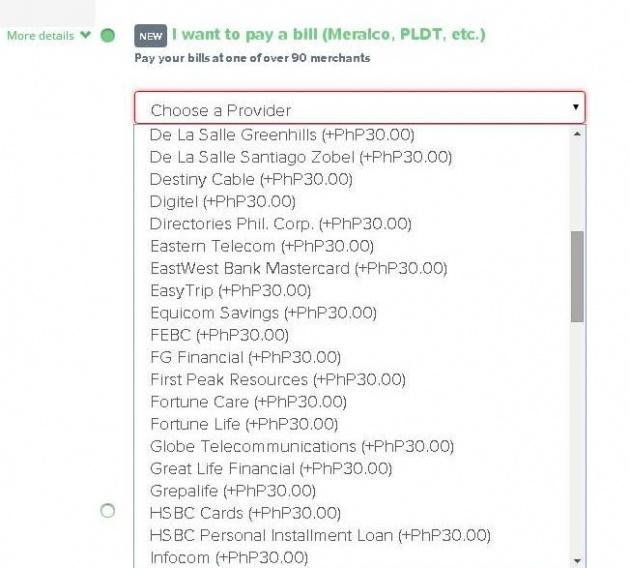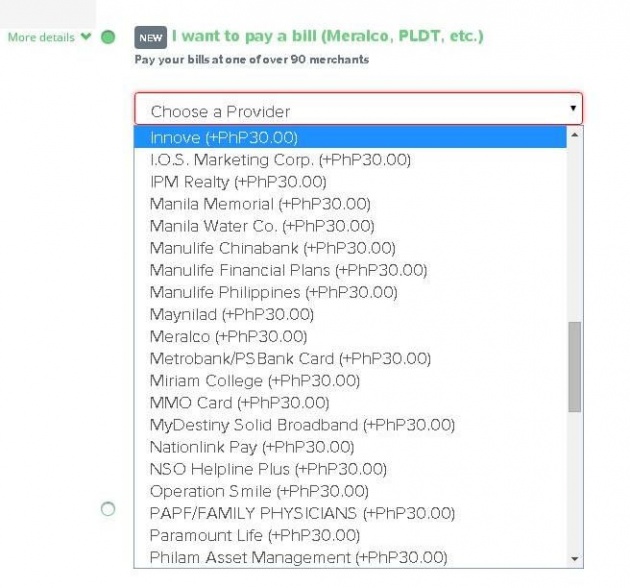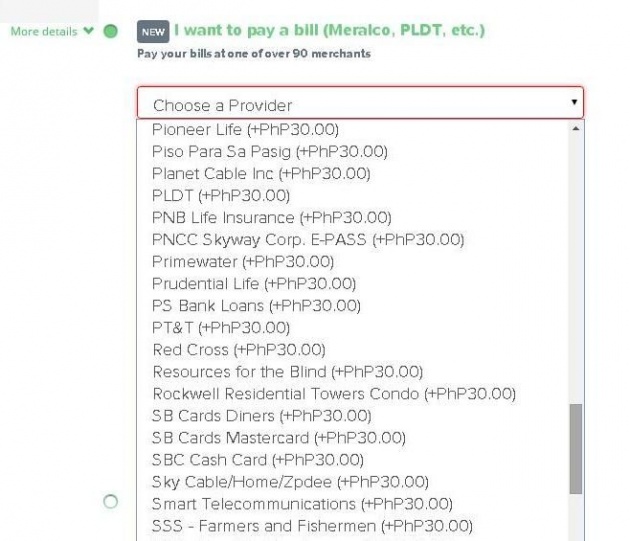 If you notice there is a (+PHP30.00) next to the names of companies or agencies. That is the corresponding fee you have to pay.
Not only can you pay through Rebit but you can also send bitcoin anywhere in the world anywhere you are. You can also send money to your loved ones in the Philippines through:
Cebuana Lhuillier
Palawan Express
M Lhuillier
LBC
Major banks like BDO, Allied, East West, etc. (Check the site for more detailed list) of banks)
or to any Rebit offices
Also, you can load your phones for as low as PHP15.00 for Smart and Sun and PHP25.00 for Globe. The service fee for that is PHP5.00.
In brief, this blockchain-based site was created in 2014 by "Silicon Valley entrepreneurs Ron Hose and Runar Petursson." Here is a link to the team that make up coins.ph.
As with the the other two sites above, coins.ph not only serves as bitcoin wallet but you can buy and sell bitcoins here too. Also, coins.ph allows you to pay bills or load your phones. You can even pay tuition fees to selected schools. You need to sign up first before you can utilize their service. (All images below are from coins.ph)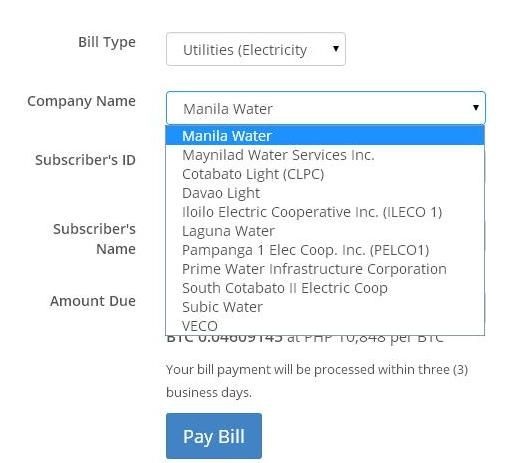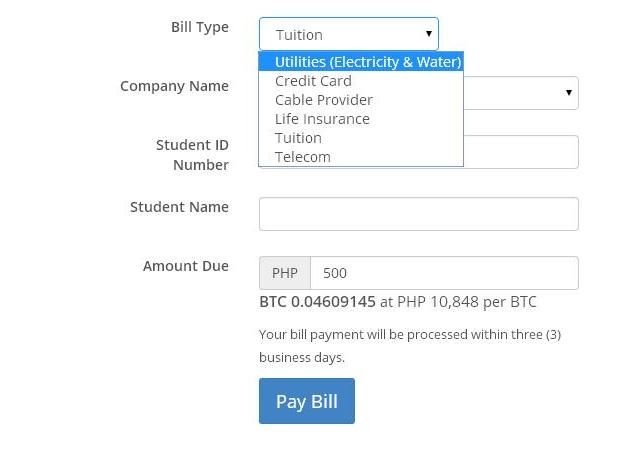 Unlike Bills.Ninja, coins.ph has a wider range when it comes to utility services. Bills.Ninja caters to Metro Manila while coins.ph reaches out as far as Davao and South Cotabato.
You can also load your phone for as low as PHP30.00 for Smart, PHP25.00 for Globe and PHP10.00 for Sun. You can also get a rebate if you load through this site.
With coins.ph your transactions are processed in three days according to their website. Of note is their free service of doing business. There are no additional charges when you transact business with them such as paying bills or topping up your phones' credit balance. They are bringing down or lowering the costs in doing transactions which makes helps in making the lives of Filipinos or users of this site easier on the pocket.
It was my first time to use coins.ph to pay my internet provider by using bitcoins. After a few minutes of paying my bills, I received an SMS from them informing me that my payment has been confirmed and released to my internet provider.
It's really good to know that there are now sites like these that we can use to pay our bills. It is much more convenient and hassle-free. We can do this anywhere or just in the comfort of our homes. We can do this anytime too. Cryptocurrencies like bitcoin and the digital world is of great help in making our lives easier and more comfortable.