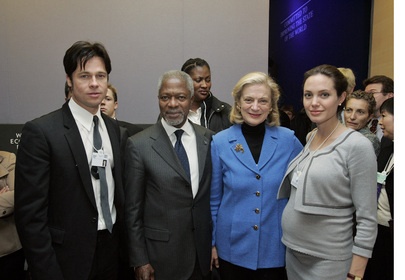 Speculation that they may split up aside, think it has been admirable how Brad Pitt has so elegantly played second to many of Angelina Jolie's "Diplomat-Artist" roles (UN Refugee Agency -UNHCR _Goodwill Ambassador + more). With such a public life, it is easy to identify pimples on this relationship and their public appearances, but more than not they appear to have cleared up with maturity. See Film Report – "Jolie/Pitt in Sarajevo" -
diplomaticallyincorrect.org/films/movie/joliepitt-in-sarajevo/28062
Congratulations to Brad Pitt for once again being recognized for his work on "Moneyball." Sport themed films may do OK at box office, but with critics less so. Impactful: Whether you think they are generous with their fame and time or more self-promoting, this couple, as Angelina Jolie, Brad Pitt and as "BraAngelina" undoubtedly have raised awareness with general public, assistance through UN and hope with the victims and faceless of this celebrity world.
diplomaticallyincorrect.org/films/movie/angelina-jolievoice-for/27714
Also See – "Angelina Jolie-Eyelevel…" -
diplomaticallyincorrect.org/films/movie/angelina-jolie-eyelevel-syrian-refugeesturkey/27428
By Ambassador Muhamed Sacirbey Facebook Become a Fan at "Diplomatically Incorrect" Twitter – Follow at DiplomaticallyX FOLLOW mo @MuhamedSacirbey UN Photo – A look back a few years: Secretary-General Kofie Annan with Brad Pitt and Angelina Jolie in Davos - From left to right: Actor Brad Pitt, Secretary-General Kofi Annan, Mrs. Annan and Office of the United Nations High Commissioner for Refugees Good Will Ambassador Angelina Jolie, at the World Economic Forum Annual Meeting in Davos, Switzerland. January 26, 2006.