I was scanning through my blog list, specifically my C-blogging list within bitLanders and I couldn't find one which talked about Cebu although I have already created a few other Querlo Chat which dealt with traveling the Philippines and summer destinations in Cebu so I thought it would be an awesome thing to offer a one day itinerary for those who are curious if they could enjoy Cebu City in just a day.
Image credits: travellingking
Of course, you can certainly enjoy Cebu City in a day. What's so good about it is that you can already see the historical part as well as the scenic side of the city. I have laid out a full day itinerary including lunch and dinner recommendations in this C-Blog and I know you will have an idea where to go and where to eat in Cebu City afterward.
Cebu City's traffic though is becoming worse and worse every year, blame it to the affordable cars which can now be easily acquired by even the common ones, even those who don't have garage area or parking spaces at home, thus, more and more people are owning more than one cars and so on. With that, I would highly recommend that those who'd want to use this proposed itinerary would rent a car or contact someone who could drive for them. Going around in a motorcycle is the best for those traveling solo. But those who are in groups, it would be best to get a van or a cab for this whole day trip!
The itinerary offers two options based on where the most tourist would come from outside Cebu, that's the airport or the seaport. But both of these offers identical places to visit, there are only a few differences because of the location.
Do note that this doesn't include the place to stay. I highly recommend checking out some online sites on where to find the best deals in terms of hotel and accommodation. This C-Blog only promotes the best places to be at when visiting Cebu City most especially if you don't have the luxury of time. Cebu City is not that hard to navigate and its tourist spots are not too far from each other. The only challenge really is traffic. But don't worry, you'll easily get through as the places aren't that far from each other. Each destination may take around 20-30 minutes from each other and I had made the itinerary in such a way that the next spot is just close to the previous one.
So, check out this C-Blog and enjoy your one day stay in Cebu City!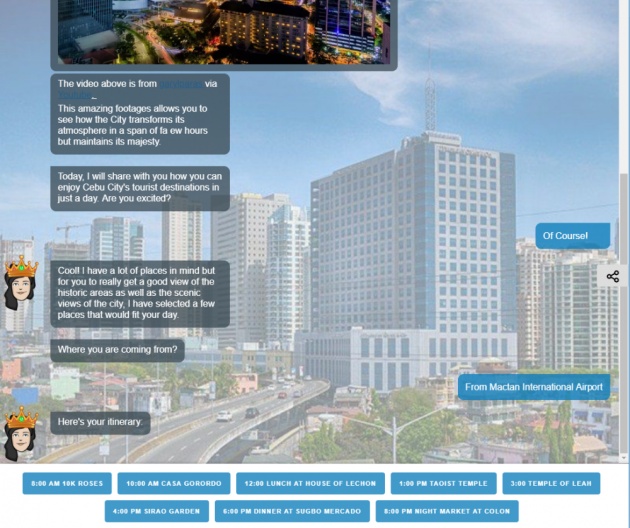 Image credits: screenshot of the Cebu City in a Day Querlo Chat
This blog is published in support of bitLanders' C-blogging. Learn more about it in the quoted box below:
The future of blogging - The bitLanders C-blogging


bitLanders, the worldwide blogging platform, introduces the future of blogging "The bitLanders C-blogging", Conversational AI blogging by Querlo powered by IBM Watson and Microsoft Azure with the purpose to provide bloggers the possibility to communicate and establish a conversational relationship with their readers.

Thanks to the world's most prompt technology - Artificial Intelligence, powered by Querlo's conversational AI technology.

Querlo integrates the DeepQA Artificial Intelligence functionality of IBM Watson and Microsoft – a collaboration which sets Querlo apart from other solutions in the market.

Information from: "The bitLanders C-blogging" New Double Bonus Reward topics

Thank you for reading and for participating in this Querlo Chat!
---------------------------
About the author:
Jean Beltran-Figues is a photography enthusiast.
A traveler who wants to promote her beloved country, the Philippines.