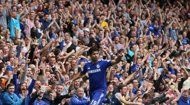 Chelsea will get a big compensation if Diego Costa was injured along with the Spanish national team this week. Reported by Inside Spanish Football, the Blues are expected to receive the money of 20 thousand euros, or Rp 312 million per day to Costa cured.

Costa suffered a hamstring injury since the start of this season. That's why Chelsea manager, Jose Mourinho hoping the Spanish national team did not call for the European 2016 qualifiers this weekend.

But intent does not respond La Furia Roja coach Vicente Del Bosque. In fact, Del Bosque saw Costa was in his best form since scored nine goals in seven games in the Premier League.

However concerns the Blues is slightly reduced in the presence of club rules Protection Protection (CCP) which went into effect in 2012 This rule requires each team to pay compensation to the club if an injury and can not strengthen the club more than 28 days.

For the case of Costa, the compensation given is reaching the point of maximum or 20 thousand euros per day. Because the Brazilian striker has a high value contract with Chelsea.