This is my mothers favorite dish..i dont like this dish.but when i think of it, i knew i can use this this to make a blog..
an here is to start on how to cook chicken afritada..here is the procedure for those who do not know how to cook this..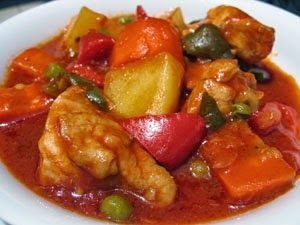 .
INGREDIENTS:
1- 1/2 lbs chicken, cut into serving size
1 large potatoes, chunks
1 large carrot, chunks
1 medium red bell pepper, chunks
1 medium onion, chunks
1/4 cup green peas
4 gloves garlic, minced
1/2 can (8oz) tomato sauce
1 1/4 cup water
1 tbsp fish sauce
salt to taste
3 tbsp cooking oil

*** This batch is only good for 3 people. Use the whole can of tomato sauce, add more vegetables and add 1 cup water if you're cooking for more.

HOW TO COOK CHICKEN AFRITADA:
Heat cooking oil in a pan or wok.
Saute potatoes, carrots and bell pepper. Set aside.
Using the same pan, saute garlic & onion.
Add the chicken***. Simmer for 10-15 minutes or until tender. (requires occasional stirring).
Add the fish sauce and cook for 3 minutes.
Add water when it starts to dry up. Bring to a boil.
Add the tomato sauce. Let it simmer.
Add all the vegetables. Simmer for another 5 minutes.
Remove from heat & transfer to a serving bowl.
Serve with hot steamed white rice.
You can also boil the chicken and use the chicken stock instead of water.