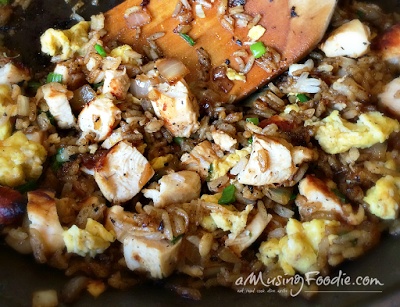 INGREDIENTS:
4 cups cooked rice
4 tablespoons peanut oil (or any high heat oil)
3 large eggs, beaten
3 tablespoons soy sauce
1 teaspoon salt
½ teaspoon pepper
1 teaspoon garlic powder
1 medium yellow onion, diced
2 seared chicken breasts, cubed
3 green onions, sliced
INSTRUCTIONS:
Heat a wok or large skillet over medium-high heat. Add 2 tablespoons of oil.
Once the pan feels hot, pour in the eggs and sprinkle them with ½ teaspoon salt and ¼ teaspoon pepper. Use a wooden spatula to keep the eggs moving in the pan - they'll scramble quickly and you don't want them to burn! Remove the eggs to a bowl once they're light and fluffy.
Pour the remaining 2 tablespoons of oil into the pan. Add the yellow onions, and saute them for 2-3 minutes, until they're translucent.
Add the rice, soy sauce, remaining salt and pepper, and garlic salt. Using the wooden spatula, keep the rice moving around, making sure that the soy sauce coats it all evenly. After 5 minutes, add the cubed chicken, the scrambled egg, and the green onions. Continue sauteing the chicken fried rice for another minute or two, then serve it hot with Yum Yum Sauce on the side.