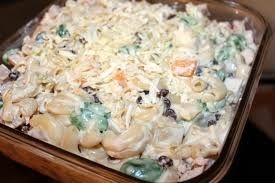 Chicken Macaroni Salad makes a good appetizer and snack. I also love to have this as a main dish (for some reason) especially if I am having stews such as kalderetaor menudo. This dish is typically served during Filipino fiestas and also during family outings and picnic. I remember having this regularly during a quick picnic by the beach and it goes well with Pinoy pork barbecue (skewered pork).
It is easy to make your own Filipino Chicken Macaroni Salad; all you have to do is prepare some of the ingredients beforehand. The elbow macaroni needs to be cooked and drained while the chicken needs to be boiled and shredded. Once the macaroni and chicken are ready, all you have to do is combine all the ingredients and toss. It will also be nice if you serve your Filipino Chicken Macaroni Salad chilled. I do this by mixing all the ingredients in a stainless mixing bowl. I place that same mixing bowl with the Filipino Chicken Macaroni Salad in the fridge. The stainless steel bowl will help the salad get cold faster and this will be beneficial if you are pressed for time.
Aside from macaroni, you can use other types of short cut pasta. Here are some examples: Mostaccioli, Penne, Rigatoni, Cellentani, Rotini, Cavatappi, Fideuà, and Maccheroncelli.
Try this Filipino Chicken Macaroni Salad Recipe. Enjoy!