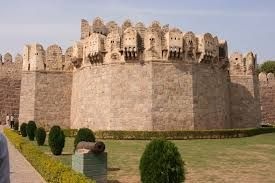 There are always the must-sees in every city. Hyderabad has its Golconda Fort – the crowd puller where you'll see musty tourist climbing up the fort, clicking pictures every corner, soaking in every view possible. Sometimes you wonder what is it that really drives people to ruins. Is it a sense of curiosity, a peek into the past?
Throngs of tourists visiting or residing in the city just get closer to the historic past. Easily accessible and situated just on the outskirts of the city, there is no reason to miss it. The entrée is similar to any other monument across India, long queues of families excited about their outing. The guides, desperate to be picked and last but not the least, the hawkers selling postcards even before stepping you foot inside.
This fort derives its name from Golla Konda, which means Shepherd's Hill in the local language. After entering the main gate, known as the Fateh Darwaza (Victory Gate), surprised and amused to observe all clapping their hands and chaos under a dome. A hand clap at a certain point below the dome at the entrance reverberates and can be heard clearly at the highest point – the 'Bala Hisar' pavilion, almost a kilometer away. This actually worked as a warning note to the royals in case of an attack. We did also clap warning the king; we are here to explore your fort. 
Different sections of the fort like the Ramdas Jail , Mahakali Temple are still intact. Once reaching the topmost the Bala Hisar pavilion we did the same clapping game and no wonder was surprised to hear a fait echo from all the way below.
The evening exhibits the light and sound show which trances you to history.