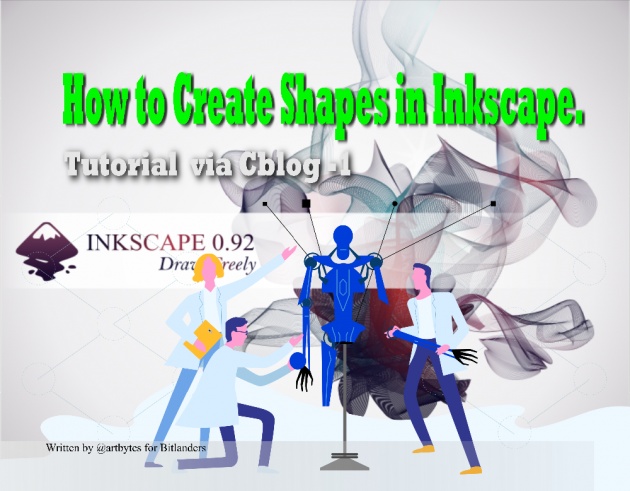 Image Credit: @artbytes via Bitlanders
I have been using Querlo's CBlog or chat blog for a while now. In this another edition of my CBlog, I am going to use the Querlo CBlog platform to create an interactive tutorial.
In this tutorial using Cblog, I will discuss with you the basics of using Inkscape.
Free Vector Graphics Software
Inkscape is a free vector graphics software for Windows (see my blog: Introduction to Inkscape). With Inkscape, you can create scalable vector graphics (SVG) and export them as PNG files.
Querlo CBlog
Querlo's Cblog or Chat blog platform is a different way of creating blog posts. With it's Artificial Intelligence or AI feature, you can create an interactive chat-blog.
Tutorial via Cblog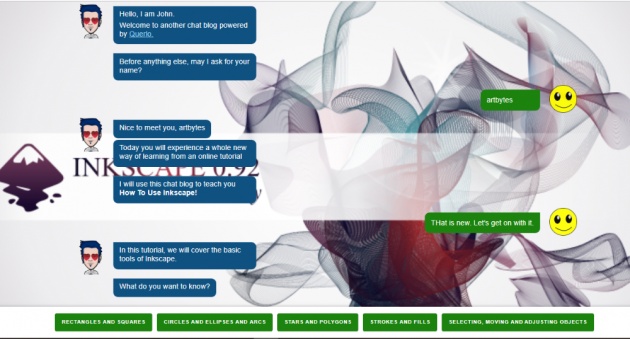 Image Credit: Tutorial via Cblog powered by Querlo
In this Inkscape Tutorial using Querlo's platform, I was aiming to create a more interactive tutorial, where the reader or user can choose which topic to learn first and even ask the users for their thoughts about the tutorial.
Interact with this edition of my cblog and learn the basics of using Inkscape.
I hope you enjoyed this interactive tutorial via cblog, and learn something.
Thanks for chatting.
~°~°~°o0O0o°~°~°~
Related posts:
~°~°~°o0O0o°~°~°~
If you like this chat-blog, please share.
John Reynold Loberiza (a.k.a @artbytes) is a freelance graphic artist, web developer, and blogger. He is also a licensed Financial Adviser under Insular Life.
The content of this blog post is the author's original work. Proper credit is always given to the respective sources of information and images. Please feel free to check out my other blog posts: http://www.bitlanders.com/Artbytes/blog_post
If you have any reactions or inquiries regarding the subject of this post, please write it in the comment or send the author a private message.
°~°~°o0O0o°~°~°~
Join Bitlanders

If you are not a member of Bitlanders yet and you are a content creator- a writer, blogger, photographer, an artist or a hobbyist, you can earn from your creations (blog posts, photos, artworks, or videos) by uploading them in Bitlanders.
You can join Bitlanders by clicking this link-> http://bit.ly/Join_bitlanders