Creature 3d Reviews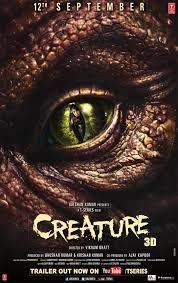 Cast
Bipasha Basu
Imran Abbas
Bikramjeet Singh
Deepraj Rana
Mukul Dev
Produced by
| | | |
| --- | --- | --- |
| Hanif Chunawala | ... | executive producer |
| Ajay Kapoor | ... | co-producer |
| Bhushan Kumar | ... | producer |
| Krishan Kumar | ... | producer |
| Dharmendra Rawal | ... | executive producer |
Music by
Raju Rao
...
(background music)
Mithun Sharma
Cinematography by
Film Editing by
Production Design by
Sound Department
| | | |
| --- | --- | --- |
| Devobrat Chaliha | ... | assistant sound re-recording mixer |
| Abhijeet V. Sapre | ... | adr & foley mixer / adr engineer |
Storyline
People attend their first halt in a newly opened lodge in deep forest, but something is waiting for them.
Creature 3D to release on June 27
After Yaariyan and Bhoothnath Returns, T-Series in association with Bvg films is all set to release Vikram Bhatt's next sci-fi thriller, Creature 3D. After Haunted, Vikram Bhatt wears the director's cap for another 3D film that will scare the audience with a creature created using VFX which will be a first of its kind in India. Bhushan Kumar says, "Creature will be the first time we make a sci-fi film. This film will definitely give our audience something different and Vikram has shot it on par international standards. He has finished the shoot of the film and is now busy with post production for a June 27 release." Creature starring Bipasha Basu will mark the debut ofImran Abbas and is slated to release on June 27, 2014.
For More About this movie
Trailer Of This Movie
WikiPedia about this one
For More Stuff keep in Touch
With Aadi-Shanu "_"